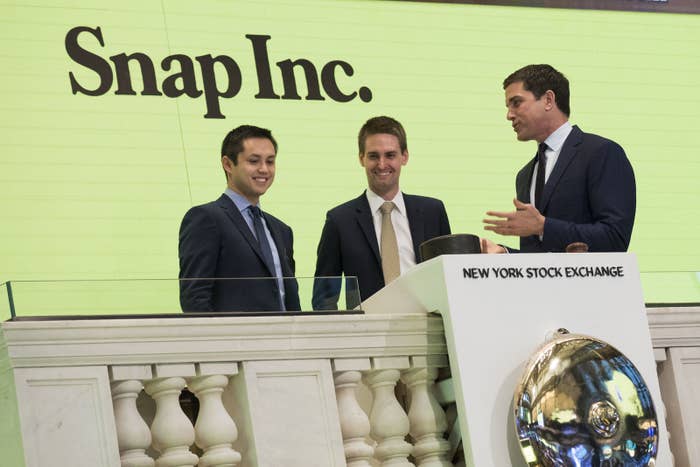 Snap Inc., the parent company of Snapchat, shot out of a cannon Thursday as it began trading on the open markets. Its stock, priced at $17 at its initial public offering Wednesday, immediately jumped to $24 as markets opened, and ended the day slightly above that price. When the dust settled, a company that brought in slightly over $400 million in revenue (while losing more than half a billion dollars) last year found itself valued at approximately $34 billion.

As the market's optimistic judgment of Snap became clear, the Wall Street Journal published a post about the company with the headline "Submitted Without Comment…" In it, the Journal simply posted the stock charts of Twitter, GoPro, Groupon, and Fitbit, each showing a price spike after IPO, and each showing a grueling downward zigzag as the companies fell back down to earth.
While the Journal didn't "comment," its implication was clear. Consumer-facing companies can generate an outsized amount of demand for their stock out of the gate. But when quarterly earnings reports come into play, investors will have no qualms dropping these companies like a rock if they don't perform up to the market's big expectations. Often, they must execute to near perfection, or they'll be labeled a bust.

Snap certainly falls into this category. Its investors provided it with a decidedly steep hill to climb on its first day of trading, and now that it's public, it will have to grow revenue significantly while keeping costs in check in order to justify its value.
Snap's plan to grow revenue is a risky one. It's in the hits business. In its S-1 document, the company essentially said its plan is to keep churning out new products (such as selfie filters and stories) to get people to spend more time on the app, and then selling more ads. "Our strategy is to invest in product innovation and take risks to improve our camera platform," the company said. "We do this in an effort to drive user engagement, which we can then monetize through advertising."
A few analysts have already begun question's Snap's ability to do so, warning investors to stay away. "We see Snap's revenue opportunity as constrained relative to expectations and, as such, we think shares are fairly valued at best at the IPO price," Anthony DiClemente, an analyst at Instinet, wrote in a note to clients, slapping Snap's stock with a "Sell" rating. And Brian Wieser, a senior analyst at Pivotal Research Group, went a step further. "It is significantly overvalued," he wrote in a note of his own, setting a price target of $10, less than half the current trading price, while also advising investors to sell.
In a phone interview, Wieser recited a list of risks: There's a chance that Facebook (which has already copied a number of Snap's features) could crush it. Evan Spiegel's intimate involvement in the minutia of products makes the operation difficult to scale, he said. Also concerning: keeping secrets inside your own company, as Snap reportedly does.
"My view is what I call cautiously optimistic and I'm a sell," he said. "$10 should be if everything goes right."
Another analyst who couldn't speak on record told BuzzFeed News he's not sold on Snap's ability to grow revenue meaningfully, since its volume of users above 35 is so small — the majority of Snap's users are 18–34, according to its S-1 — that entire buckets of ad dollars will be impossible to crack. "The enthusiasm can hang around for a while, but my guess is that it comes back to earth," he said.
Jeremy Liew, Snap's first investor, said companies competing against Facebook and Google for ad money have a real chance to make their businesses work. "On Madison Avenue," he said, "there's someone asking their team, 'What's our Twitter strategy? What's our Facebook strategy? What's our Snapchat strategy? What's our GIF strategy?' In each instance, if you can become part of popular culture then you get to carve a piece of the [advertising] pie out for yourself."
Today, many people associated with Snap made a boatload of money. It was a big success if you consider the cash out alone. But the longer-term picture for Snap looks decidedly more daunting. It's day one, and the pressure is on.