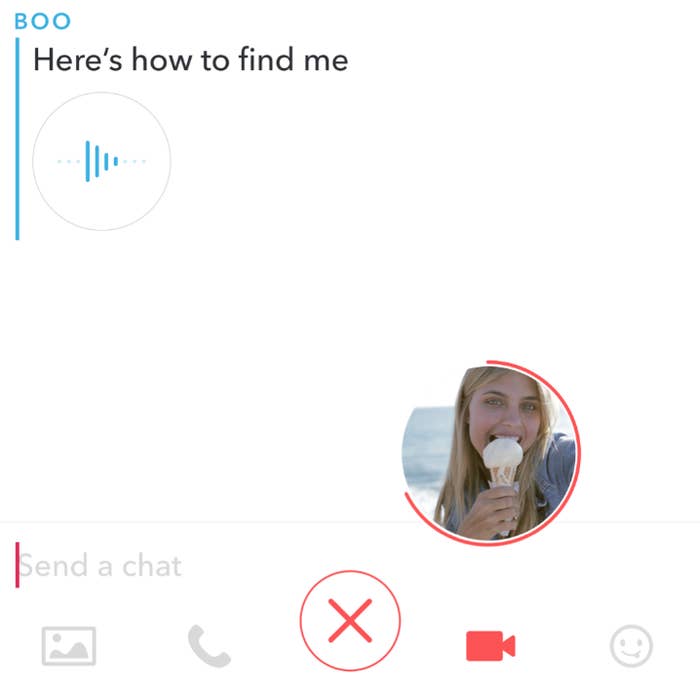 Snapchat is releasing a significant overhaul to its "chat" tab today, introducing audio calls, better video calling, stickers, batch image uploads, and more.
The update comes at a moment of intense messaging competition in the U.S., as chat apps are moving beyond simple text and photo formats to offer much broader functionality. Over the past year, while Snapchat sat largely stagnant, Facebook, its biggest competitor, introduced ride-hailing, GIFs, a basketball game, and more to its Messenger app. Now Snapchat is throwing its counterpunch.
Here's a quick rundown of some of this new stuff:
Video Chat
Video chat isn't new to Snapchat, but the updates to it may be the most impressive element of this new round of changes. The new video chat is intuitive — unlike the previous version, which felt like a hidden feature — and fun. Unlike almost all video-calling features, this one starts with both faces displayed in small circles within the app. Answer the call and you go fullscreen; swipe down on the screen and you go back to the circle.
After you start a call, the person on the other end is presented with three options: Ignore, Join, or Watch. Tapping "Watch" turns the call into a one-to-one live stream of sorts, and the person on the other end can comment by sending messages through the compose field.

Snapchat is also introducing a way to send short, goofy selfie videos over chat. If you hold the camcorder button down, you can send a video note of up to 10 seconds using the selfie camera. The note loops like a GIF, but contains sounds. It shows up in the chat window in a small circle and seems like it would be useful when you want to send a quick reaction to a friend.
Audio Calls
People still make audio calls? Snapchat thinks so. The company is introducing audio calls that can be placed by tapping the phone icon. The audio call also doesn't take up the full screen, and it starts on speakerphone, so you can talk while you continue to play around within the app. Snapchat's audio calling seems more useful not as a default phone but for those occasional text conversations that end up requiring a call to get across more complex or nuanced ideas.

Audio Notes

Snapchat's audio note is essentially the same thing as its video note, except with audio instead of video.
Stickers
Snapchat is a bit late to the game on this, but it's introducing a slew of stickers as well. If you haven't used stickers, they're the ultimate way to tell someone you're done with a conversation without using words.
The Bottom Line
The time we spend on our phones is increasingly concentrated in a handful of apps. Eighty-four percent of the time a given smartphone user spends in non-native apps goes to just five apps, according to Forrester Research. This means there's a death match taking place between companies to reach and stay within that top five for as many people as possible. Messaging is one route in: The leading messaging app will always command our time, because it's where we'll return again and again to communicate with our friends and family. And once you get those repeat visits, you can expand to do things like ride-hailing (see: Facebook) or media distribution (see: Snapchat).
Whoever wins the messaging battle will be a conduit for all sorts of businesses that are being shut out of the "top five" and still need to reach their audiences and customers. It's a critical battle, and Snapchat's product release today, over a year in the making, looks to be a big part of the company's bid to remain a dominant mobile app for years to come.