Social media has made us weirdly comfortable addressing corporations like people, whether it means chatting with our favorite sports team, or telling @united to eff off. Now, companies are trying to turn these conversations into an opportunity to sell us products, chatting with us through platforms like Twitter and messaging apps to help us find products we're interested in.

Still in its early going, so-called "conversational commerce" isn't booming just yet. Companies attempting it are, for starters, trying to introduce a brand-new buying behavior. And they're also hoping to facilitate sales on new platforms without the help of some backend systems that make selling online easy. So, unsurprisingly, the early sales numbers have disappointed. Understanding the barriers, retail technology company Shopify is trying reverse the trend with a new effort.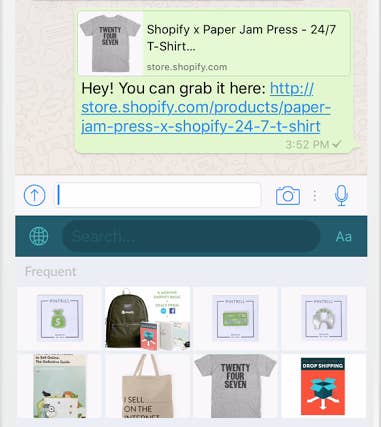 Shopify just released an iOS keyboard, called Shopkey, for retailers using its software to sell products on social media and messaging apps. The keyboard imports these retailers' product catalogs, allowing the people behind the accounts to search, tap a product, and insert a photo and purchase link into any conversation.
So, if a clothing retailer and potential customer are messaging about T-shirts on WhatsApp, the person behind the retailer's account can search through the product catalogue via the keyboard and quickly pop photos and links of T-shirt options into the conversation, which the potential customer can click to buy.
"We created this as a productivity tool for [retailers] to quickly give shoppers the things that they need." Satish Kanwar, director of product at Shopify, told BuzzFeed News.
One other product meant to smooth out conversational commerce is the Buy button, which social companies Facebook, Twitter, and Pinterest all released within the past two years to facilitate transactions entirely within their platforms. Those buttons can't be expected to do the heavy lifting on their own, according to Kanwar, who said retailers must use the conversations to make people want to buy, and the new keyboard is meant to help smooth that process.
Shopify is integrated with Twitter's buy button, so a link via the keyboard will turn into a buy button when posted. The hope is retailers using it can quickly suggest products based on what a customer tells them they're interested in. Then, they can pop in a buy button to close the deal.
"it's a much more organic and natural way of shopping we've been doing for decades," said Kanwar. "Messaging has just opened us back up to those natural behaviors once again, but through the internet."