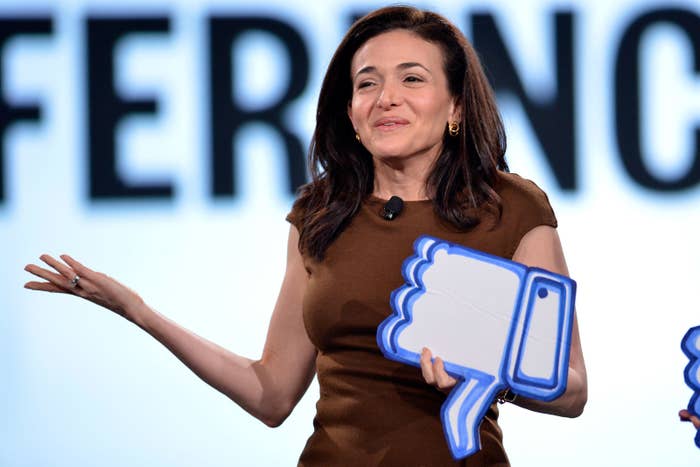 Facebook hasn't yet discovered another Cambridge Analytica–esque data leak, its COO Sheryl Sandberg told BuzzFeed News in an interview Thursday.
Sandberg's remarks are Facebook's first on its search for other companies like Cambridge Analytica, which illicitly obtained Facebook data on up to 87 million people amassed by a researcher under the guise of a personality test.
"So far, we don't have another clear case to share."
"As we find more Cambridge Analyticas, we're going to find a comprehensive way to put them out and make sure people see them," Sandberg said. "So far, we don't have another clear case to share."
The recent Cambridge Analytica revelations, which were first reported by the Observer and the New York Times, have rocked Facebook, even though the company knew that the political consulting firm had wrongfully obtained the data in December 2015. Sandberg's statement indicates that the Cambridge Analytica leak is the extent of all "clear-cut" major data leaks resulting from the company's lax developer policies, which allowed widespread data collection by third parties. The company has since patched that up.
On Wednesday, Facebook acknowledged that most people on Facebook could have had their public profile scraped via phone and email search. "I certainly think that it is reasonable to expect that if you had that setting turned on, that at some point during the last several years, someone has probably accessed your public information in this way," Zuckerberg said in a call with reporters.

Facebook is now undergoing a major audit of its system to search for other cases similar to that of Cambridge Analytica, and Sandberg said it could be a while before people see the full results. "That process is going to take a long time; there were a lot of apps," she said. "But our commitment is to do it carefully and rigorously and tell people if those examples happen."
Sandberg also took personal responsibility for the the series of crises Facebook has been embroiled in, saying that as the person looking over the company's ad business she has not been let off the hook while Facebook CEO Mark Zuckerberg takes all the blame.
"I take responsibility for this," she said. "The buck stops with us. The buck stops with me. On the things we didn't do that we should've done that are under my purview, that's my responsibility and I own that."
Asked if she ever offered to resign as a result of these crises, Sandberg said no. "I serve at the pleasure of Mark and our board and I'm going to keep working here for as long as they think I'm the right person to help lead and help lead us, not just out of this but for the future."
"It would be a mistake to think that no one ever gets fired at Facebook."
Sandberg also bristled at the notion that nobody inside Facebook has been held accountable for its repeated privacy and security lapses. But she refused to answer a question about whether anyone inside the company lost their job as a result of the Cambridge Analytica leak, or others. "We do hold our company and people who work here accountable for following our policies, and people are fired at Facebook on a regular basis for not doing our jobs," Sandberg said. "We don't talk about this publicly and we're not going to; we don't think it's the right thing to do. But it would be a mistake to think that no one ever gets fired at Facebook."
Sandberg told BuzzFeed News that despite outcry from the public and regulators over its creepy data collection and ad targeting practices, Facebook's ad business will largely function similarly to the way it does today. "I certainly understand that people are concerned. People have long been concerned about how ads work," she said. "It is because of ads — just like TV — that people all around the world can use Facebook. We all benefit by connecting to those people, and a lot of those people can never afford Facebook if it weren't a free product."
Could Facebook make its business model less creepy and continue as a free service?
Could Facebook make its business model less creepy and continue as a free service? Sandberg said Facebook isn't interested in the idea. "We could go to a model that we are more like TV, and we just show the same ad to everyone. The problem is that means we only work for big business," she said. "There are 70 million small businesses around the world who use Facebook for free on a monthly basis, 6 million of them are paying customers. Because we enable them to find the right person, they can afford to run their businesses."
Over the years Facebook has made a number of privacy and security missteps. After each one it's apologized and promised to do better — Brexit, the 2016 election, Cambridge Analytica. Last week it took out full-page ads in a number of major publications, saying, "We have a responsibility to protect your information. If we can't, we don't deserve it." Asked why the public should continue to trust Facebook despite this history of lapses, Sandberg conceded the company has a lot of work to do. "We know we have to earn trust and regain trust and we're very committed to doing it," she said. "It's not about what we say, it's what we do."
CORRECTION
Facebook has 6 million advertisers. An earlier version of this article, using information provided by Facebook, cited a different number.