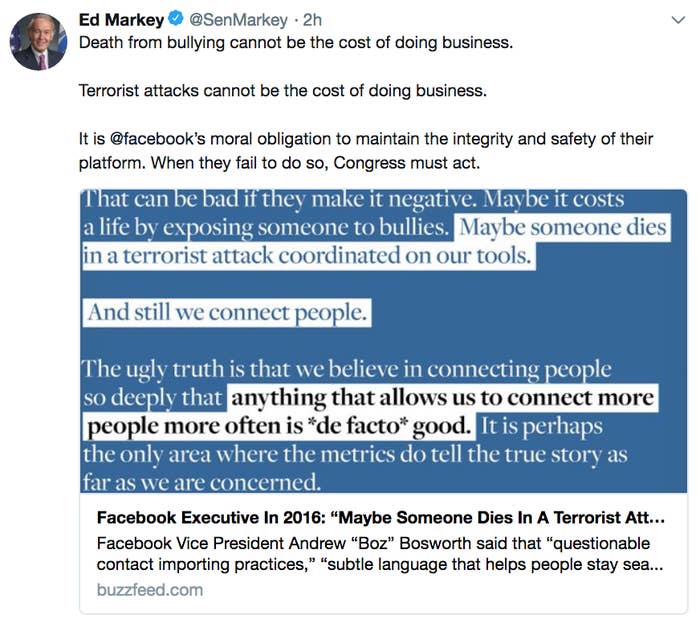 On Friday, Sen. Ed Markey of Massachusetts hinted at the prospect of Congress regulating Facebook in response to a top Facebook exec's 2016 memo that had urged the company to connect people at all costs.
"It is @facebook's moral obligation to maintain the integrity and safety of their platform. When they fail to do so, Congress must act," Markey tweeted.
The internal Facebook memo, written by the company's vice president Andrew "Boz" Bosworth, put forth an argument for growth at all costs, which sparked a major debate and a significant amount of blowback inside Facebook when it first published in 2016, and when it resurfaced this week.
"We connect people. Period," Bosworth wrote. "That's why all the work we do in growth is justified. All the questionable contact importing practices. All the subtle language that helps people stay searchable by friends. All of the work we do to bring more communication in. The work we will likely have to do in China some day. All of it."
The memo, originally intended for Facebook employees only, was revealed by BuzzFeed News on Thursday. Following its publication, Bosworth said he didn't believe it when he wrote it. "It was intended to be provocative. This was one of the most unpopular things I've ever written internally and the ensuing debate helped shape our tools for the better," he tweeted.
Facebook CEO Mark Zuckerberg responded to the memo too. "We recognize that connecting people isn't enough by itself. We also need to work to bring people closer together. We changed our whole mission and company focus to reflect this last year," Zuckerberg said in a statement provided to BuzzFeed News.
Though Markey indicated congressional action may be on the table, it's unclear what form it would take. The only legislation in Congress that would touch Facebook is the Honest Ads Act, which Markey is a cosponsor of, but that bill has been stalled for months. Markey shared no new ideas for legislation in his tweet.
Asked what Congress could do to maintain the integrity and safety of Facebook, Sen. Markey's office shared the following statement with BuzzFeed News: "Senator Markey has consistently advocated for safety, privacy, and transparency online, from co-sponsoring the Honest Ads Act to calling for Facebook and Instagram to prohibit postings for gun sales on their platforms. In light of the recent Facebook revelations, Senator Markey has explicitly called on Mark Zuckerberg to testify before the Senate Commerce Committee in order to gather the facts and chart a path forward."