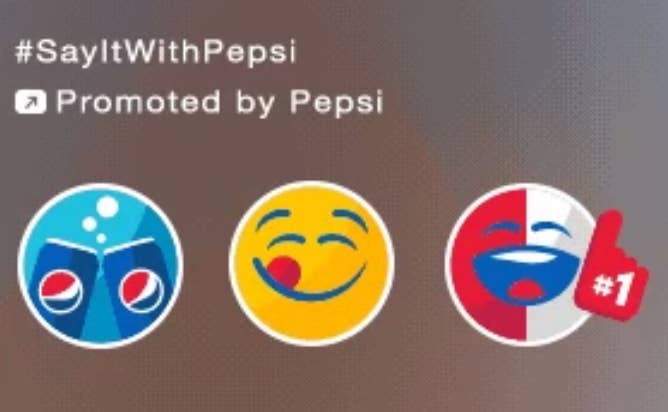 Advertisers who want to run Promoted Sticker ad campaigns on Twitter will have to fork over at least $500,000 to do it, multiple sources tell BuzzFeed News.

In June, Twitter introduced stickers, which you can overlay on top of pictures you tweet, and search just like hashtags. Earlier this month, Pepsi ran the first Promoted Sticker campaign.
The $500,000 minimum ad spend can be spread across multiple Twitter ad products — so advertisers who don't want to drop half a mil on Promoted Stickers can use some of the ad buy on Promoted Tweets and the like.
But even so, it's a large sum for a product that didn't exist two months ago. If Promoted Stickers do take off, they could help Twitter diversify its revenue sources — something it needs to do to stay competitive with Snapchat, which has introduced innovative ad products such as sponsored geo-filters and sponsored selfie lenses.

The $500,000 minimum comes at a moment when Twitter has been lowering its minimums on other ad products, BuzzFeed News has learned. "I think they are beginning to realize that the barriers to entry have historically been too high for a lot of the products," one advertising executive told BuzzFeed News. "I was surprised that they came in at such a high figure with this."
But companies do tend to open up their ad products to more customers over time, so the $500,000 figure could come down eventually. As one ad agency executive said, "When a platform prices a new ad offering that high, it's generally to keep the riff-raff out; only the serious buyers need apply."