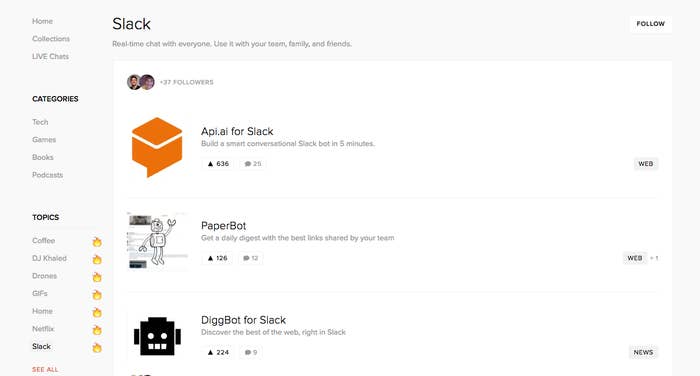 Twitter and Instagram recently deployed algorithms to make sense of the overabundance of content on their services. And while these two may be the most prominent services struggling to sort the loads of user-generated content posted to their feeds, they're hardly the only ones.
Product Hunt, a platform that curates the latest hot products, is dealing with a similar issue and today introduced its own solution. The company is debuting "Topics," or buckets into which it will sort the 50,000+ products posted to the site since its inception in 2013, along with those posted in the future.
The Topics, 300 of them to start, range from the broad, such as "Productivity," to the very specific, such as "DJ Khaled." And yes, there are nine DJ Khaled entries on the site right now, including "We the best cereal."
"As we have more and more things posted, one of the opportunities but challenges is 'How do we surface the really good stuff from maybe even a year ago?'" Product Hunt CEO Ryan Hoover told BuzzFeed News in an interview. "Topics allow for that."
Product Hunt will keep its preexisting Categories tabs, which break out posts by tech products, books, games, and podcasts. But as Hoover explained, using DJ Khaled as an example, one topic can span across several categories. "There have been several apps and podcasts and probably books pretty soon, around him," Hoover said. "I think this is a good example of how you can have a mixture of different types of media that can be surfaced and discovered through a topic based system like this."
Running through a demo, Hoover showed the Slack topic page, which included a number of Slack-related products like Digg's new Slack bot and PixelKit, a Slack-integrated tool for designers. A click into a product page revealed the topics it's associated with — PixelKit is filed under Web, Slack, Design, Tools, Task Management, and Dropbox — and a click onto any of these Topics labels allows you to explore similar products in the same topic.
Product Hunt is earning only minimal affiliate revenue today, according to Hoover, so a stop at its Sneaker topic sparked a discussion of where it may head in the future. Asked about selling products directly on its site, Hoover indicated it's a possibility down the road. "We have a community of people that visit daily to find, download, sometimes purchase new things, so there's an interesting intent of our community right now," he said. "We don't have any current plans to do so, to integrate direct commerce, but it's something that we think about in the future."
And though advertising is currently not in the picture, it may enter it eventually. "We're not actively pursuing putting advertising in, but that's obviously an opportunity," Hoover said.
During his visit, Hoover joined us for a live interview on Facebook. You can watch it in its entirety here: