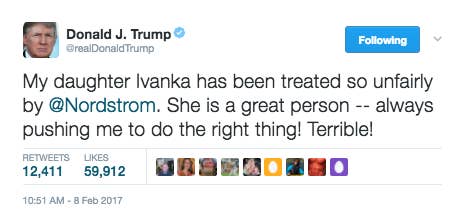 President Donald Trump, unhappy that his daughter Ivanka's fashion line was dropped by Nordstrom, lashed out Wednesday at the retailer on Twitter. And on Facebook. And on Instagram.

The multi-platform targeting of an American department store is new territory as far as US presidents go, but not entirely out of the ordinary for Trump, who has often used his social media accounts to fire away at those he believes wronged him.
"My daughter Ivanka has been treated so unfairly by Nordstrom," the president tweeted. "She is a great person -- always pushing me to do the right thing! Terrible!"
Nordstrom shares slipped more than 1% immediately after the tweet, before recovering later in the morning.

After posting the initial tweet on his @realDonaldTrump account, Trump reposted the language to Instagram and Facebook and retweeted it from the @POTUS account, leading some to question if it was ethical for a sitting president to pressure a family business partner.

Trump has used his Instagram to attack opponents in the past, including Jeb Bush and Hillary Clinton. While some imagined Trump might change his approach to social media once he took the presidency, there appears to have been no change during his early days in the White House.

Trump is bringing a proven political social media strategy to bear on corporations with which he's displeased. Now, instead of Jeb and Hillary, it's Nordstrom and others.
Nordstrom, for its part, tweeted that the decision to drop Ivanka Trump's fashion line was due to "business results."
Press secretary Sean Spicer defended Trump's attacks at his press briefing today.