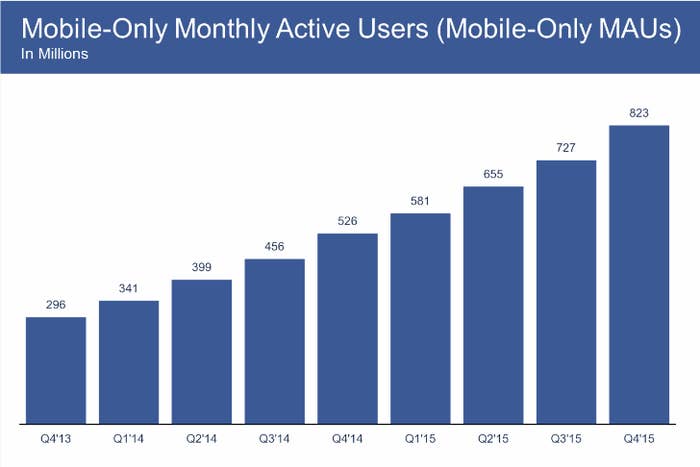 For more than half of Facebook's 1.59 billion monthly active users, the platform's desktop version might as well not exist.

823 million of those 1.59 billion access Facebook only via their mobile devices.
Reporting fourth quarter earnings after market close Wednesday, Facebook released a slew of new metrics showcasing its strength in mobile. Among the most impressive stats: A whopping 1.44 billion of Facebook's 1.59 billion monthly active users access it on mobile devices in some way. It seems Facebook is largely a mobile company, with few holdouts using its service on the desktop.
Mobile user growth helped Facebook turn in impressive results for the quarter. The company reported revenue of $5.67 billion, beating analyst estimates of $5.37 billion. Of that, $4.5 billion came from mobile devices, up 81% from last year.
Facebook possesses some of the best advertising data in the world, thanks to its many members, which tell it everything from their full names to what type of pets they have — this in addition to logging on to the service, giving Facebook the ability to target them with ads whether they're on their phones in a public library or using a friend's computer.
This combination of user numbers and data is why Facebook is predicted to capture more than 30% of total display ad spending in the U.S. this year, according to eMarketer.