Missing @ProfJeffJarvis Parody Twitter Account Does Not Appear To Be Suspended
Satire account goes dark, internet mourns.

One of the few legitimately funny, and pointed, parody accounts on Twitter is gone. At least for now. But @ProfJeffJarvis was not, apparently, suspended by Twitter.
On Tuesday morning, Twitter went bananas when it discovered that neither the account of @ProfJeffJarvis, nor its operator Rurik Bradbury, live on Twitter anymore. The @ProfJeffJarvis account, which mercilessly skewered tech industry executives, pundits, and journalists — and has essentially hijacked author and journalism professor Jeff Jarvis's name to use for parody purposes — has been suspended before. But that's not what happened this time.
In the early fog of war, it's hard to tell why exactly the accounts are gone. BuzzFeed News has reached out to Bradbury via phone and email, at work, and via (yes) Facebook Messenger and LinkedIn. None of those messages were returned.
Yet while Twitter will not comment on individual accounts, a spokesperson noted suspended accounts are explicitly marked as such. Neither the @profjeffjarvis Twitter account nor Rurik Bradbury's Twitter account are so marked.
Here's what you'll see on an account that's been suspended:

Here's what the @profjeffjarvis account page looks like: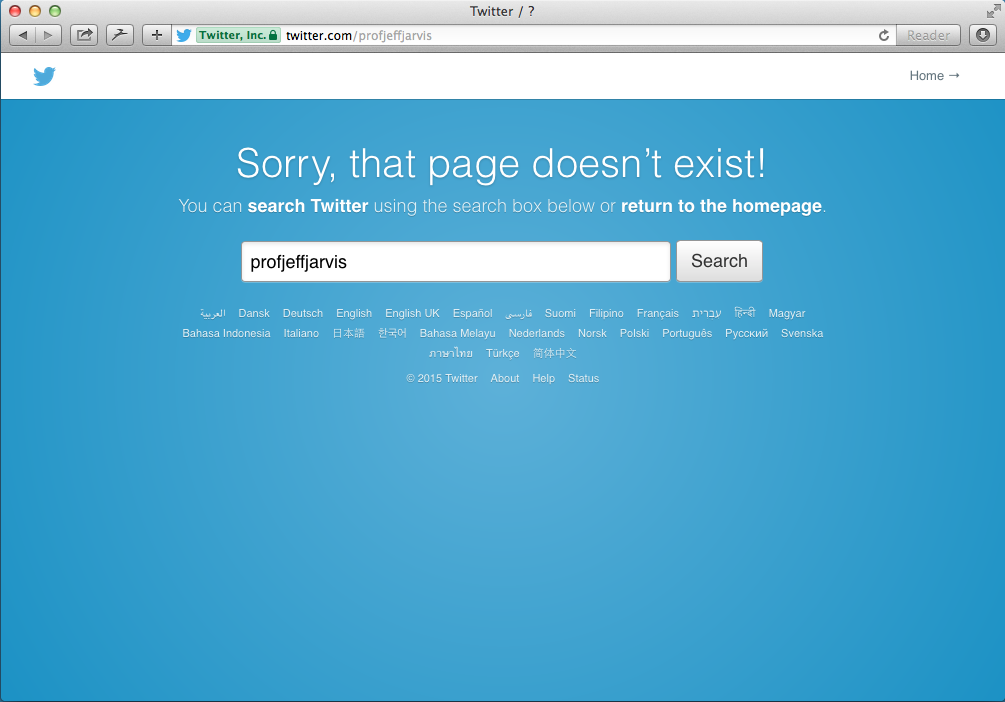 Wherever Bradbury and his parody account might be, they don't appear to be suspended.