Meet Moments: Twitter's Addictive Information Pipe For Casual Users
After years of questions about its appeal to the casual user, Twitter responds in force.
Throughout its existence, Twitter has been haunted by criticism that it's too niche, too confusing for most people, and therefore unable to grow. Its mechanisms — the retweet, fave, H/T, and follow — have made it both a fast-flowing river of valuable information and a confounding place for casual users who just want to fire up the app and see something good. The platform has thus always been a bit of a paradox: ubiquitous yet seemingly underutilized. Full of vital and fast-moving information, yet packaged in a way that's typically useless to onlookers simply curious about the news. Hundreds of millions of people have tried it, given up, and left.
For the past few months at least, Twitter has made no secret of its need to fix this problem. And today it is rolling out its response: a new product, first reported by BuzzFeed News, meant to present the best of Twitter without all the work; a feature it is calling "Moments."
Previously known by its code name, Project Lightning, Moments displays curated stories based mostly on the news of the day. Moments is made up of stitched-together, image-heavy tweets covering anything from the latest sports games to collections of tweets from archeological sites. All sorts of media posted to Twitter render beautifully in Moments, from Vines to images to videos to GIFs. The design and the content make the tab a living, breathing look into the heart of Twitter itself.
This is Twitter's best attempt yet at solving its fundamental paradox. It's an effort to present the most interesting information pulsing through its system at any one time in a visually friendly manner that requires absolutely zero investment or setup from a new user.
"This is a product aimed at people who maybe have given up on Twitter [because] they couldn't find that great stuff," said Madhu Muthukumar, Twitter's product manager for Moments. "We know we've got great stuff for them and so we really want to introduce them to that content. Front and center, as fast as possible."
Moments displays no matter who you follow on Twitter, so even casual users can jump in and see the in-the-now information Twitter junkies live for. Anyone can create and share a Moment, but the ones appearing in the platform's center tab will either be curated or handpicked by a team of Twitter-employed editors who are hooked into the hottest developing stories on the platform. This means the stuff in the middle tab should always be high-quality, leaving users who visit with a sense of satisfaction as long as Twitter's editors do their jobs. Twitter is launching with a number of editorial partners, including the New York Times, NASA, Major League Baseball, and, yes, BuzzFeed.
In a product tour given to BuzzFeed News at Twitter's San Francisco headquarters last week, Muthukumar scrolled through a Moments tab that displayed a series of Moments in a feed. There was a Moment on Paris Fashion Week, one on Israeli Prime Minister Benjamin Netanyahu's address to the U.N., and another of the St. Louis Cardinals clinching a spot in the Major League Baseball playoffs.
The Cardinals "Moment" led off with a GIF of Cardinals players celebrating on the field and a headline, "Cardinals Clinch NL Central," written by someone at Twitter. As Muthukumar tapped through the Moment, we saw celebratory tweets from current and former players, a photo of the St. Louis Blues mascot wearing a Cardinals hat in solidarity, images of the team going bonkers in the clubhouse, and more. Each piece of content took up the full screen on Muthukumar's phone and could be flipped through one by one.
There was no need to understand how to follow a hashtag to get what was happening, and you didn't even have to care about the Cardinals enough to follow the team's official account on Twitter. The Moment presented a special look into the milestone and then, with a tap, it was over.
Twitter is using its reverse chronological core feed, which confuses many but power users love, as an engine to power a glossier operation. It's something for everyone; it gives without taking away.
And the things Twitter is giving are designed to share (well, sort of, more on that below) with people who aren't already on Twitter. One of the big features Twitter is pushing with Moments is that they are embeddable across the Web. You don't need to be logged in to view Moments, so they can travel far and wide outside of Twitter.
Moments aren't always happy. As we were watching Muthukumar go through the latest Moments, one on the Oregon community college shooting popped up, including the tweet: "Students are running everywhere. Holy God." Scrolling through the Moment showed reports of 10 dead, startling Muthukumar mid-demo. "Oh, my goodness," he said, seeming a bit shaken.
Though clearly not planned, that Moment showed the side of the platform Twitter perhaps needs to showcase. "It shows everything the world is saying right now 10-15 minutes before anything else," Twitter CEO Jack Dorsey said of his platform in a tweet yesterday. Moments will be the place to go to find that stuff. Indeed, as Muthukumar pulled the shooting Moment up, he put it this way: "This is the heart of Twitter."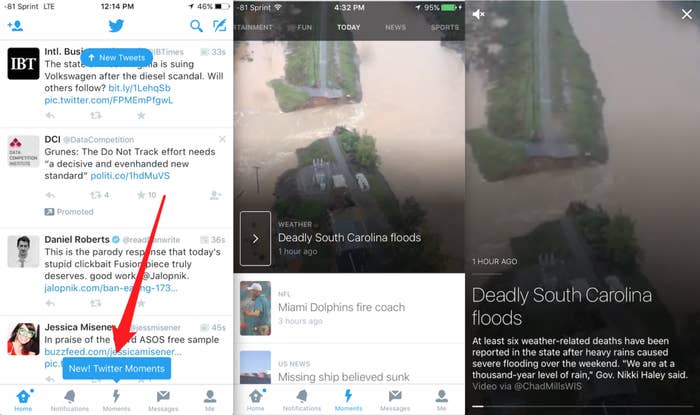 Quick Moments, Big Dollars
Moments can be a big deal from a revenue perspective as well. Twitter displays Moments in a feed within its app's central tab, and that feed will eventually contain sponsored Moments, according to Muthukumar. "We are keenly focused right now on making this platform delightful for everyday people," he said. "Imagine that in the near future there are a ton of ways that can get monetized, and obviously we're looking at that too."
McDonald's, for instance, might want to create a sponsored Moment from some festival it sponsors, or BMW might want to build one one with images and video portraying its latest car. Taking it a step further, you may one day see Moments filled with products, with Buy buttons attached allowing you to purchase right there and then.
The format will also give advertisers the chance to advertise on Twitter without feeling like they're interrupting a conversation, as can be the case on Twitter's main feed. A sponsored moment allows for a degree of planning, around specific events for instance, that's hard to execute in the less controlled environment of the main feed.
Said one advertising executive of the product: "I wholeheartedly believe it will be the saving grace of Twitter."
A few nitpicks: The desktop version is largely uninspiring, or at least less visually appealing than the mobile version. The Moments tab is only available in the US market for now, though Moments will be visible anywhere when linked in a feed. And you can't share Moments on platforms other than Twitter when using the Moments share button (though you can copy the link, or embed Moments on other sites), a questionable decision since the point of this product is to broaden Twitter's appeal.
If Moments looks familiar, it's because it resembles Snapchat Stories to some extent, and that's not a bad thing. Snapchat Stories — also curated, full-screen, user-generated content grouped by topic — is wildly popular and seems to have built a new, widely liked mobile video format. When presented with the comparison, Muthukumar quickly dismissed it. "There's a big difference for us," he said. "Twitter's got all this great content. We don't need to go out and get it, we don't need to do things or prompt it … We have hundreds of millions of pieces of content on the platform every single day from the world's most influential voices."
It's true, the two are different. Twitter's moments, split into five sections — News, Entertainment, Fun, Sports, and Today — feel a bit more formal. But the result will likely be the same: a tab you keep coming back to because the content within it is consistently new, vibrant, and, at times, rather fun.