Mark Zuckerberg's Promise On Facebook's "Real Name" Policy Doesn't Match Reality
If "nicknames" are the standard, something doesn't line up.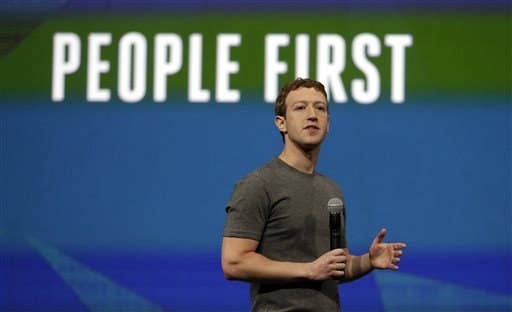 Late last week, an email landed in my inbox with "Help!" at the beginning of its subject line. The sender, an African LGBT activist, had just been kicked off Facebook for violating the company's "real name" policy, which prohibits the use of aliases on the platform. A question I had recently posed to Facebook CEO Mark Zuckerberg about his commitment to the policy (and Zuckerberg's response) caught the activist's attention. He wanted to see if I could back-channel with Facebook to help restore his profile.
"What can I do?" he wrote. "Please help."
The activist had fallen into the murky middle ground between what Facebook says about its real name policy and what it actually does. Facebook's policy seems straightforward. As it notes in its help center, "Facebook requires everyone to provide their authentic names so you always know who you're connecting with." Yet Zuckerberg, in his response to my question, said the policy is more relaxed than many people think. Real name, he explained, means "whatever you go by," and not your legal name. "If your friends all call you by a nickname and you want to use that name on Facebook, you should be able to do that," he said.
Well, kind of. It's easy enough to tack on an additional nickname in parentheses to the end of your name in Facebook — it's just a simple account setting. But that's very different than defining your real name as the one people call you by.
If your real name is, as Zuckerberg described it, equivalent to "whatever you go by" and "nickname" is in fact the standard, then the activist — who is so persecuted in his country he asked we neither refer to it nor use his name — should not have been locked out of Facebook. The name he uses on Facebook is what he goes by to his Facebook friends and to his country's wider LGBT community. It is his nickname, by any reasonable definition. Which means if Zuckerberg was correct, he should be able to use it, and it exclusively, on the platform without a problem. Yet there's a disconnect between what Zuckerberg stated and the letter of the law.
The "law," in this case, is the official documentation Facebook requires when it asks someone to "prove" a name. The list is a bit involved but fairly straightforward. The company requires you to either present a government ID with a photo on it (legal name), two nongovernmental IDs including one with a photo on it (library card, piece of mail, and medical records all work), or two nongovernmental IDs without photos and one ID with a photo that matches your details on Facebook, except for the name. It's not as if this list is out of date; a remnant from an earlier time in the company's history that is no longer relevant. The company only recently added the third option and just this week updated the page's layout to make it more clear.
The list of required documentation works in many cases, but some people with edge cases such as that of the activist (registering things with his nickname might out him and lead to repercussions, including prosecution) or those going through transitions in identity, such as many within the trans community, simply don't have the documentation to meet Facebook's requirements. Despite using their nicknames — often the very names they are known to the people they interact with offline — they can get locked out of the service, sometimes with no opportunity to return.
The story of Courtney (whose last name we withheld by request) one such case, is telling. Courtney is currently involved in legal proceedings against a man accused of kidnapping and raping her. The man, she told BuzzFeed News, was using Facebook to message her, forcing her to relive the pain of her experience. She changed her name on Facebook to a nickname to avoid him, a nickname, though one only used on Facebook. But after two months Facebook made her change her name back or risk losing her account. "It made me feel extremely uncomfortable and really unsafe that they would care more about me using my real name then my literal kidnapper and rapist finding me on Facebook," she said.
Asked if she could provide documentation to Facebook to prove her nickname was a name she used in everyday life, Courtney said she had no interest. "The point is that I'm trying to not be there as me."
The policy is so strictly enforced, a woman in England named Jemma Rogers legally changed her name to the fake Jemmaroid Von Laalaa to get back into her account. "Facebook are being ridiculous," she recently told The Telegraph. "I've been locked out of my account for five weeks now and have lost all of my photos, messages and precious memories."
"Like with all of our policies we always recognize that there are ways we can improve," said Facebook Head of Global Product Policy Monika Bickert in an interview with BuzzFeed News. "We will continue to evaluate the experience and have our team think of ways that we can do better. "
The African LGBT activist said he fears that enemies of his community will be targeted by enemies who will use Facebook's real name policy as a tool to kick them off the service. "All of us use nicknames and I suspect people are reporting us for not using our real names so they will soon lose their accounts, just like me," he said. "We have no other space other than social media; that's how we connect."
This morning, he wrote again to say his account was restored. "I don't know if Facebook did a special accommodation for me or if they are working around their policy for other people as well," he said. His case's media coverage is likely at least partially responsible, and not every case will receive the same attention.
The activist said using his legal name was not an option. "I would be in danger, my family would disown me, all sorts of wrong things will happen to me," he said. "I am forced to use a nickname. It's not my wish, but it's my situation."
BuzzFeed removed some personal identifying information relating to one of the story's subjects.