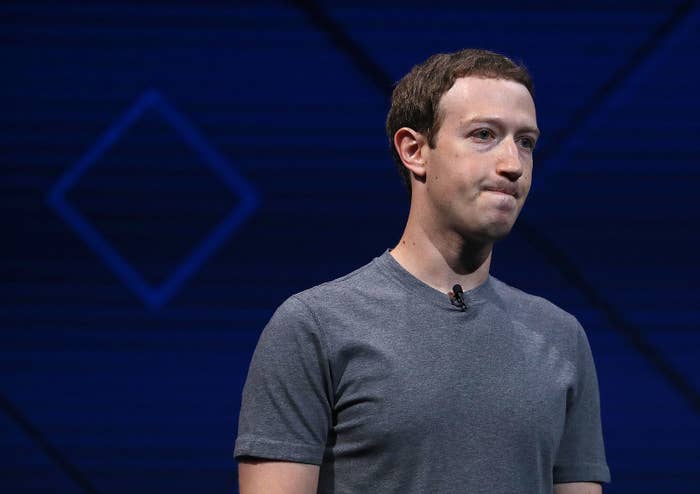 Facebook CEO Mark Zuckerberg said that he'd be open to having Facebook regulated during an interview Wednesday about the fallout from the Cambridge Analytica scandal. His statement is seemingly at odds with the conventional wisdom that Facebook is desperate to keep the government's hands off its business.

"I'm not sure we shouldn't be regulated," Zuckerberg said in an interview with CNN's Laurie Segall, after being asked why his company shouldn't be regulated.
Asked how the government should regulate Facebook, Zuckerberg said, "ads transparency regulation — that I would love to see." He mentioned legislation that's currently in the Senate that would require internet companies to disclose who paid for ads, a clear reference to the Honest Ads Act. The bill hasn't gone anywhere since its introduction last fall. Zuckerberg said he didn't believe internet companies should be less transparent than other mediums, like radio or TV.
And amid mounting calls for Zuckerberg to appear before Congress, he said he would testify "if it's the right thing," adding the caveat "We just want to make sure we send whoever is best informed."

Beyond that, Zuckerberg said there are certain deeper philosophical questions around regulation that need to be hashed out. He did not provide more detail on what the questions are, though.
Facebook, Zuckerberg said, has already taken proactive steps to increase ad transparency. The company is currently testing new a transparency module that will show all ads a page is running in Canada. The plan is to roll it out ahead of the US midterms in 2018. Of the midterms, Zuckerberg said he's sure bad actors will try to manipulate Facebook users to influence their votes, and said preventing this is Facebook's top priority.
Zuckerberg appeared on CNN five days after the New York Times and the Observer reported that the data firm Cambridge Analytica had improperly collected and used the data of 50 million Facebook users. The resulting scandal has helped chop off nearly $50 billion in value from Facebook's market cap since last Friday, led to calls from US lawmakers for Zuckerberg to testify before Congress, and raised eyebrows at the US Federal Trade Commission, which is now probing the company.
Read more:
Here's How Facebook Got Into This Mess: A Timeline

Mark Zuckerberg Finally Addresses Facebook's Cambridge Analytica Scandal

If You're Not Ready To Delete Facebook, Here's How To Limit The Data You Give It

Cambridge Analytica Says It Won The Election For Trump. Here's What It's Actually Talking About.

These Men Helped Create Cambridge Analytica. Here Is Their New, Very Similar Startup.