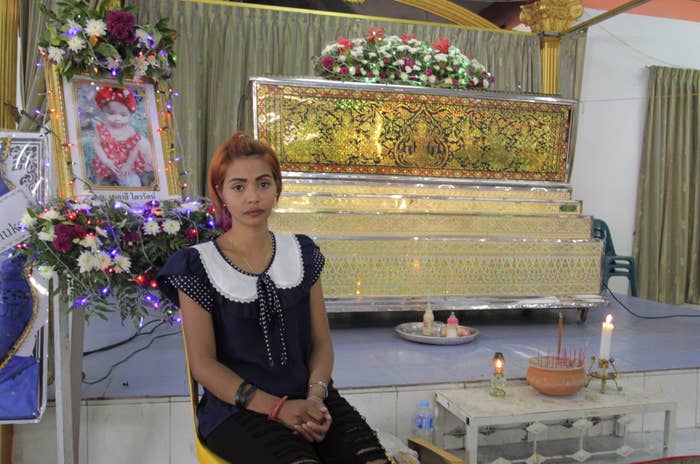 A Thai man broadcast video of himself killing his baby daughter on Facebook Live Monday, in the latest in a string of recent live-streamed horrific acts on the social platform. Wuttisan Wongtalay, 20, hanged his 11-month-old daughter and then himself at an abandoned hotel in Phuket.
The murder video remained live on Facebook for nearly 24 hours, according to Reuters. It's certain to draw further scrutiny to the company's Live product, which has been used to broadcast a number of acts of gruesome violence since its launch in April 2016. This latest Facebook Live murder comes just weeks after Facebook user Steve Stevens killed a stranger in Cleveland and uploaded video of the murder to the social network.
"This is an appalling incident and our hearts go out to the family of the victim," a Facebook spokesperson said in a statement. "There is absolutely no place for acts of this kind on Facebook and the footage has now been removed."
Wongtalay posted two videos from the crime scene. Both registered over 100,000 views, according to The Guardian, which reported that the videos were uploaded to YouTube by other users too.
Though yesterday's murder was the first aired on Facebook Live in Thailand, deputy police spokesperson Kissana Phathanacharoen suggested it might have been a copycat act. "It could be influenced by behavior from abroad, most recently in Cleveland," he said, referring to the Stevens video.

On Wednesday, the wife of the perpetrator and mother of the victim told the AP that she bears no anger towards Facebook or those who shared the video. She said she believed her husband was the only person to blame, and that he had been abusive in the past.

Chiranut Trairat, 21, said: "I am not angry at Facebook or blaming them on this. I understand that people shared the video because they were outraged and saddened by what happened."

Policing its emerging live video platform for horrifying acts of violence is proving to be an urgent and difficult problem for Facebook. The company has so far provided little about its efforts to do so, but it's clear the issue is a priority. At the start of his company's F8 developer conference last week, Facebook CEO Mark Zuckerberg took a moment to address the Cleveland murder. "We will keep doing all we can to prevent tragedies like this from happening," he said.

Francis Whittaker contributed reporting on this article in London.