Republican Sens. Lindsey Graham and Bill Cassidy, authors of the latest GOP health care bill that appears headed for defeat, aren't winning any friends on Twitter.

The two are generating epically negative "ratios" in response to their recent tweets — and while it's not exactly a scientific definition, "the ratio" is a good indicator of whether Twitter users are into a tweet or not. If a tweet has more retweets than replies, chances are its author said something people agree with or find interesting enough to share. If a tweet has far more replies than retweets — meaning lots of people felt compelled to say something to its author as opposed to simply pass their thoughts along — chances are the person behind the tweet angered the Twitterverse.
Cassidy this week posted the worst ratio'd tweet in an approximately 12-month data set collected by research company Fast Forward Labs, which includes the tweets of eight prominent politicians — including President Donald Trump, Sens. Bernie Sanders and Elizabeth Warren, House Speaker Paul Ryan — and late-night TV host Jimmy Kimmel, who's recently entered the political discussion. Cassidy received 3,100 replies compared to 86 retweets on a tweet saying that under his bill, "states must ensure that individuals with pre-existing conditions have access to adequate & affordable insurance."
It likely didn't help that Cassidy has been on the other end of a feud with Kimmel, who used his platform multiple nights in a row to go after Cassidy by name.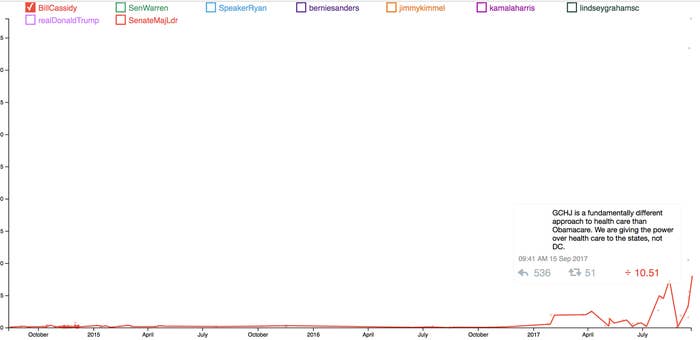 Both Graham and Cassidy are testing the upper limits of the ratio for a politician. The replies to many of their recent tweets far outpace the retweets. And their ratios in September show them overtaking House Speaker Paul Ryan's, whose May ratio on a tweet about the previous iteration of the Republican health care bill (also about pre-existing conditions) earned him the label "the Most Hated Man on Twitter," from New York Magazine.

On the Cassidy thread, Twitter noted, "This conversation has too many replies to show them all.
Graham isn't faring much better. His tweet Monday promoting the bill netted more than 1,200 replies compared to 80 retweets.
Taken together, the two are certainly generating some outrage.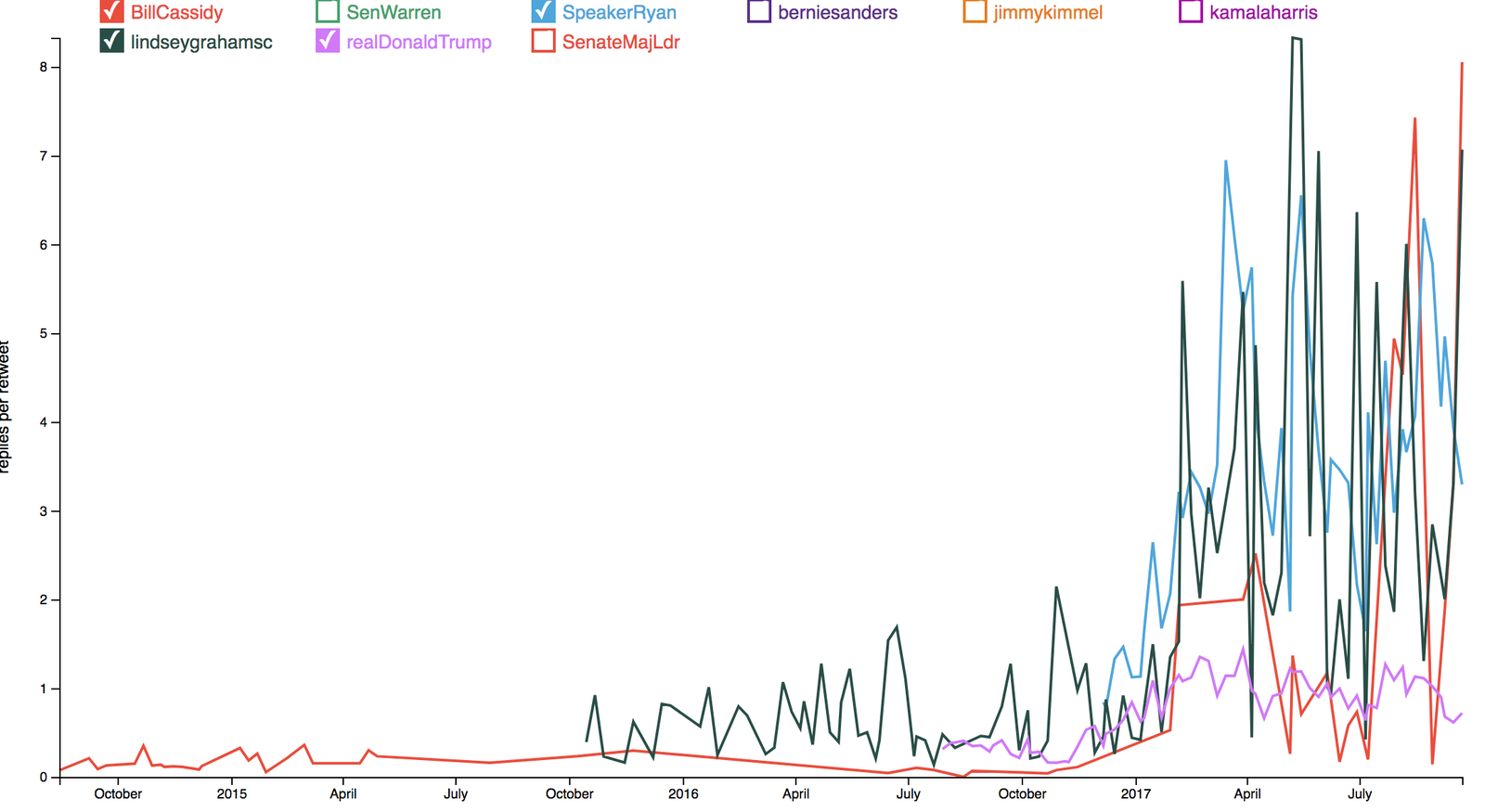 "Trump's worst ratio so far this month are around a 2 [replies to 1 retweet], Ryan and [Senate Majority Leader Mitch] McConnell are around a 10 to 1, but Cassidy and Graham's worst are 20-50," Mike Lee Williams, director of research at Fast Forward Labs, told BuzzFeed News.

"The ratio" does have its doubters, including CNN politics reporter and editor-at-large Chris Cillizza. "Ratio is a lefty Twitter concept that I don't buy into," he tweeted Friday. His tweet received 603 replies compared to 60 retweets.