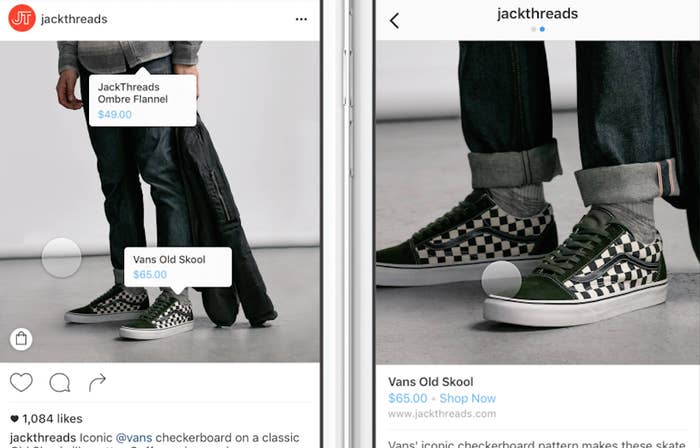 Instagram is introducing new mini shops in an attempt to sparks sales of products in its feed.
The shops, which are debuting in a test with 20 partners next week, allow you to tap on items you see in pictures and explore them in more detail inside the Instagram feed. A "shop now" button is included within the mini shops, and hitting it will open a checkout web page for the product you're looking at inside Instagram.
Warby Parker, Abercrombie & Fitch, Coach, JackThreads, and more are participating in the test, which will be live in the US only to start. The retailers won't be able to promote the shops with advertising for now, though that will likely come down the road.
Instagram already sells ads that include a "shop" button, but the new mini shops are meant to bridge the gap between the moment you become aware of a product and when you decide to buy it. They also give you more information as you consider buying something, a step that naturally occurs when you shop offline.
"You can get inspired [online], and you can buy — it's that in between state between the shop window and the cash register that doesn't exist today," Instagram's director of market operations, Jim Squires, told BuzzFeed News.
Facebook, Instagram, Pinterest, and Twitter have all introduced commerce to their platforms over the past two years, but so far the results have been less than spectacular. Twitter, for one, ceased development on its buy button and disbanded its commerce team. Retailers have also played down other platforms' programs, and a study by the research firm GlobalWebIndex found that only 14% of people aged 16 to 64 want to see buy buttons on Instagram.
"There's work to be done," Squires said.
Still, Instagram has long been a place where people arrange transactions in comments underneath photos of items they like. And now, it's trying to develop a product that captures the spirit of those conversations in an effort to generate even more sales.