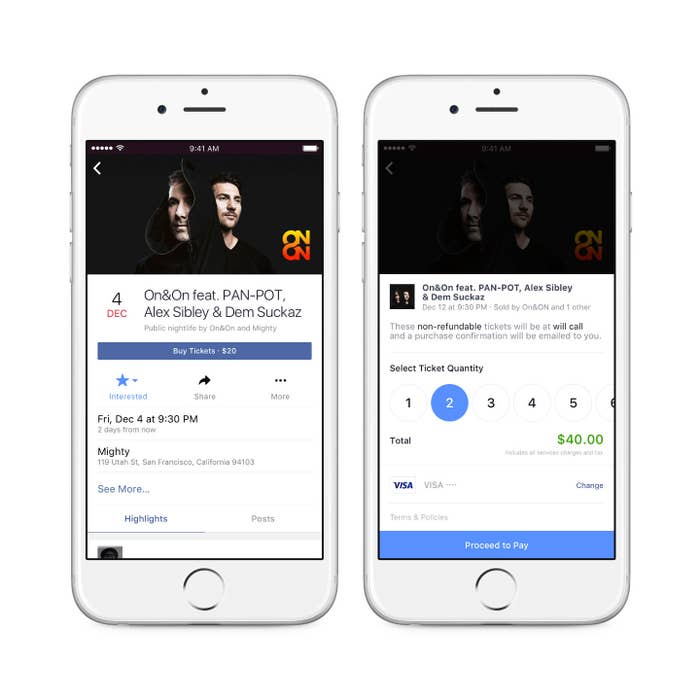 Facebook is starting to sell concert tickets directly through its event pages.
The company is introducing a "Buy Tickets" button, which people can use to, well, buy tickets to events without leaving Facebook. The tickets, when purchased, will be available for pickup at Will Call windows -- there will not be electronic or paper tickets, at least for now. The functionality is going live today in a limited release.
In an email to BuzzFeed News, a Facebook spokeswoman said the company is partnering with a small group of independent venues, artists and event promoters in the San Francisco Bay Area for the pilot. Millions of people, she said, currently use Facebook's events pages to find out what's happening in their communities.

The move is the latest in a series of commerce initiatives Facebook is undertaking. The company allows product sellers to sell directly through Facebook via a "Buy" button. And, in July, it began building shops into some pages. Ticket selling is the latest in the directly-on-Facebook movement.
Though Facebook will sell the tickets, it will hand off fulfillment to third parties, so all of the backend activities after the purchase will be completed outside of Facebook. A confirmation email will, however, be sent to the email address the person purchasing the tickets lists on Facebook.
Facebook is not taking a cut of the ticket price.
In an interview with BuzzFeed News in September, Facebook product manager Aditya Koolwal indicated selling tickets directly through Facebook was something the company was considering. "Reducing the friction for buying a ticket is something that we think would be pretty interesting to do eventually," he said. "That's definitely a very interesting thing that we're waiting for the right time for."

For Facebook, the right time appears to be now.