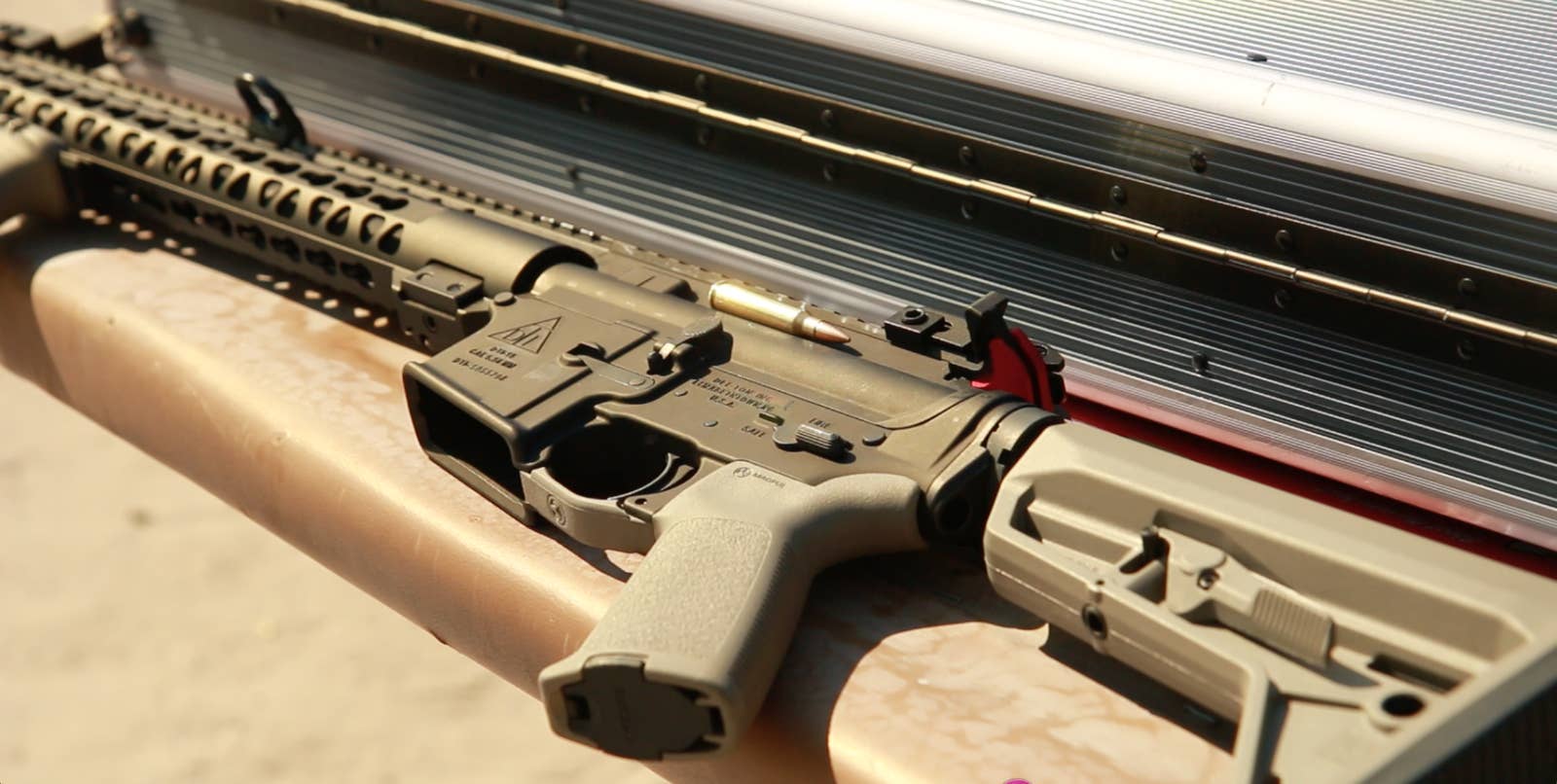 In January, Facebook banned the coordination of gun sales on its platform. But last Wednesday, I picked up an AR-15 variant — a gun similar to the ones used in the mass shootings in Sandy Hook, Aurora, and others — that I found, negotiated for, and agreed to purchase from a private seller entirely on Facebook.

Facebook instituted the policy banning private gun sales with little explanation, but it followed a series of mass murders that turned location names like Newtown, Aurora, and Charleston into shorthand for shooting sprees. San Bernardino joined the list in December 2015 when two ISIS supporters opened fire on a civic meeting there with AR-15 variants, killing 14 people. A month later, Facebook banned private sales of guns on its social network. At least in theory. I bought the AR-15 I found on Facebook just down the road from San Bernardino.
Finding my gun on Facebook was simple since firearms are openly posted for sale there. I asked to join a gun-themed Facebook group on a Friday, was approved within hours, saw the Del-Ton DT Sport AR-15 variant posted that Sunday night, sent a private message Monday, and signed the paperwork Tuesday. It was easy. The biggest hassle was the California law that made me wait 10 days from the time I bought the gun until I could pick it up. Ultimately I walked away with an AR-15 — and an understanding that Facebook's policy, enforced as it is today, makes little sense.
The AR-15 was created by gun manufacturer Armalite (where 'AR' comes from) in 1958, which then sold its interest to Colt in 1959. It's a beast of a gun, capable of emptying a 30-round magazine in under seven seconds. And its more powerful version, the M16, is used by the U.S. military and others around the world, and has been since the Vietnam War. The AR-15's nickname is "America's rifle." which means something in this country. It's beloved thanks to its customizability, accuracy, and raw killing power. The AR-15 was designed to kill people, rapidly. According to a Vietnam-era US Defense Documentation Center report, the "lethality" of the AR-15 and guns like it is "particularly impressive" in war zones.
Holding the black rifle at Mike Raahauge's Shooting Enterprises a few hours after picking it up, I understood its appeal as weapon. It blew through my 10-round, California-legal magazines in four seconds flat. Sand exploded in a small dust storm behind the target. I had fired guns before, but never an AR-15 or other semi-automatic rifle. This one consistently punched holes through the target.
The AR-15 is a hell of a gun. No wonder you can easily find it for sale on Facebook.
Let's Make a Deal
Gun sales take place in the open on Facebook, often within Facebook Groups. More than a billion people are active in these groups, which can range from school PTA forums to fantasy football shit-talking message boards. One of the most popular variety of groups is buy/sell/trade, which facilitate local goods marketplaces across the globe — think of them as Internet-powered swap meets or flea markets. Facebook's reach is such that it's taking in activity from competitors that offer this service on the web. Search any city on Facebook and add "Craigslist" to the end, for instance, and you're likely to find a buy/sell/trade group with that name.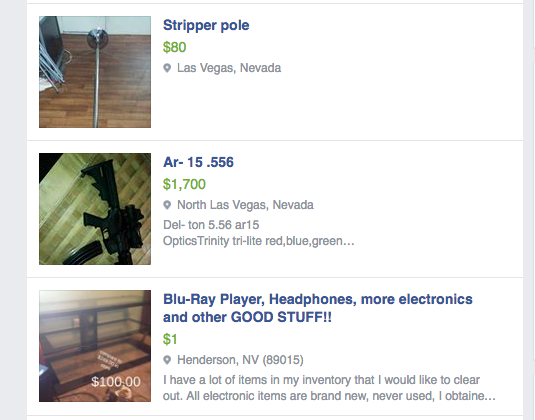 Buy/sell/trade groups are ideal for getting rid of household knickknacks, and it turns out they work for private gun deals too. In a Las Vegas buy/sell/trade group, I saw an AR-15 sandwiched between a stripper pole and a Blu-ray player. In an open, public group called Reno Big Boys Toys Buy/Sell/Trade, I saw handguns, hunting rifles, and semi-automatic rifles including the AR-15 and others. After Facebook's ban went into effect, some people began listing their guns under aliases like "countertop" (along with a photo of a gun on a countertop) to avoid getting reported, but many don't bother. The AR-15 I bought was listed as an AR-15, plain and simple.
In California, I found gun enthusiast groups everywhere from Sacramento to Southern California. Code names like "pew pew" and "bang" were effective search terms. But "gun" worked just as well. Many of these gun enthusiast groups were closed, requiring me to apply for membership. But the application process was simple and I was admitted to a few quite easily. Inside them, I found plenty of firearms for sale.
The AR-15 I would ultimately purchase was listed in one of these groups. The seller had posted a picture of it, clearly labeled, and included the specs. I messaged him directly from the post and heard back the next morning. "I'm asking only $750 so it can sell fast," he replied via Facebook Messenger. "It is a very good deal — a lot of people asking about it."
After a handful messages back and forth, we came to an agreement, exchanged numbers, and got on the phone to work out the nitty-gritty. California law requires that all private firearm sales go through a licensed firearm dealer, along with a background check and 10-day wait period, so we agreed to meet at Turner's Outdoorsman, a gun and fishing shop in Rancho Cucamonga, California. Once there, I would sign the paperwork and hand over the cash. I drove down the next day.
And that's the thing: By and large people aren't selling guns illegally on Facebook. This isn't a black market. The gun sales orchestrated on Facebook appear to be aboveboard in the eyes of the law; they're just happening in violation of Facebook policy.

While we were on the phone, my seller asked if he could add me on Facebook. Becoming Facebook friends allowed us to vet each other. I could look at his profile and gauge if he seemed like a trustworthy seller. And he, more critically, could go through mine to look for red flags.
"You seemed like a normal dude," he later told me. "Anything crazy — post, images or anything disturbing I wouldn't sell."
"You seemed like a normal dude. Anything crazy — post, images or anything disturbing I wouldn't sell."
If Facebook owns anything, it's our online identities. Aliases are prohibited on the platform, so Facebook is often the place where the closest thing resembling our true selves exists online. Of course, it's possible to game the system. But overwhelmingly people use their real names and typically reveal things about themselves via their posts, photos, and social connections. If you're looking to buy a gun to commit a crime, it's hard to imagine you'd want to do it on Facebook.

"It's nice that you can see what kind of person you're selling to," the administrator of a gun group in the San Francisco Bay Area told me. "I know if I was to scroll through an interested buyer's profile and see they had drug paraphernalia or gang indications that the person is not stable or can be a potential hazard for people that would make it easier to not sell."
Yet vetting someone by looking at their Facebook profile isn't foolproof. Dallas shooter Micah Johnson bought an AK-47 in a private deal he arranged on Facebook, for example, and then picked up the gun in a Target parking lot. (It was not the same weapon he used to kill five police officers in Dallas.)
And it's because of incidents like the one in Dallas that activists have begun highlighting guns posted for sale to Facebook. It is precisely because so many people use Facebook, they argue, that makes the platform an inappropriate place for weapons to be bought and sold.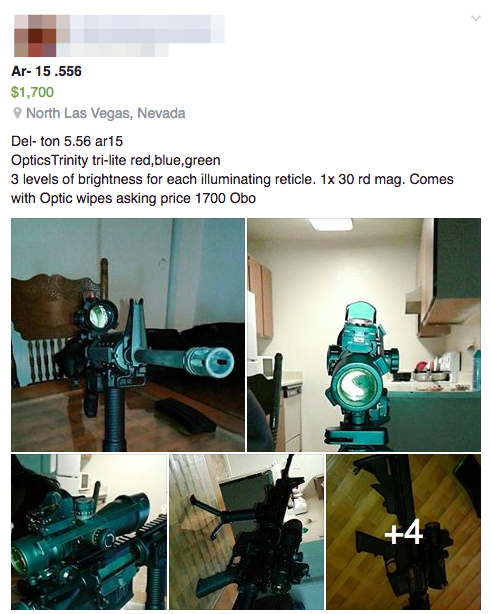 Mike Monteiro, a San Francisco designer who has been reporting gun sales to Facebook, told BuzzFeed News he didn't want his kid visiting a gun marketplace while looking up softball schedules "This ain't going to solve our gun problem. But it's at least going to slow it down in this one particular place," he said. "I didn't pick Facebook at random, this is the biggest social network in the world. Everybody fucking uses this thing." Monteiro said he and and his counterparts (including an independent activist named John Sibley, who helped BuzzFeed News with research for this story) have had some 10,000 gun sale-related posts, groups, and photos removed from Facebook.

Count Reno Big Boys Toys among them. The group went down late last month. "The group got shut down because it's Facebook's policy to not sell guns on their page," Zack, one of the group's administrators, told me, requesting that I use only his first name. "Who am I to go and tell them what to do in their own house?"
I asked Zack whether he thought shutting down gun sales on Facebook would reduce gun violence. "I'm a convicted felon. If I wanted to buy a gun, it would take me to two minutes to go buy a gun," he said. 'If you want to be a bad guy with a gun, you're going to get your gun. Facebook policy has absolutely zero effect on gun violence anywhere."
The whole experience led me to question the company's firearms policy. If Facebook thinks eliminating private guns sales on its platform will decrease gun violence, why not strictly enforce the policy? And if it doesn't, why have the policy at all?
Facebook itself still won't articulate a clear reason why its policy is in place. Asked for its rationale, the company provided the following answer: "Facebook has grown and changed since we last updated this policy in 2014. Since then, more and more people have been using our platform to discover products and to buy and sell things to one another. We updated our regulated goods policies to reflect this evolution."

Pulling the Trigger

When I arrived in Rancho Cucamonga after a long drive from San Francisco, I spotted my seller almost immediately. He looked just like his Facebook profile pic.

At Turner's, the gun store where we met to complete the final piece of the transaction we'd begun on Facebook, an employee asked me a series of questions. Am I a felon? Do I have a restraining order against me? Nope. Then I authorized a California-required background check and my seller signed the gun over to me.
And that was it. The store clerk handed me the AR-15. It was exactly as advertised on Facebook. I pointed the gun at a stuffed moose head mounted on the wall and pulled the trigger. Snap. "That's how it's supposed to sound," the clerk explained.
After turning down membership in the NRA — a standard question at Turner's cash register — I walked with my seller to his car. There, I pulled out my wallet, stuffed with 20s, and counted out the payment, stacking the bills in his trunk. A passerby asked my seller the price, and after being told the number, said he regretted not taking it himself. My seller and I exchanged thanks and a handshake and parted ways.
Asked to comment on my ability to find a gun on Facebook and orchestrate its purchase, Facebook reiterated its policy on such things. "The purchase, sale or trade of firearms, ammunition and explosives between private individuals is not allowed on Facebook," a company spokesperson said. "Content that violates Facebook community standards is not unique to our policy on private firearm sales, and that's why we have teams that work around the clock to review more than a million pieces of content reported daily. When we become aware of any content that violates our standards, we remove it immediately." Facebook declined interview requests for its CEO Mark Zuckerberg and Head of global policy management Monika Bickert.
Two weeks later, after California's 10-day wait period elapsed, I returned to Turner's to pick up the gun. After a quick safety briefing, it was handed over to me. I put the gun in my rental car's trunk and drove off to the range to make sure it worked.
Standing under the blazing Southern California sun, I pulled out my phone and watched one more YouTube video on AR-15 operation. I then loaded the magazine, pulled back the charging handle to chamber a round and took a breath before the moment of truth. BANG. It worked.
I flew home with the gun without issue and am planning to keep it. This is America, after all. And if money ever gets tight, I at least know where I'll be able to sell it. Thanks, Facebook.