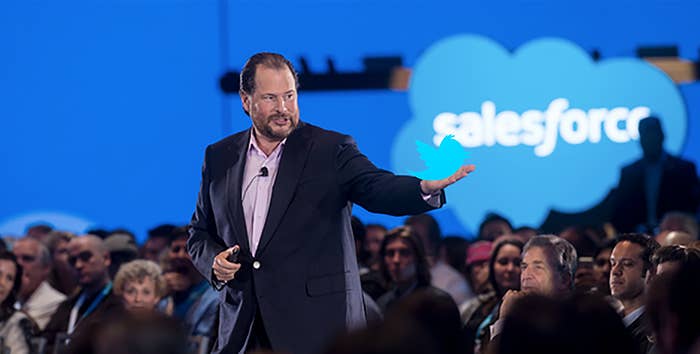 As Twitter struggles to grow its userbase and meet Wall Street's expectations, its been increasingly the subject of rumors that it may have to sell out in order to stay alive. Those rumors really ramped up today following a CNBC report that a number of companies have expressed interest in buying the social platform and formal bids could be in soon from the likes of Google and others.
But one potential named suitor left a lot of people scratching their heads and others even downright sullen: Salesforce. Salesforce is a business-to-business technology company that's prominent within that circle but relatively unknown in the consumer space.
But the two companies could fit well together, for a number of reasons. Consider the following:
The Ad-Tech
This is the big one. Salesforce's core product helps you market and sell to people you know, ad-tech helps you market to people you don't know (yet). Twitter has made two ad-tech acquisitions (MoPub and TellApart) and has hundreds of millions of logged in users, helping it connect user identify across devices. Bringing Twitter's ad-tech capabilities in house could provide Salesforce with a more deeply integrated offering at a time when its entire industry is working on ways to own the "full funnel," helping clients message from the point someone first becomes aware of their product to the moment when they buy it.
The Intelligence
If Salesforce can parse meaning from Twitter data (Executive A is interested in X,Y and Z), it could help prospecting sales reps be smarter about the way they approach potential customers. Earlier this month, Salesforce introduced "Einstein," an AI-powered product that Salesforce promises can help its clients by "automatically discovering relevant insights, predicting future behavior, proactively recommending best next actions and even automating tasks." For AI to work, it needs a lot of data. Twitter has a mountain of data. By purchasing Twitter and all its associated data, Salesforce could get that product revving fast.
The Small Social Fit
Salesforce has tried its hand at social with Chatter, a social platform built into its product, but that part of Salesforce could use some improvement (spoken as a former sales guy who's used it). Having Twitter's staff build up the social aspects of Salesforce could be big for the company. Executed right, it would increase the cohesiveness and communication among teams using the product.
Bret Taylor
Twitter board member Bret Taylor sold his company, Quip, to Salesforce in August for $582 million. As Recode points out, "some people think he'd be a good fit to run Twitter's core product." So Salesforce could already have a product head in place.
The Benioff Factor
Salesforce CEO Marc Benioff is a showman and a guy who likes to stir the pot. Benioff has stuck his neck out on enough social issues that he could probably enjoy some goodwill as he works to fix Twitter's harassment issue, one of its biggest problems. Benioff also happens to like social, and thinks it's critical to his customers' success. As he told CNBC a few years ago: "As a marketer, as a sales professional, you'd better know what's happening on those social networks because those are your customers. We've seen brands go haywire when one tweet goes wrong."