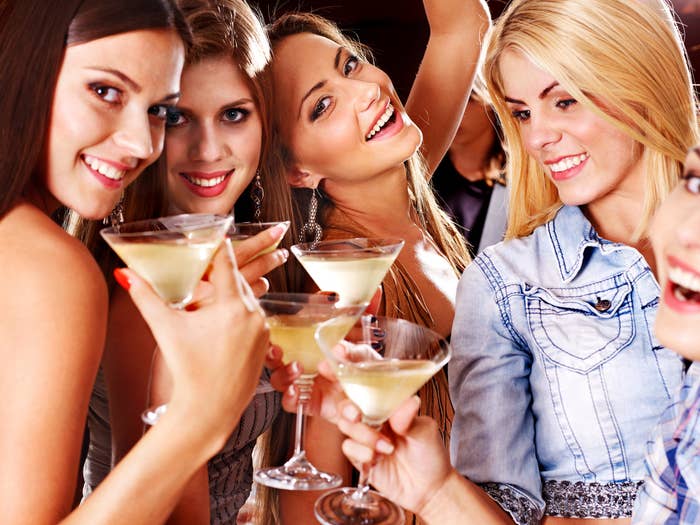 If you follow me on Foursquare and Twitter, you'd have witnessed a lovely night out this past Thursday: After an empowering cup of artisanal coffee at Clinton Hill's Urban Vintage, I took in a weeknight show at Brooklyn Academy of Music. The show, enhanced by a smooth caffeine buzz, was incredible. Then I downed a few glasses of Merlot at Mauzac, a trendy wine bar.
Sound wonderful? I'm sure it does. But here's what really happened last Thursday: I spent my night drinking Rolling Rock at home before I passed out around 10 p.m.
My amazing night out was manufactured by an app called CouchCachet, a Foursquare plug-in that's the brainchild of Brian Fountain, an improv performer and part-time developer who became frustrated with the pressure social networks place on people to be out and about at all times. CouchCachet is like a topical treatment for FOMO — on the surface, it makes it look like you're not missing out on everything a city has to offer, even if below the layers of social you're quietly crying in your Rolling Rock. When Fountain introduced it at a recent New York Tech Meetup, he called it "the only application that increases your social status while you do nothing at home."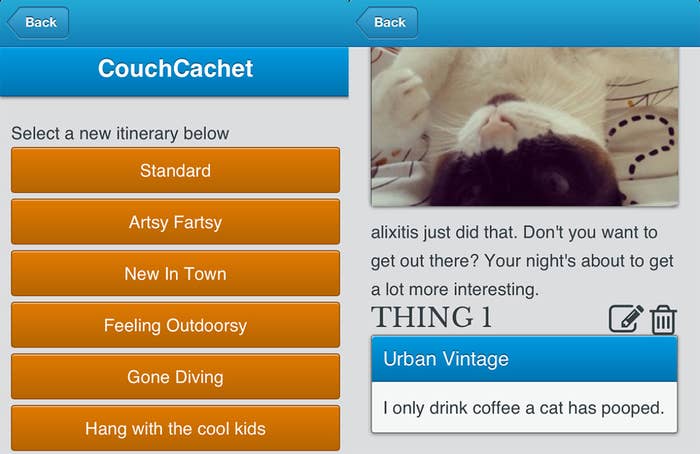 The app is simple to set up. All I did was go to couchcachet.com, hit the "connect to Foursquare" button, and then check in at home. After I checked in, CouchCachet presented me with a standard itinerary for my "night out" — a visit to a fruit and vegetable store and a stop at a popular bar — which I rejected in favor of the "artsy fartsy" option, one of six varieties the app offers.
After looking over my night's "plans," I hit a button to approve my itinerary and let CouchCachet get to work. I sat, planted on my sofa, as it created my presence at one hot spot after another, checking in and tweeting about the good times I was having every step of the way. When CouchCachet checked me in at Urban Vintage, for example, it tweeted, "I only drink coffee a cat has pooped." At the wine bar, it wrote, "Great Grapes!"
After my final status update, I realized that it could have been a pretty good night, if had I actually followed CouchCachet's suggestions.
The app's creator, Fountain, had the same realization after using it for the first time. "I was surprised by how it lowered the barrier for me wanting to go out and do things," he said, describing the unexpected but not unwelcome feature and the way he rediscovered a brunch spot he liked but had forgotten about.
Fountain said the app could eventually be used for more than just your run-of-the-mill fake night out. "I think that it could actually become a legitimate tool for planning simple day trips or nights out on the town," he said. "I wouldn't be surprised if people use it for that purpose eventually."
If CouchCachet goes that route, it would move in on Foursquare's own efforts to emphasize venue discovery, now a major aspect of the service. While Foursquare's Explore suggests single venues in your immediate vicinity, answering a "What should we do now?" question, CouchCachet produces an itinerary, which might better answer those asking, "What should we do tonight?" The difference is subtle but distinct, and there may very well be room for both.
Whether CouchCachet takes on that real-life component or not, there is an obvious business model to be had here. If the app picks up steam, it's not hard to see venues paying to be included in the app's itineraries, real or otherwise. "There is possibility of that," acknowledged Fountain. "But at this stage I don't want to dilute the pure intention of the application. Right now, the solid foundation of CouchCachet is lying to your friends to make yourself look better. I don't want to sully that experience and trade on the goodwill from our users."
It sounds absurd to build a business on a "solid foundation" of "lying to your friends." But it's no less absurd than the act of documenting an experience becoming the sine qua non of the experience itself. We are where we check in.