When President Trump deployed his "big, beautiful Twitter account" to direct his followers to the swearing-in of Sen. Jeff Sessions as attorney general last Thursday, some 66,000 people clicked the link he created to get them there.
Trump, whose @realDonaldTrump Twitter account currently boasts 24.5 million followers, often uses a URL management tool called Bitly to shorten the links he tweets. And because he uses the public version of that tool, the anonymized traffic analytics for those shortened links is freely available.
That data — which would be inaccessible to the public were Trump to use standard URLs — reveals that @realDonaldTrump is a traffic cannon. Though the president's Twitter influence manifests itself largely in conversation-driving tweets like last Thursday night's "SEE YOU IN COURT" missive, it's also quite effective at directing his followers to stories and reports he wants them to read.
Last Wednesday, for instance, Trump shared a link to a story citing an Emerson College poll that found voters trust the Trump administration more than the media. Placing a plus sign after the Bitly link he created, "bit.ly/2k4b0imEmersonPoll," summons a page displaying all the click data on the link — including the number of clicks through to the story and where they came from.
In the case of the Emerson poll story, published by The Hill, more than 678,000 people clicked Trump's link to it — 558,000 of them on Twitter. 72% of those clicks occurred in the US, 6% were generated in the United Kingdom and another 6% in Canada. Of the remaining 120,000 clicks, around 32,000 originated from Facebook, and the rest from platforms other than Twitter.

Trump's activity on Bitly blows away other links created with the service. In the first hour after he tweeted the Emerson poll link, 78,411 people clicked it, according to Bitly, far and away the most clicks on any Bitly link within that timeframe. The next-most-clicked Bitly link in that timeframe was another Trump-generated link, and the following eight in the top 10 a grand total of approximately 31,000 clicks.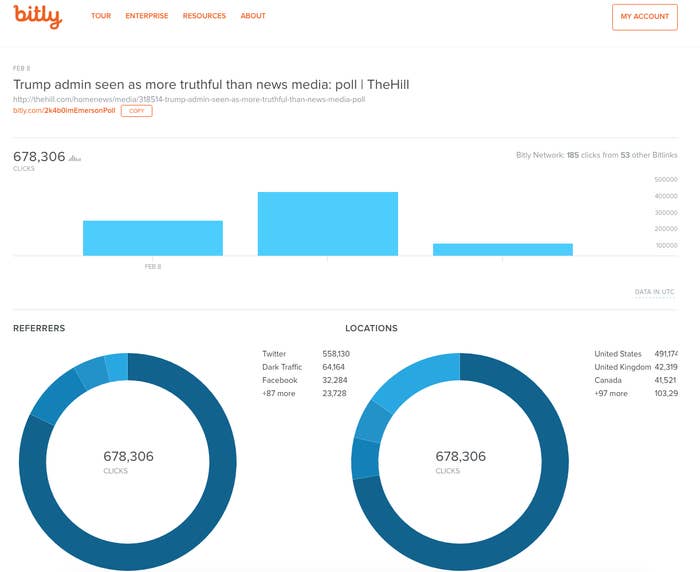 The caveat here is that Bitly measures all clicks on the shortened links it creates: If someone copied Trump's link and shared it somewhere else, those clicks are included in this data as well. That said, Bitly's analytics can put a rough, but reasonable, number on the kind of web traffic Trump drives. And, predictably, that number is massive — especially when compared to that of other celebrity Twitter accounts.
A recent Bitly link tweeted by Kim Kardashian, for instance, generated just 2,998 clickthroughs from Twitter despite the fact that Kardashian has an audience of 50 million followers — double the size of Trump's.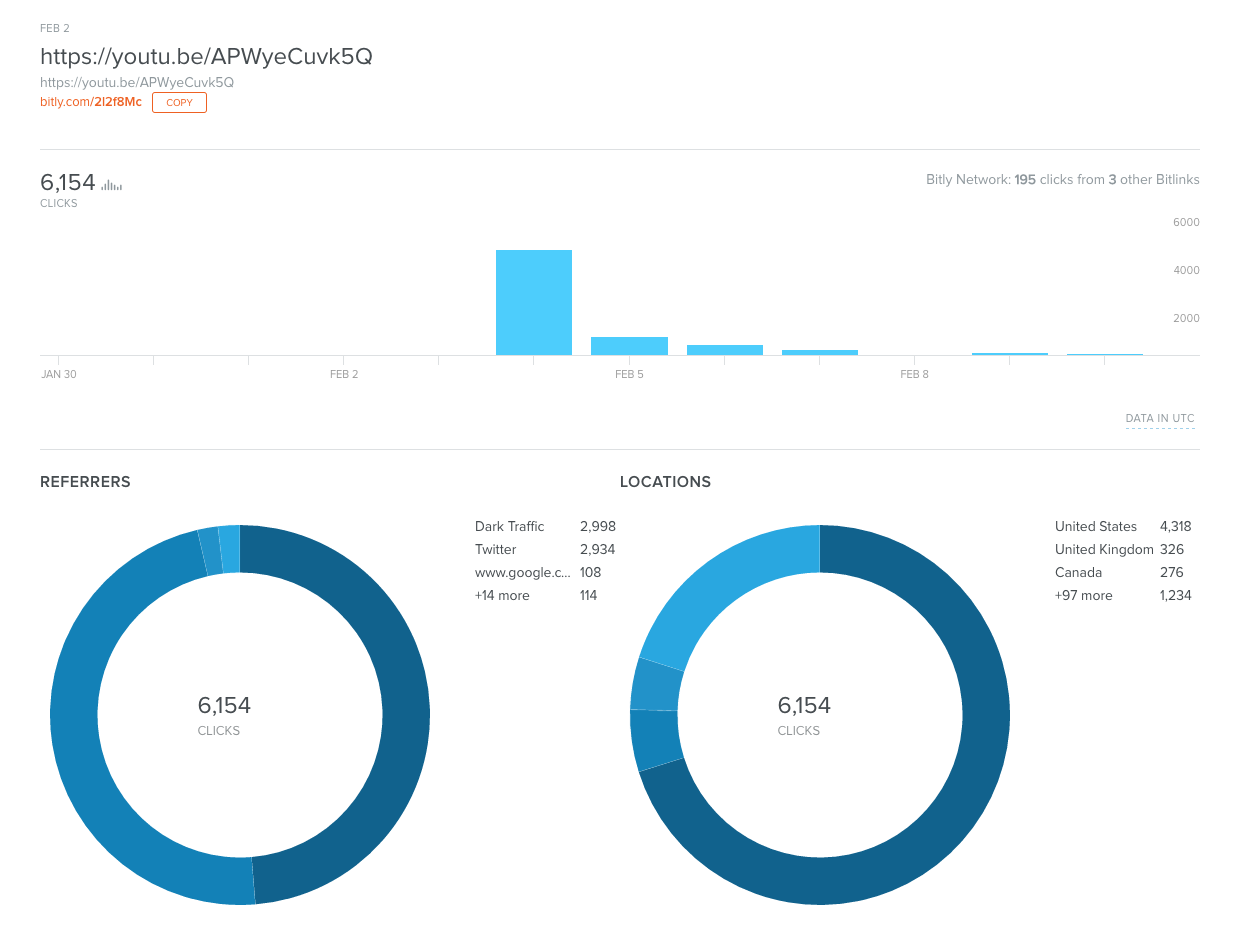 Trump, meanwhile, has averaged 84,000 clicks per tweet on the last 10 Bitly links he's shared.

Hillary Clinton also uses Bitly. A tweeted link to her concession speech generated 78,000 clicks from Twitter, less than Trump's average click number.