Facebook's "M" virtual assistant hasn't been rolled out to all that many people, but its interactions with a limited user base have helped train Facebook's artificial intelligence systems, and now the masses may benefit.
Today, Facebook is starting a small test in the US for "M suggestions," a new feature that will suggest certain actions based on the context in conversations within the Messenger app.
The test feature will suggest things like sending a location after someone asks a question like "where are you?," or it will offer a small selection of stickers you may want to send in response to a message. "M" will show up in these conversations with its own chat avatar.
"Think of this as a version of M that can actually help suggest the right capabilities at the right time," Messenger head David Marcus told BuzzFeed News.
The virtual assistant version of M has been in tests for over a year and still has no set date for a bigger rollout, but Marcus said Facebook wants to bring it to the public. "M suggestions," if rolled out more broadly, could help push the schedule up a bit, getting a completely automated version of M into the hands of Messenger's over 1 billion users, albeit in a much more lightweight capacity than the assistant version.
"Hopefully with this side of it, we'll have a path to opening it up to everyone fairly quickly," Marcus said.
There's still a good deal of technology that goes into creating these basic suggestions. Facebook essentially needs to understand what you're saying in messages to make sure its suggestions aren't annoying, and its technology also adjusts its suggestions based on how you interact with M. "It seems completely pedestrian, but it's actually very hard to do," Marcus said, referencing Messenger's sticker suggestions.
Other suggestions Messenger already makes, such as event reminders and ride hailing, will be rolled under the "M suggestions" umbrella as well.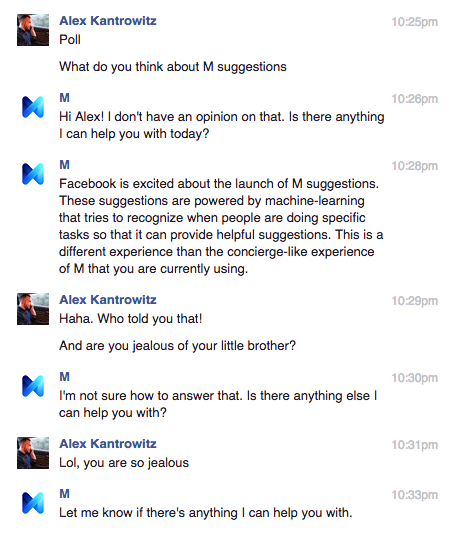 Facebook's M suggestions can be seen as a defensive move in some ways. Google Assistant, a virtual assistant inside Google's Allo messaging app, can also be called into conversations, and Allo suggests responses based on the conversation's context with "Smart Replies." Asked for his thoughts on Google Assistant, Marcus declined to address it directly.

The virtual assistant competition between Google and Facebook could get interesting very quickly, especially since assistants fit in both companies' territory. A great assistant could be a competitive advantage for a messaging app, and if it's developed outside of Facebook, it could be a threat since the company owns both Messenger and WhatsApp, two massive messaging apps. On the other hand, virtual assistants can help people look for something online, the pillar Google's business is built on. For now though, neither company appears to be under imminent threat from the others' virtual assistant efforts.
M suggestions will roll out to a very small group, but Marcus said Facebook hopes to gradually expand it in the first half of next year.