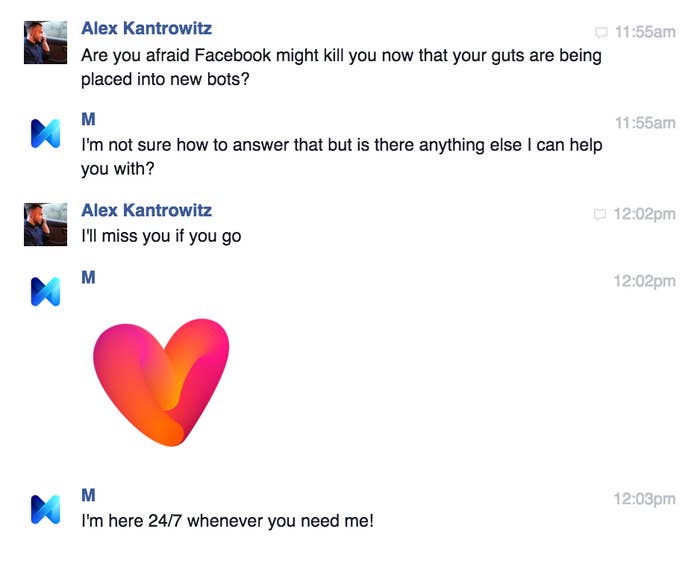 For the past six months, Facebook has been experimenting with M, an AI-powered virtual assistant that can do tasks like book you restaurant reservations, look up movie times, and even buy plane tickets.
The virtual assistant is still in testing phase, and Facebook has said little about when it will release it to the general public.
But the bot has already served its purpose.
At Facebook's F8 developer conference today, Facebook Messenger head David Marcus said the technology behind M — or some of it, at least — will be available to developers via a Bot Engine. In English, that means Facebook is giving away some of the knowledge it's gleaned from M's so-far short life (the bot, for instance, now has a good grip on the flower-ordering process), in the hope that the technology will entice developers to build more AI-powered bots on Messenger, and better bots at that.
"The Wit.ai [artificial intelligence] team, part of the Messenger team, built this very powerful tool that was originally intended for our own internal use, but that I'm glad to open up to everyone today," Marcus said onstage at F8, describing some of the technology that lives within M. "This will enable you to build very, very high-end, conversational self-learning bots."

In an conversation at Facebook's Menlo Park headquarters last November, Marcus indicated that M could be used to harvest AI for others. "Everything we're doing with M is enabling us to learn how to extract intent from natural language better," he said. "If we can help our partners extract intent and then do something with it, then we'll help them do that."
Now that M's technology is being used to help partners build within Facebook Messenger, there's a way in which the bot has already served its purpose. Facebook will likely keep it running to ingest more data and hand more to its partners, but if M never even reaches the public, it will have made its mark.