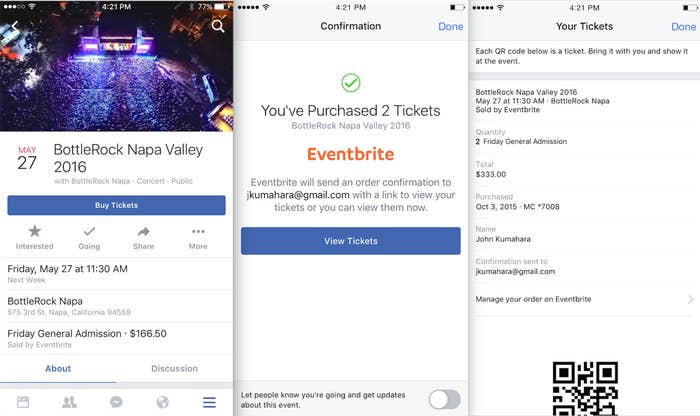 Earlier today, BuzzFeed News reported that Ticketmaster will soon begin selling tickets directly on Facebook. We've now learned that another big ticketing company, Eventbrite, is set to do the same. The inclusion of a second partner indicates a significant ticketing push is taking place within the social network, as opposed to a one-off experiment.
Jon Park of Facebook's Product Partnerships told BuzzFeed News last week that Facebook is trying to make it easier for people to use its platform to get out into the real world. "We want to help not just people find events, but also get to events faster," he said.
Of course, there is financial incentive too. Facebook gets paid an affiliate fee by Ticketmaster when customers purchase Ticketmaster tickets on Facebook. (An Eventbrite spokesperson said no affiliate fees will be paid to Facebook for this pilot, and would not comment on Eventbrite's financial relationship with Facebook otherwise.)
For companies like Eventbrite and Ticketmaster, the allure of routing business through Facebook is clear. These ticketing companies are encountering difficulty reaching their customers through their own websites because people are spending more time in a handful of mobile apps, and less browsing the web's seemingly infinite number of sites. Facebook's app is one of the planet's most used, so it's a natural conduit for businesses to their customers.
Eventbrite VP of Product Laurent Sellier nodded to this in a statement emailed to BuzzFeed News. "We are committed to innovation that helps event organizers sell more tickets," he said. "Enabling a seamless purchase experience for consumers in places like Facebook where they are spending significant time is an important step in this mission."

Swaths of online commerce could eventually make their way into Facebook's walls, and the social giant is aggressively experimenting with different approaches to make it work for all involved. What we're seeing today, on the eve of Facebook's F8 developer conference, may just be the start.