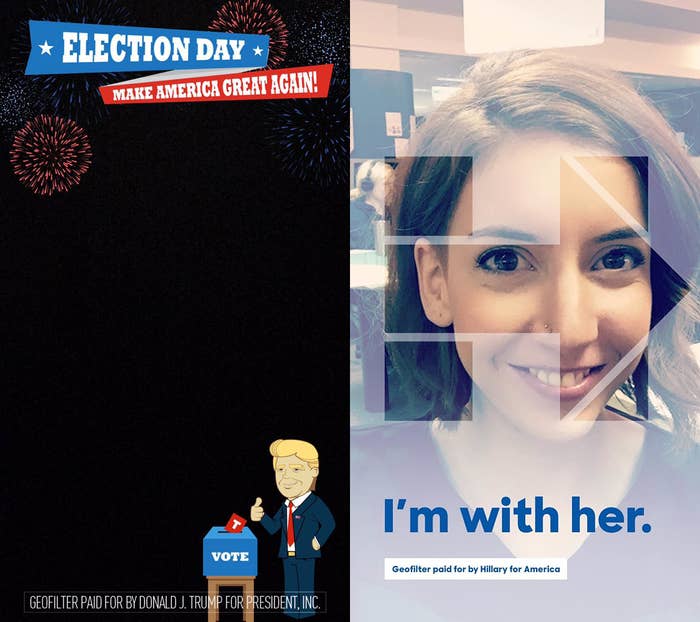 With election day nearly upon us, the U.S. Presidential candidates are heading to Snapchat for a last, concerted social push. Over the next two days, the social platform will host some big political ads from the camps of Hillary Clinton and Donald Trump.

The Clinton campaign's sponsored geofilter hits Snapchat on Monday offering supporters a simple "I'm with her" overlay. Debuting alongside it: what Snapchat says is the first presidential election-themed, sponsored selfie lens. Purchased by Priorities USA Action, a Democratic Party super PAC, the lens adds Hillary Clinton's hair and jacket to users' selfies. When the transformation is complete, the "Hillaried" Snapchat user shimmies back and forth across the screen, in a nod to a key moment from the first presidential debate.
The Clinton campaign did not respond to a request for comment about its Snapchat ad or Priorities USA Action's selfie lens.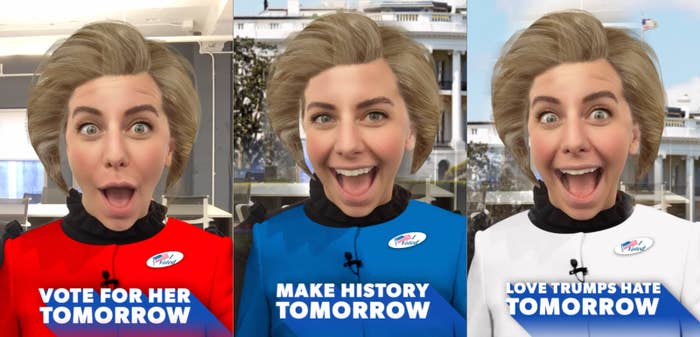 On Tuesday, the social platform will also feature a national geofilter overlay from the Trump campaign, which landed the election day slot (sponsored national geofilters are sold on a first-come, first-served basis, and limited to one per day).
The Trump camp's sponsored geofilter displays a cartoon Trump casting a ballot, with fireworks and an "Election Day, Make America Great Again" banner up top.
Snapchat sells sponsored lenses for upwards of $450,000 a day, and can command $700,000 around special events. Sponsored geofilters command a similar price.

Snapchat has captured a lot of election-related attention in the run up to Tuesday's vote. According to the company, 52 million Snapchat users have watched more than 2 billion U.S. politics-related snaps during election season. Snapchat itself plans to tap into this interest on Monday and Tuesday with a "Heads Up" geofilter and election-themed lens, both intended to encourage voting.
According to a Snapchat-commissioned Nielsen study, Snapchat reaches 41% of people in the United States between ages 18 and 34 on any given day. So the company's efforts to mobilize voters and the candidates' efforts to rally their supporters ahead of the election have a more-than-reasonable chance of reaching a key demographic in these last few days.