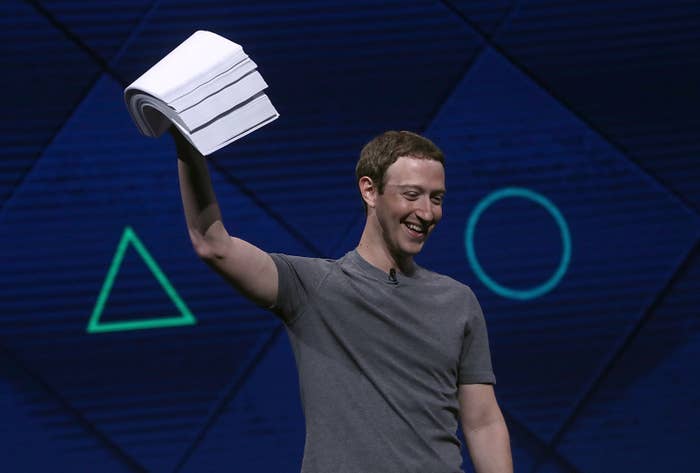 Facebook on Thursday announced sweeping changes to its News Feed, the river of content people see when they first log into the social network. The changes are intended to prioritize posts that inspire "meaningful interactions" between friends and family, while de-emphasizing passive posts from publishers and brands.

These changes are being implemented as Facebook struggles to recover from a series of controversies — fake news, hate speech, Russian election meddling — brought about, in large part, by the company's efforts to get people to spend more time inside its platform.
The changes are big, and they have the potential to reshape the discourse and the economy that have developed around Facebook — not to mention the $545 billion company's bottom line. We won't know their full effect until they roll out to Facebook's 2.07 billion users, but here's a glimpse at what they mean to start:
The comment is the new share
Shares have long been viewed as the things that make posts go viral on Facebook, but now comments appear poised take their place. With this update, Facebook is prioritizing posts in the News Feed that get people talking to each other in the comments. That puts comments, or more specifically comment threads, in position to become the new shares. Facebook is making this shift after recognizing that when people browsed the News Feed without interacting with content, it was making them feel bad. As the company noted in a Dec. 2017 blog post, "In general, when people spend a lot of time passively consuming information — reading but not interacting with people — they report feeling worse afterward."
More interactions doesn't necessarily mean better interactions
By prioritizing back-and-forth interactions in the comments, Facebook could also be increasing the frequency of arguments on its platform. Facebook's challenge here will be to find a way to facilitate constructive conversations while deprioritizing flame wars.
Facebook News Feed head Adam Mosseri told BuzzFeed News he believes the company is up to the task. "We try and understand which interactions people find meaningful and value different actions according to how meaningful people tend to find them," he said. "We won't always get it right, but overall we believe this will be healthy for the ecosystem. On problematic interactions, like hateful or uncivil comments, [we] do actively work to identify and disincentivize, down-rank and, in certain cases, remove those."
Advertisers will likely be upset
At Facebook's urging, big brands spent millions of dollars building easy-to-reach audiences on its platform. Then Facebook convinced these advertisers to spend millions more on sponsored posts to better reach those audiences. Now it's telling them that, as a matter of policy, it plans to de-prioritize their relationships with those audiences.
Painful for publishers
Similarly, at Facebook's urging, publishers spent lots of money building audiences inside its platform. Then Facebook convinced them to publish content directly to its platform (remember instant articles?) and, if they so choose, to pay to promote that content to their audiences. Many publishers directed dedicated readers to follow them on their Facebook pages and some even paid to grow them further. And now Facebook is cutting their reach.
Ironically, some of these publishers are likely responsible for quite a few of "meaningful interactions" that have occurred on Facebook since the 2016 presidential campaign kicked off. And, ironically, many have produced reporting that revealed catastrophic flaws in Facebook's platform.
A predictable outcome
Facebook put a lot of effort into wooing publishers and brands to its platform. And publishers and brands put a lot of effort into being there. But in the end, Facebook didn't get all that it wanted out of them. Sensationalized, partisan, or flat-out bogus news stories misled people. Branded content made people reluctant to post their dirty-mirror bathroom selfie for fear it would end up adjacent to a professionally shot video with a $3 million budget. Meanwhile, passive consumption of articles and videos made them just feel bad.
Give Facebook credit and get ready for the pain
When Facebook is determined to do something big, it goes all in (just ask Snapchat). And that's what it's doing here. Minor fixes to Facebook's problems with fake news, election meddling, and violent content simply aren't going to cut it. This year, Mark Zuckerberg's made it his personal challenge to fix these problems, and just 10 days into it he's clearly trying to deliver on this.
These changes won't be painless. They're going to hurt Facebook, which Zuckerberg said anticipates a reduction in time spent on its platform and "some measures of engagement." And it's going to hurt publishers and brands, too.
Zuckerberg said it's going to take months for these changes to roll out fully, but when they do, he said he hopes "the time you do spend on Facebook will be more valuable."