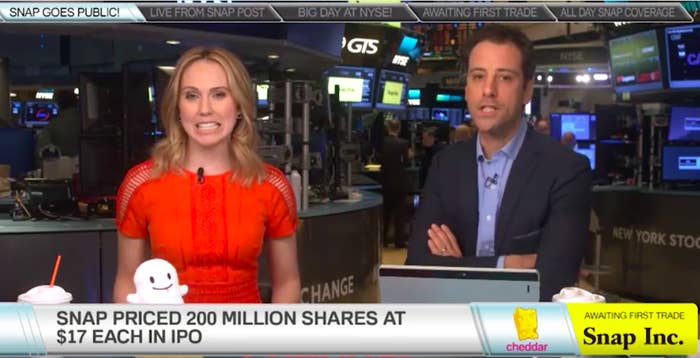 Cheddar, a digital-only financial news network that bills itself as "the leading post-cable network," is coming to traditional TV. The company signed a deal with Fusion to air two hours of daily weekday programming on Fusion's cable television channel starting later this month, making it available via major distributors including Dish, DirecTV, and Verizon Fios.

The move is intriguing since Cheddar's mission, until this point, has been to cater to people without cable boxes. The network has streamed free on Facebook, Twitter, Cheddar.com, and other streaming services. And last year it added a paid option for extra hours of programming. This new push into traditional television may be viewed by critics as an admission that the current slew of digital platforms aren't big enough to support Cheddar's $83 million valuation.
But Cheddar CEO Jon Steinberg (a former BuzzFeed executive) told BuzzFeed News he was willing to break with his digital orthodoxy for an opportunity that could increase the reach and awareness of his network, especially since Fusion won't require exclusive content. "I'm the king of strong opinions loosely held," Steinberg said. "It's a great network. It caters to a young audience. It's on all these systems. They were excited to work with me. I'm excited to work with them. Why not?"
Cheddar, which programs live financial news geared to millennials, will air from 11 a.m. to 1 p.m. eastern on Fusion, giving it an entryway into the 60 million homes Fusion reaches with its channel, and a number of digital authenticated services like DirecTV Now and Sling. "It's a fully distributed cable network," Steinberg said. The companies will work together for three months and then evaluate the partnership.
Going to TV isn't a necessity for Cheddar, since it's doing quite well playing on digital platforms alone. It registers 1 to 1.5 million live views daily on Twitter and Facebook, and hundreds of thousands of others through digital streaming packages. Since its debut in January 2016, it's ramped up to 8 hours of programming each weekday, and it's on track for $8 to $10 million in revenue this year after making $2.5 million last year, Steinberg said.
But Cheddar's quick success provides a window into how hungry the big digital platforms are for quality live video programming. The emergence of Facebook Live, Twitter's 24/7 live video push and digital TV subscription packages like YouTube TV have made the market for digital live video incredibly competitive. Quality live video is very difficult to produce, so those who can do it well are in high demand. Cheddar is working this competition to its advantage, and now it's seeing some traction outside the niche it set out to conquer. It's quick growth suggests there's opportunities for others who might follow the same playbook. BTIG analyst Rich Greenfield recently suggested ESPN would be smart to learn from Cheddar and push its content across multiple platforms.

Steinberg said Cheddar is not paying Fusion to carry its programming. He wouldn't say whether Fusion is paying Cheddar.