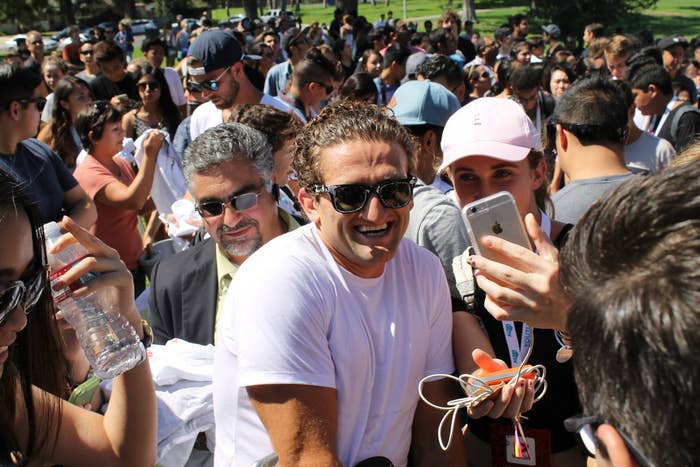 It's 3:30 p.m. on a Friday afternoon and 1,000 hyperventilating teenagers cheer on Casey Neistat as he tries to blow a drone out of the sky with a T-shirt cannon. Neistat, a filmmaker whose fame has soared thanks to YouTube and Snapchat, is wearing his trademark sunglasses, the temples of which get lost in his curly hair. With fellow social media phenomenon Jerome Jarre and MTV Catfish host Nev Schulman standing by, Neistat launches shirt after shirt into the sky to the delight of the teens, who shriek at each near miss.
"The drone is taunting you," screams 14-year-old Joshua Cheadle in Neistat's direction.
"It wants a piece of me," Neistat replies. A friend of Cheadle's gapes in amazement. "He talked to you, man, what an honor," he says.
The event -- which Neistat announced just hours earlier -- has all the markings of an increasingly common ritual: the mobbing of social media celebrities by legions of diehard fans. Except this time, there's a twist: The teens are here for a celebration of a technology company, Beme, not simply to worship alongside fellow adherents in the cult of Casey.
And Neistat, Beme's creator, does enjoy cult celebrity status. He rose to fame by creating highly produced videos, mostly for YouTube, which are so popular scores of kids hang out near his studio in New York every day hoping to catch a glimpse of him. Beme is designed to give them a real window into his life -- and to everyone else's as well. Yet this hot new app is just a piece of a much larger trend toward raw media. If you look at today's hot networks — Snapchat, Beme, Periscope, Meerkat — they are more about immediacy and intimacy than image building. They are about passing along the moment, in an unstructured way. They're realer, grittier. Rawer.
Beme, which Neistat released last week, may be the hottest social media app on the planet right now. It's deceptively simple and decidedly weird. It lets people share four-second video clips with no option to edit, delete, or even watch onscreen as they film. It's just a black screen that blindly captures snippets and passes them on. It's also weirdly hot, due in no small part to its exclusivity. You have to be invited to join via an unlock code from Beme or another existing user. People are auctioning them off on eBay.
"I like the raw," 15-year-old Natasha Serrano says while playing with Beme. "It's more interesting."
Beme's popularity is easy to brush off as an extension of Neistat's fame, but its rise is likely part of something else, something bigger. The app is the purest version of a new generation of social media companies built for the sharing of raw, unproduced and unpolished content, a stark contrast from social media's establishment, which has been gravitating toward professional content for years. From the live-streaming apps Periscope and Meerkat to Snapchat with its Stories tab, platforms enabling the publishing and consumption of raw content are corralling social media's energy. And they're doing it, in large part, by restoring the fun that's all but disappeared from older, more established platforms like Twitter and Facebook.
As the glob of humanity surrounding Neistat throngs Anaheim's once peaceful Stoddard Park, hundreds of free pizzas go largely ignored. Neistat grabs a megaphone and addresses the crowd, thanking them for coming out for Beme. Then he makes his way to home plate of the park's baseball diamond. The kids who are here to meet him form a selfie line that extends 200 yards from home plate to what might be the parking lot were this an actual baseball stadium. It remains in place for three hours. The Anaheim police force shows up with five vehicles. A ranger pulls her pickup onto the infield, trying to figure out whether this gathering with a permit for 100 people intentionally left off a zero. The kids are beaming like it's Christmas morning. Actually, they are probably happier than that.
It's all pretty raw.
Twenty-three hours before the madness in the park, I'm sitting across a table from Neistat in a small, freezing conference room on the second floor of the Hilton Anaheim. Downstairs in the lobby, hundreds of teens are milling about, in town for VidCon, an annual prayer mass to YouTube celebrity. Meeting in the lobby is not an option.
Neistat is one of the celebrities the teens have come to VidCon to behold. With more than 901,000 subscribers on YouTube, 126,000 likes on Facebook, and more than 175,000 Twitter followers, he's a massive star in the social media constellation. Yet the YouTube vlogs that made him famous, each of which is watched by hundreds of thousands of people, are painstakingly edited. So it's a bit bewildering to watch him pitch an app that eliminates the tools he rode to fame. But his short videos are already grabbing audiences from even more highly produced, scripted shows. Beme is simply taking it one step further down the ladder.
"This generation, our bullshit detectors have become so fine-tuned because we're so hyper-inundated with content," Neistat says. "The thing that people really respond to now is truth, is honesty. And raw is inherently honest, and I think that is something people really respond to."
People are indeed responding. Though usage of Snapchat, Beme, Meerkat, and the Twitter-owned Periscope have not fully eclipsed the social media incumbents, the fact that they're making a dent says something about their appeal. Snapchat is currently the sixth most popular free app in Apple's App Store, and Beme, a week and a half in, has already seen 1.1 million videos shared.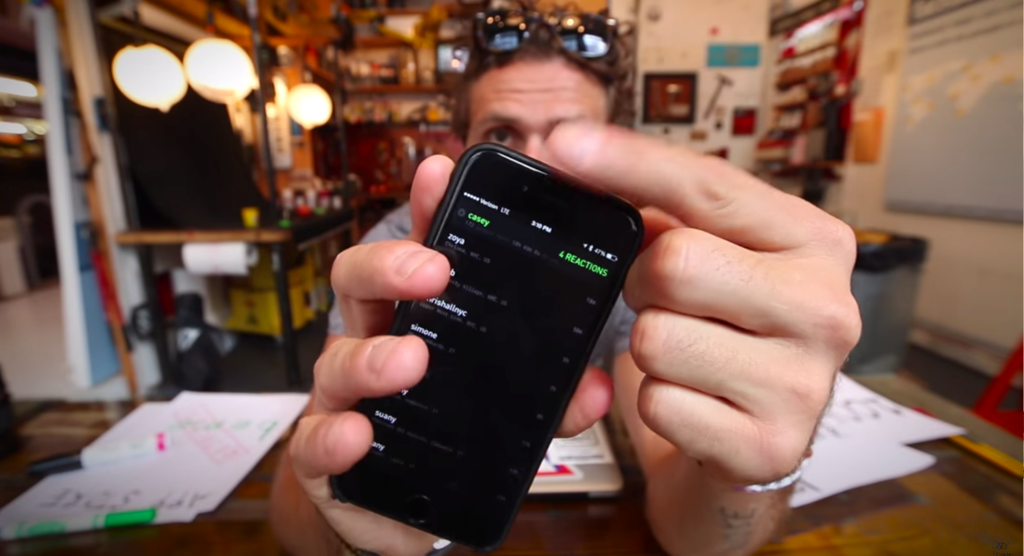 Not long ago, today's established social media companies were home to the rawness others are now capturing. Facebook was once filled with low-quality photos of college parties, some of which were so incriminating universities started handing out unsolicited Facebook etiquette advice to their students. Twitter, for its part, was a place you announced where you were eating lunch, told the world you were brushing your teeth, or posted a quickly typed-out complaint.
Over time, though, as audiences grew, these networks that began as venues for in-the-moment reality turned into more performative spaces. Facebook, Twitter, Instagram, Vine, and YouTube have all become stages of sorts where we put on plays that present our best selves. The result is that the content on these mainstream networks can seem over-scripted. Raw is an explicit reaction to this.
"That is the magic, that is the goal, that's the ambition of Beme," Neistat says of Beme. "To find a place for those little moments and to destroy the preciousness that typically exists in social."
Perhaps the most masterful collection of raw content can be found in Snapchat's Stories tab, where users post videos and images to followers that disappear after 24 hours. The video must be shot on the phone, can't be edited, and needs to be posted in order. Stories has become the de facto home for weird, raw content that wouldn't meet the bar for a Facebook post. Snapchat's curation of these Stories into larger, themed collections called "Live Stories" often shows touching looks into other walks of life, or on-the-ground footage of news events that is more compelling than any news broadcast.
In one recent "Live" story, for instance, Snapchat showed the Confederate flag coming down for the final time in front of South Carolina's statehouse. The subjects of the video are looser than they would be in front of a network news camera, so you see things you simply wouldn't otherwise. You drive along with woman as she's trying to find parking in time for the event; you're in the crowd as it cheers and sings "sha na na, hey hey goodbye"; you stand next to a pastor leading a song and, of course, are shown a smattering of joyous selfies.
The audience numbers on these Live Stories are significant — one person whose video was included said it was shown to over 3 million people. In fact, Snapchat's Stories are performing so well that the company just rolled the professionally produced content that once lived on its own in the Discover tab — stuff from the likes of ESPN and Comedy Central — over into its Stories tab. In essence, it tried to make this slick pro stuff more accessible by putting it alongside the raw, user-created content.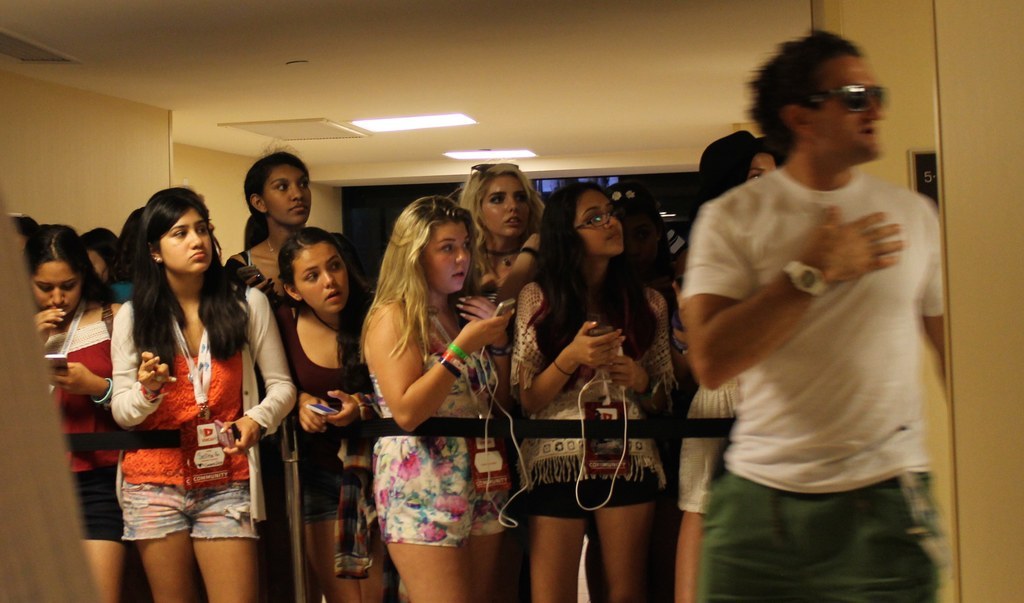 Then there's the connection aspect. Raw content also allows you to feel as if you're right there with the person filming it, enhancing one of social media's key attractions: connecting with other humans -- the "social" part of "social media."
In Anaheim, multiple teenagers tell me connecting is what interests them when they consume media. "In a YouTube video or a TV show, you're just watching them live their life and you have a personal connection but you don't have that friend, really," says the the 15-year-old Natasha Serrano. "I like the raw because you feel like you're really connected that way." Neistat fan Tarek Lambaz puts it this way: "It's almost living vicariously through someone else. Not like you want to be that person, but being able to experience what that other person is experiencing, it's fascinating, I guess."
It's not just teens. A friend who recently recommended I follow Neistat on Snapchat can't contain himself when he hears I'm about to meet him. "Oh man, he is just amazing," he says of Neistat. "How he speaks, how he shows his world and connects." (My friend, by the way, is a fully grown man.)
"I get why they're lined up here, in the lobby of the Hilton in Anaheim, and not waiting outside of 1515 Times Square to watch TRL like we did," Neistat says of the teens. "Why? Because they know me."
Neistat's concept for Beme was built around the idea of connection. "If you come into our office, you'd see this piece of paper, and it's the first idea sketch for Beme, and it says, 'What's it like to be pretty? What's it like to be young? What's it like to be old? What's it like to be made fun of? What's it like to be bullied? What's it like to be black? What's it like to be white? What's it like to be a mom? What's it like to Be Me?" he says.
The app, minimalist and frankly visually unappealing, is meant to push the point home. "It's a black curtain in front of my face and then I push a button and I see somebody else's life in Finland. And then the curtain closes. And then I push the button again and I'm in Tokyo. And I push the button again and I'm a high schooler in chemistry class," Neistat explains.
Back in the park, I take a seat next to Beme CTO Matt Hackett, formerly the VP of engineering at Tumblr, and I ask him what it's like to go from the old hot new social media company to the new hot new social company. He laughs and asks, "Is Tumblr really the old hot?" but eventually takes the bait.
"These media are starting to find a voice," he says of raw content. "Beme is definitely one of the things in this where, with video, which is the most visceral, understandable, digestible, human kind of content, where you can actually share that and create without thinking you're creating."
Whether the raw revolution will have a lasting impact is still an open question. MTV's Schulman, on his way out of Stoddard Park, makes what is perhaps the most compelling case against it. "I think people might get bored with seeing other people's lives when they realize they're not living their own lives," he says. Maybe so. But for the kids who wait for three hours to snap a selfie with Neistat, it all feels pretty real.