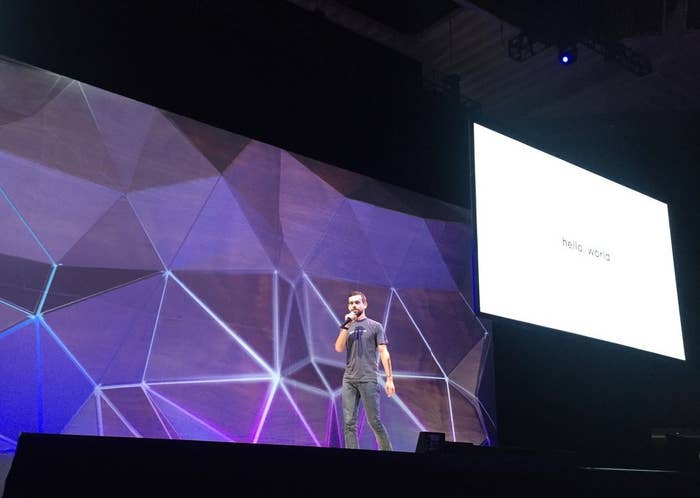 Twitter CEO Jack Dorsey offered an apology to developers today as he kicked off the company's Flight conference in San Francisco, telling the audience he's seeking to "reboot" Twitter's notoriously problematic relationship with the developer community.
Over the past few years, the level of trust between Twitter and developers has frayed over poorly communicated changes to the API developers use to build products connected to Twitter. Dorsey addressed these complaints head-on and with humility.
"We want to come to you today and first and foremost apologize for our confusion. We want to reset our relationship," Dorsey said. "We want to make sure that we are learning, that we are listening, and that we are rebooting. And that's what today represents."
Intriguingly, one of the developer-built projects Dorsey referenced onstage was Politwoops, a tool that tracked politicians' deleted tweets, but which Twitter shut down under his watch. "We have a responsibility to have an open dialogue with you to make sure we are serving you in the best way," Dorsey said. "We have a responsibility to continue to empower organizations that bring more transparency to public dialogue, such as Politwoops."
The Sunlight Foundation, which ran the U.S. version of Politwoops, said it learned of Dorsey's reference shortly before his remarks this morning. The group says the project remains dormant.
"We look forward to rebooting the dialogue with Twitter about how it can play an active role in promoting openness and transparency around the world," said Sunlight Foundation President Chris Gates in a statement provided to BuzzFeed News. "The public has a right to hold elected officials and candidates accountable to the statements they make, whether online or off."
Feedback Wanted
Dorsey also said Twitter wanted to improve its communication with developers, telling them: "We need to listen, we need to learn, and we need to have this conversation with you."
He asked them send feedback, good and bad, by using the hashtag #helloworld.