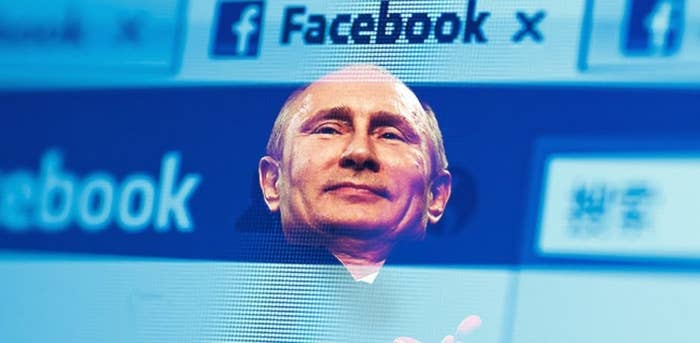 Facebook's admission that a shadowy Russian company linked to the Kremlin used its ad platform to interfere with the 2016 presidential election doesn't seem to be troubling the company's advertisers. According to new data obtained by BuzzFeed News, ad spends on Facebook are on the rise despite the unprecedented crisis that has erupted around the company's role in the Russian ad scandal. Meanwhile, some advertising industry executives are touting the episode as a testament to just how effective Facebook advertising can be.
"The discovery of Russian ads on Facebook intended to influence the US election is not a major concern for brand advertisers," Aaron Goldman, chief marketing officer of the media technology company 4C Insights, told BuzzFeed News. "If anything, it's just another case study that ads on Facebook can be highly effective."
"For better or worse, one key takeaway from this is how effective Facebook can be as an advertising medium."
"For better or worse, one key takeaway from this is how effective Facebook can be as an advertising medium," Kyle Bunch, managing director of ad agency R/GA's social practice, told BuzzFeed News. "Many advertisers are probably asking themselves, 'How can I make better use of data to have my campaigns get those kind of results?'"
Total Facebook ad spending has increased during the crisis, according to data from 4C, which is on track to run $1 billion in social ad spending this year. "For the quarter ended September 30th, we saw a 27% increase in ad spend on Facebook versus the previous quarter across 350 advertisers using our platform," Goldman said. "We also saw increases in CPM (cost per thousand) and CPC (cost per click) which means that advertisers are willing to pay more for each ad." In October, spending is up 20% compared to the first month of the previous quarter, Goldman said.
There are clear reasons for this, of course. Facebook is still an extremely effective ad platform — it's used by so many people that omitting it from advertising plans would be irresponsible in many cases. But more than anything else, advertisers simply don't feel that Facebook's role in 2016's unexpected election outcome has any bearing on their business.
"People are spending most of their mobile time in Facebook and/or Instagram feeds," Jill Sherman, senior vice president of social strategy at the ad agency DigitasLBi, told BuzzFeed News. "To think that moving money elsewhere is the answer for advertisers is akin to saying that audience doesn't matter anymore, and that's just not the case."
"It was eye opening for some people that questioned the validity of ads in social platforms."
Sherman said she's heard positive chatter about Facebook's effectiveness among some in the ad industry. And indeed, reports of how effective the Kremlin-linked Internet Research Agency's $100,000 spend was are almost doing Facebook's sales team's jobs for them. Some fanciful headlines have claimed that the entire state of Michigan could've been swayed with $42,000. And even without those reports, Facebook's admission that the $100,000 ad buy reached 10 million people is pretty impressive to many.
"It was eye opening for some people that questioned the validity of ads in social platforms," Sherman said.
Laura O'Shaughnessy, CEO of SocialCode — a social advertising company that works with major brands such as Heineken and Visa — told BuzzFeed News that Facebook's Russia ads crisis hasn't been a client concern. "In all the meetings I'm in, which is a lot, this has not come up," O'Shaughnessy said. "It does not affect the utility and how essential these digital platforms are."
Mike Racic, president of media services at the digital ad agency iCrossing, echoed that sentiment. "In the short term, I don't think you'll see advertisers moving away from Facebook if they are still getting the kind of results they want from their ad spends," he told BuzzFeed News. "At worst, you'll likely find CMO types or their agencies answering more questions from management, who sometimes react to headlines."
While Facebook isn't facing short-term revenue consequences over the scandal, the company's failure to catch the Russian ad buy could contribute to a growing credibility issue with advertising clients who worry the platform isn't fully aware of what's happening inside its walls. A number of advertisers interviewed by BuzzFeed News expressed concern over a recent series of Facebook metrics errors.
"Anything that challenges their credibility shouldn't be taken lightly," Brian Wieser, a senior analyst at Pivotal Research Group, told BuzzFeed News. "All of the trust issues add friction. And friction slows the pace of growth."
This week, Facebook's representatives are in Washington, D.C. for three public hearings with congressional committees to discuss Russia's attempt to influence last year's US presidential election. Advertisers seem to prefer that Facebook take care of its issues on its own. They want it to figure out a way to effectively self-regulate as opposed to leaving it in the government's hands. "I don't think the platform in and of itself is problematic. I think that Facebook simply needs to figure out the right balance of self-governance," DigitasLBi's Sherman said. "I would hate for a third party to come in and slow the process down and make the buy more expensive and less efficient."
On Wednesday, the same day Facebook meets with the House and Senate intelligence committees to discuss Russian manipulation of its platform, it will also report its third-quarter earnings. As the company works to defuse a crisis in Washington, its business will likely look just fine to the bankers in New York.