A New Year's Eve Ride With Lyft Co-Founder John Zimmer
The ride-hailing app's co-founder breaks down the intricacies of his company's business while on shift this New Year's Eve.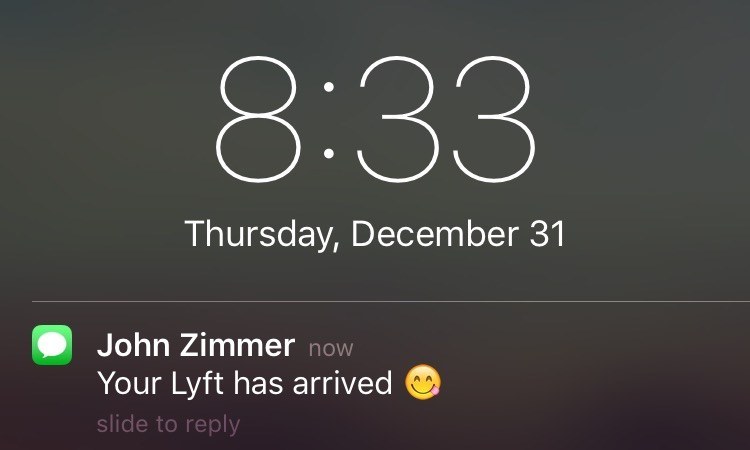 It's 8:33 p.m. on Dec. 31, and Lyft co-founder and President John Zimmer is sitting in his hybrid Volkswagen Jetta on a side street in San Francisco's Mission District, waiting for his first rider of the night. For the third year in a row, Zimmer is spending his New Year's Eve the same way thousands of his company's contract employees do: driving around the city, catching fares.
New Year's Eve is critical for ride-hailing companies like Lyft and Uber: It's one of the highest-demand nights of the year, when scores and scores of people — longtime devotees and brand-new users alike — will pull up Zimmer's app, looking for a better way to get from point A to point B. But it's also when Lyft's central sales pitch — that its service is fundamentally faster, cheaper, and more efficient than the yellow cabs that have performed the same service for decades — is put to the test. If Lyft makes you wait five or ten minutes longer than a cab would, then there's little reason to use it. And so Zimmer, and Lyft, need to ensure that the masses of drunk, drugged, or on-their-way-there revelers are met with a supply of willing drivers, and that no one ends the night with a cancellation, a long wait, or any other kind of experience that can permanently sour their relationship with the app.
Zimmer has an 11-day-old daughter at home but he's doing his part to help carry the load, and offering free rides to the lucky few that end up in his car. After a few minutes of driving and talking, he turns his Lyft app to "Driver Mode," signaling he's ready to pick up passengers. Zimmer says he's not concerned about a passenger puking mid-ride. That makes one of us.
As we drive around San Francisco's Mission District, Zimmer acknowledges the importance of matching driver supply to rider demand, and doing so quickly. Lyft's goal, he says, is to provide riders with a three-minute estimated time of arrival (the estimated gap between request and pickup) — at all times. A few extra minutes and you're looking at far fewer ride requests from people who open the app. "Your conversion" — meaning the number of people who actually request a ride after opening the app — "can be half as good," Zimmer says.
To get drivers on the road on New Year's Eve and other busy times, Lyft can use a handful of creative techniques, including sending an email letting drivers know it's busy and guaranteeing minimum pay. Illustrating one way Lyft discerns when to deploy these tactics, Zimmer opens up a spreadsheet on his iPhone that lists a number of cities along with the number of drivers in each market and the demand. The cities on the spreadsheet are highlighted in red, yellow and green, signaling which might need a boost. "We're very closely monitoring supply and then we have three to five different things depending on the market that we would consider doing," Zimmer says.
It's through mechanisms like this — and the reams of data Lyft and its competitors have at their disposal — that the company intends to offer a more efficient taxi service, one that entices drivers to the road when ride demand is high, but doesn't waste labor or other resources when it's low. Using modern data-analysis tools, the company is also creating more sophisticated products such as Lyft Line, which matches people going in a similar direction in order to offer a shared, less expensive ride.
"There are naturally only two players in the U.S. right now" with the capability do this, Zimmer says.
"Don't want to say the 'U' word?" I ask.
"You know what I mean," he says.
9:15 p.m.
After about 15 minutes, Zimmer gets a request. The rider's name is Michael, and he's on his way to a friend's house party.
After Michael confirms he's in the right car, Zimmer turns to him and says: "So you got a free ride tonight," introducing himself as the co-founder of Lyft.
After a short ride, I bring the conversation back to the 'U' word: Uber. While Lyft is valued at a sizable $5.5 billion, it is fighting an uphill battle against Uber, a competing ride-hail app valued at a mammoth $62.5 billion.
The day before New Year's Eve, the New Yorker published a story by Om Malik under the headline, "In Silicon Valley Now, It's Almost Always Winner Takes All." In the piece, Malik compares Uber to Google, the search company that gave users a product that worked so much better than that of its competitors that it took over the market rapidly. "If serving up instant search results was Google's goal, then Uber's is to reduce the time to curb, or how long it takes for you to open an app, order a car, and have it arrive," Malik wrote. "The faster the car gets there, the less likely you are to think about Lyft or Flywheel or anyone else." Or Sidecar, Malik noted, referring to the ride-sharing app that shut down just last week.
Zimmer disputes the notion that it's either Lyft or Uber. "I think it's quite clear that our industry lends more towards a natural duopoly," he says. The ride-hailing rivalry, he says, is similar to that of telecom companies AT&T and Verizon, which both spent a good deal of money to build up cellular coverage networks and are now established players that aren't disappearing any time soon. Instead of 3G cell coverage, Zimmer says Lyft and Uber are aiming to provide the three-minute ETA, a service that requires similar infrastructure investments in technology to deliver. "Lyft doesn't get better the more friends you have, but once you hit the three-minute ETA, then Lyft has hit that critical mass," Zimmer says.
Then the phone pings again and another rider is waiting to be picked up.
9:37 p.m.
Natalie enters the car and can hardly contain her excitement when she's told she's riding for free. "Oh hell yeah," she says. "Happy new year. Hell yeah."
Natalie has selected Lyft Line, the company's carpool option, to get her to the Civic Center station of BART (San Francisco's public transportation system), which she'll take to Oakland for a party.
"So you're a co-founder. Wow. That's so sick," she tells Zimmer.
I ask Zimmer what it's like competing with Uber, a company notorious for its ruthless competitive tactics. Zimmer offers a simple response: customer service. The company, he says, looks out for drivers, offering them perks such the opportunity to earn tips and get paid instantly. Same for customers, he says, telling me Lyft capped its version of surge pricing (called Primetime) on New Year's Eve, for instance, to twice that of normal fares. (Uber did not; New Year's day brought the annual spate of stories about people waking up in horror to $500 ride bills).
"We'll [grow] our way, which is taking care of the people that are driving and using the service," Zimmer says. "That's the best, aggressive tactic, I don't know what the other ruthless tactics are that would concern me."
As BuzzFeed News' Johana Bhuiyan has noted, though, differentiating this way may be difficult. "The two things Lyft claims set it apart from Uber — its corporate culture and friendly ride experience — are difficult to scale on a national level particularly with a contract-based workforce," she wrote in February.
Soon enough, John, Natalie, and I are joined by a second Line rider, Pearl, and a third, Gabe.
As soon as Gabe, a 28-year-old HR consultant, finds out he's riding with a Lyft co-founder, he launches into a story: He recently interviewed with Uber, received an offer, and declined. "I turned them down and they were so shocked!" he says.
As Gabe and Zimmer get talking, Gabe asks him why he's out driving on New Year's Eve. "It's our most busy night," Zimmer says. "We're asking drivers to help out. We should, too."
At a red light, Zimmer takes a group selfie, which he tweets a few minutes later. In quick succession, Zimmer drops off Natalie, Pearl, and then Gabe. He's made a bit less than $20 from the three-person Lyft Line ride. The company, he says, will refund it the next day.
10:27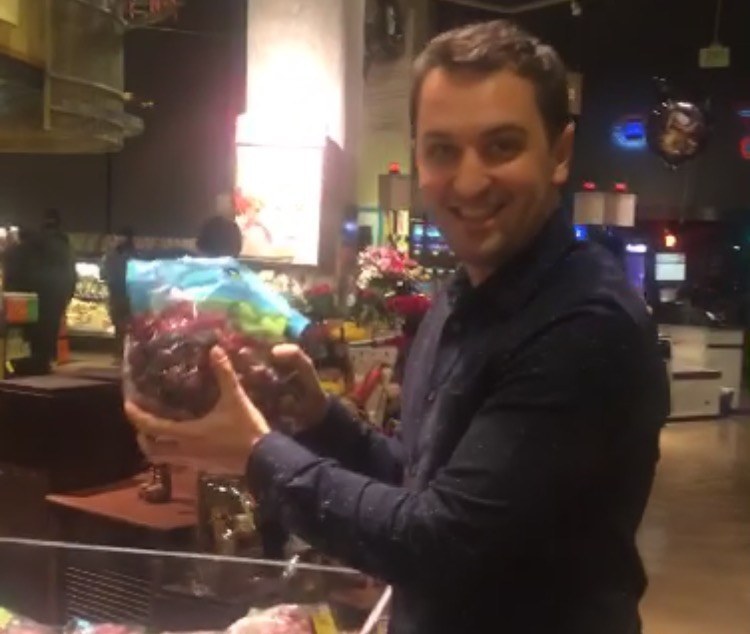 Zimmer is in need of grapes. He and his wife, whom he met while studying abroad in Spain, observe the Spanish tradition of stuffing your mouth with the fruit to ring in the New Year. The only problem: It's nearing midnight and he hasn't picked up the grapes yet. So the two of us sneak in the exit of a closing Safeway, quickly walk over to the produce section, pick up the grapes, check out, and bounce.
When we get back in the car, I ask if the massive valuations of Lyft and Uber, nearing $70 billion combined, are justified or are perhaps symptoms of today's loose funding environment. Zimmer responds that Lyft and its competitors are going after an addressable market of $2 trillion in annual spending, an estimate of the total spent on car ownership every year. The bet is that people will get rid of their personal vehicles and use services like Lyft instead, thanks to cost savings and convenience.
That pie, of course, could shrink if one considers some of the spending within it wasteful (as Zimmer does). But Zimmer argues that even if it does shrink, Lyft is still staring down a major market. "Name another market that's anywhere close that size," he challenges. "To talk about that as a small pie is kinda crazy."
There's also a critical difference between the money Lyft stands to make and that $2 trillion estimate: Lyft does not manufacture the car, so a good chunk of money can never end up in its pockets. "Think about all the costs they have in doing that," Zimmer responds, referring to car manufacturers.
In this environment, partnership between ride-hailing companies and car manufacturers becomes an intriguing way for both entities to make money across the value chain. Asked about this, Zimmer says, "I think there will be the opportunity to work closely with…" before breaking off into a separate story. The second half of Zimmer's sentence was completed today, when Lyft announced a $1 billion funding round that includes a $500 million investment from GM. "Work closely," indeed.
The two companies have an obvious shared financial interest, but they will also work together to address that critical issue: driver supply. GM, the companies announced, will partner with Lyft to provide a fleet of self-driving vehicles that can pick up and drop off passengers without a driver. If Lyft can pull this off (Uber is exploring a similar program), then it won't have to worry about pulling out the stops to get drivers to work during busy times. It will also render Zimmer's New Year's tradition obsolete.
The clock nears 11 and Zimmer decides to call it quits. His wife and newborn are waiting at home. Time to put the grapes to use.
11:07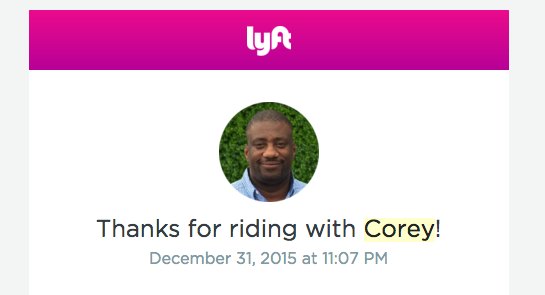 Corey Page is driving a Lyft Line when he picks me up in front of Zimmer's house with less than an hour left until midnight. A woman named Catt is sitting in the front seat. Page is one of the drivers Lyft has convinced to spend their night on-shift. He promises to get us both to our destinations before the calendar flips.
En route, I ask Page how Lyft convinced him to spend the night working, and he cited one of the driver perks mentioned by Zimmer earlier in the night: instant payouts. "There you go," he says. "My wife made me drive."
I ask if Lyft offered him a guarantee for the night's pay, and he says one will be offered if certain performance criteria set by the company are met. "You may or may not get it. You meet their criteria and you will get it. If not, it's just regular old what it is what it is."
What else should I know?
"Tell them I need a raise," he says.
A few minutes before dropping me off, Page tells me he drives for both Uber and Lyft, though he hasn't driven for Uber in two months. The car he's driving, on shift for Lyft, is paid for by one of the two companies' financing programs. And yes, that company footing a chunk of the bill for the car my Lyft driver is using is none other than Uber.