WASHINGTON — Republicans are positively elated over their newfound power now that Donald Trump's election has given them control over all the levers of power in government. But for the House Freedom Caucus, a group founded in 2015 with the stated goal of pushing the House Republican conference further to the right and reforming the legislative process, Trump's election could prove a mixed blessing.
It was just over a year ago that the Freedom Caucus was riding high on its most well-known success: helping to bring about the resignation of former Speaker John Boehner. But with Trump taking the helm, some Republicans have started to question just how much relevance a group most known for salvos against Republican House leadership will have now that everyone, ostensibly, is on the same team.
Two weeks ago, House Majority Leader Kevin McCarthy, speaking at a Washington Post event, predicted that the election of Trump had effectively kneecapped the Freedom Caucus. The members represent districts that overwhelmingly supported Trump, which would make it difficult, McCarthy predicted, for them to balk at things done with the president-elect's support.
"I think you're going to see us sticking together more," McCarthy said.
Freedom Caucus members and allies, of course, argue that the election of Trump, who shares their anti-establishment stance, only elevates their relevance. But there's no question that the rules of the game have changed.
"Republicans were united against Obama, so the Freedom Caucus could and did duke it out with leadership and less conservative members," said one Republican strategist who has clients that are members of the HFC. "Now they've got one of their own party in — trust me when I tell you, that's going to be a tougher play."
Indeed, an effort by the Freedom Caucus to impeach IRS Commissioner John Koskinen in the final days of the 114th Congress was rejected, and drew criticism from some Republicans who saw it as tactically redundant and a play for attention. Because the motion was privileged, had it moved forward in the House, the Senate would have had to take that up as its first priority in the new year, instead of the big-ticket legislative items Republicans hope to accomplish right off the bat. What's more, Trump has the power to remove Koskinen when he takes office, and Koskinen has said he will leave his post if the new president asks him to do so.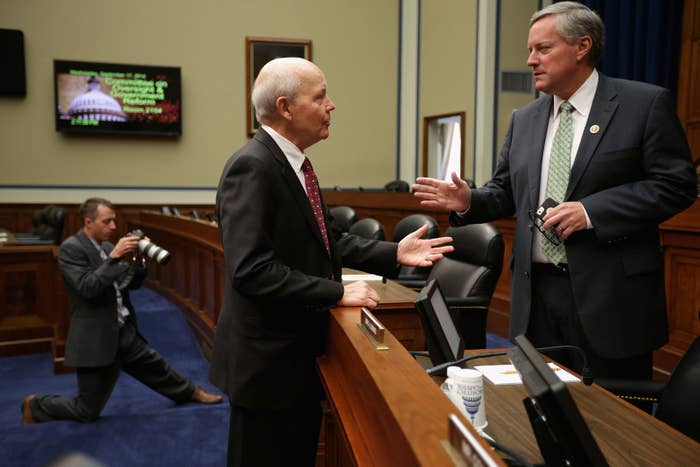 "I viewed that vote as the last vestige of last year's tactics," said Club for Growth President David McIntosh.
McIntosh, whose group is an ally of the Freedom Caucus both ideologically and electorally through its super PAC, says the new political order puts the group "in the catbird seat," but is among those who say that the Freedom Caucus will need "a change of tactics." The group, he said in an interview with BuzzFeed News, will need to adjust its defensive posture to accommodate an environment in which Republicans have the ability to wholly shape and pass legislation.
In the past, both the Club for Growth and the Freedom Caucus often found themselves opposing legislation, urging "no" votes on bills deemed insufficiently conservative. But now, said McIntosh, there needs to be emphasis on getting bills passed in the House.
"The Freedom Caucus had power when they gave voice to the Republican base that was upset that Republican leaders were betraying the promise," he said. "The same Republican base right now wants unity to get something done."
In that new environment, as the big-ticket legislative items move through the House, "the Freedom Caucus's mission is make sure it's as conservative as possible," McIntosh said.
McIntosh suggested that might sometimes mean prioritizing action over perfection.
"I think they've got to understand vis-à-vis Trump, negotiating. They've got to start hardline and then figure out what their bottom line is," McIntosh said.

North Carolina Rep. Mark Meadows, the new chair of the Freedom Caucus, indicated that things could work somewhat differently with a new Republican administration.
"I think our tactics are already changing. They're starting to be more policy driven," he told BuzzFeed News, explaining that he's talked with the group about "introducing legislation" in the beginning of the new Congress and focusing their meetings on legislative ideas.
"My desire is to have 20 bills that we're supportive of, 12 of those being Freedom Caucus–led initiatives, and then a combination of Democrat and other colleagues' initiatives to get behind so that it's not just seen as all Freedom Caucus ideas, because there's plenty of good ideas from the more moderate members of the GOP conference or Democrats," he said.
Arizona Rep. David Schweikert, a member of the group, says he hopes that change will allow the group to have a bigger impact on the conference. "Instead of in the past when we were sort of a blocking minority, now hopefully we become the idea-generating adjunct to the majority," he said in a phone call with BuzzFeed News.
With Trump's election, much of the Republican hand-wringing about his conservative credentials has been pushed aside. Come January, Republicans will control both houses of Congress and the presidency, and House Republicans are positively "giddy" about that prospect, as Oklahoma Rep. Tom Cole described it. Cole is not a member of the Freedom Caucus, and he has often found himself at odds with the group, but it is a sentiment that cuts across ideological lines within the House Republican conference.
Republicans have proven willing to give Trump quite a bit of leeway, even when he proposes things that fly in the face of Republican orthodoxies, like a 35% tariff on companies that send jobs overseas.
"I think he'll get a lot of deference and a lot of support, particularly in the first year," said Cole. "If it works, it'll continue; if it doesn't, then people will begin to be more assertive in pushing their own positions. But yeah, I think — look, he won the election, he deserves the benefit of the doubt, and I think he's going to get a lot of unified Republican support."
The Freedom Caucus, since its founding, has positioned itself as the guardian of conservative principles. But Trump's populism is often at loggerheads with conservatism, and the Freedom Caucus, like the rest of the House Republican conference, will have to decide how much leeway they're willing to give him on those issues.
Schweikert, for his part, sees Trump's lack of adherence to any particular ideology as an opportunity. "If you have someone who's not necessarily an ideologue, be the first one to show up with the details worked out and all of a sudden your idea becomes the base of the discussion," he said.
But the amount of latitude Trump gets could vary from member to member, even within the Freedom Caucus. While the group works together tactically, on policy and ideology, the group's members are not always on the same page. Some members of the group bill themselves as staunch conservatives, while others have more populist or libertarian leanings. When it comes to Trump, Justin Amash, a Freedom Caucus member, has been vocal in expressing concerns about Trump since he won the presidency, while other members have been much more complimentary. The ideological differences that underpin those differing stances among the group's members could become clearer as the Trump presidency wears on.
The president-elect has caused some consternation with his proposal of a $1 trillion infrastructure investment. But Ohio Rep. Jim Jordan, the former chairman of the Freedom Caucus who handed the reins to Meadows earlier this month, said he's willing to give Trump the benefit of the doubt on that for now.
"Depends on the plan," he told BuzzFeed News in a phone interview, saying they would have to wait and see the details of what was in the plan, how it was paid for, and whether it included other provisions that the group wanted.
Jordan said his "bigger concern" was that "the tendency of that town, the tendency of Washington is to take the good ideas that the voters elected us to do and water it down." And it's clear that on that level, Jordan sees Trump not as someone who threatens conservatism, as he was so often portrayed during the campaign, but as an ally in the fight against "the establishment."
Already, Meadows has flexed his muscles against House leadership, promising last week that the Freedom Caucus would vociferously oppose any proposal that took longer than three years to replace Obamacare. Republicans, in interviews, have been kicking around different timelines for repealing and replacing the health care law they so loathe, but no final plans have been set. Meadows said the hard deadline for replacing the law should be the end of 2018, when the upcoming session of Congress wraps up.
But with Trump set to take office next month, the divisions within the Republican conference are not so cut and dried as conservative versus establishment or Freedom Caucus versus leadership. The Freedom Caucus sees Trump as an ally, but so does leadership, who is working closely with the incoming Republican president to figure out how to push through his priorities, according to a leadership aide. The aide echoed McCarthy's comments, noting that Trump's electoral success in Freedom Caucus members' districts could make it harder for the group to oppose a bill that has his blessing.
Meadows politely disputes this assertion that the Freedom Caucus would be in any way hamstrung by Trump's election.
"Opinions are like pinecones," Meadows said. "You can find them everywhere, and they're very seldom worth anything unless they take root."