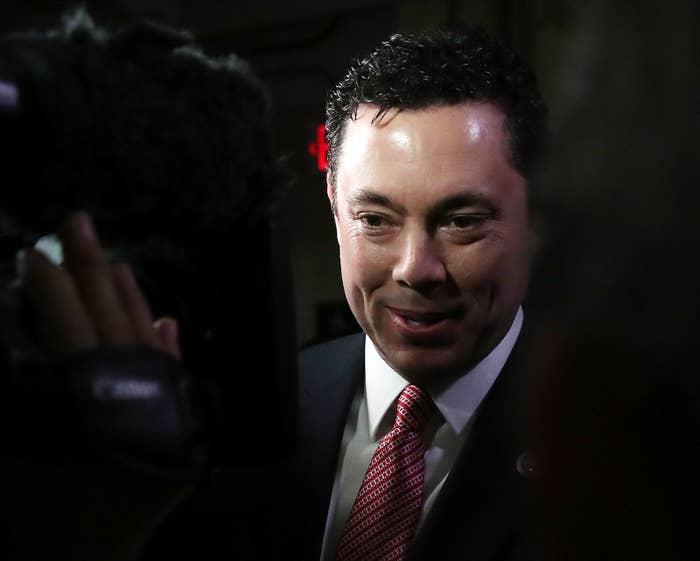 Rep. Jason Chaffetz will not seek re-election in 2018, two sources who have been informed of his decision told BuzzFeed on Wednesday morning.
Chaffetz later confirmed in a statement on Facebook that he will "will not be a candidate for any office in 2018."
"Since late 2003 I have been fully engaged with politics as a campaign manager, a chief of staff, a candidate and as a Member of Congress. I have long advocated public service should be for a limited time and not a lifetime or full career. Many of you have heard me advocate, 'Get in, serve, and get out.' After more than 1,500 nights away from my home, it is time. I may run again for public office, but not in 2018," he said.
Chaffetz said he was confident he "would continue to be re-elected by large margins," and there were "no ulterior motives" behind his decision. But Chaffetz has said that he's interested in taking a "serious look" running for governor in 2020.
The Utah Republican was first elected in 2008 to represent Utah's 3rd District.
As chairman the House Oversight Committee, Chaffetz has drawn attention and criticism for his handling of conflicts of interest investigation into Hillary Clinton and potential investigations into President Donald Trump. Some of that criticism bubbled over in recent months, with angry constituents lambasting Chaffetz at a packed town hall over the February recess.
Former independent presidential candidate Evan McMullin is considering running to fill Chaffetz's seat, a source close to him told BuzzFeed News. McMullin had publicly mulled challenging Chaffetz in 2018 before the congressman's announcement Wednesday. "It is possible that I will challenge Chaffetz or Senator Hatch, but there are a lot of factors that go into that decision," McMullin said in a Reddit AMA last month.

A spokesperson for Chaffetz did not immediately return a request for comment.
Outside Your Bubble is a BuzzFeed News effort to bring you a diversity of thought and opinion from around the internet. If you don't see your viewpoint represented, contact the curator at bubble@buzzfeed.com. Click here for more on Outside Your Bubble.