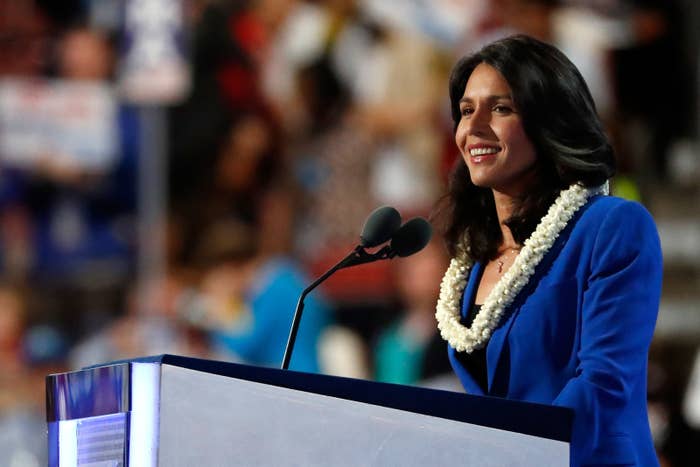 Tulsi Gabbard is known — insofar as she is known — for bucking her party. She criticized President Barack Obama's handling of ISIS. She was widely criticized for meeting with Syrian President Bashar al-Assad, who has been accused by the US government of using chemical weapons against his own people, when she traveled to Syria for a fact-finding visit in 2017. She rebuked the way the Democratic National Committee handled the 2016 presidential primary, and then publicly resigned as vice chair to endorse Bernie Sanders.
Now, nearly three years later, the Democratic member of Congress from Hawaii is poised to try to convince Democratic primary voters that they should turn the page not just on status quo politics, but on the Vermont senator whom she championed.
Gabbard has acknowledged that she is "seriously considering" a presidential bid. Her team is actively seeking to staff senior roles on a potential presidential campaign, according to a person briefed on the outreach, and has indicated that an announcement could come as soon as this week.
She's in discussions with the Des Moines–based Asian and Latino Coalition about organizing an event with them sometime in the first two weeks of January. She did several events in New Hampshire earlier this month, on the heels of trips there before the 2018 election. She also made a trip to Nevada the week before the election to connect with "progressive" candidates and causes, and was set to hit early state bingo with a trip to South Carolina, but that trip was scotched due to plane trouble.
Even in a barely formed presidential field, Gabbard would enter the race as an underdog. She did not rate a mention in a Des Moines Register/CNN poll of the Democratic presidential field last week. House members have an inherently difficult time running for national office, as they are often little known outside their district. The last one to successfully do it was James Garfield — in 1880. In a field that could number more than two dozen candidates, Gabbard stands out as the only one to have met with Donald Trump, then the president-elect, to discuss her foreign policy views at a moment when she was reportedly being considered for a cabinet post in his administration. And for all her Sanders campaign bona fides, she has a much more conservative political history, and she would hardly be the only one to claim the progressive mantle — with Sens. Elizabeth Warren, Sherrod Brown, Jeff Merkley, and Sanders himself considering bids.
But conventional political wisdom proved to be a poor guide in the last crowded presidential primary, when Trump upended the field of favorites to win the whole thing.
"The more progressives, the better," said former Ohio state senator Nina Turner, a stalwart Sanders supporter who spent time on the 2016 campaign trail with Sanders and Gabbard, adding: "Hopefully then that means that we will get a real progressive elected to president."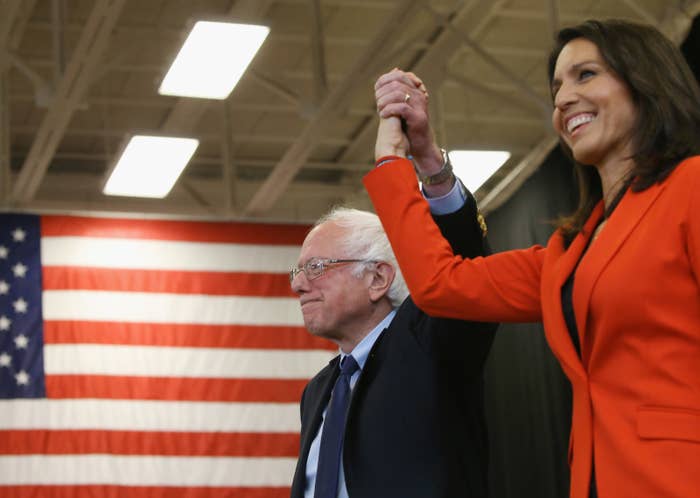 If Gabbard runs, her supporters say, she could be the candidate who quenches the current political thirsts. At 37, she would be one of the youngest candidates in the field. She's an Iraq War veteran and became the first Hindu in Congress when she was elected in 2012. And she has bona fides as someone who was proposing climate change legislation before potential Democratic presidential candidates started signing on to the Green New Deal — her OFF Act, a 2017 bill, is seen as a potential jumping-off point for that effort. And Gabbard's outreach to the states that hold the first four nominating contests suggests she will try to lean into the things that differentiate her from the standard presidential candidate.
In New Hampshire, Gabbard promised to help the New Hampshire Young Democrats with recruitment for town and city elections next year, said the group's president, Lucas Meyer. Gabbard, who was first elected to the state legislature at the age of 21, offered "to call up some of our candidates to tell her story," Meyer said, calling her a helpful voice "who can break it down and make the process seem somewhat more manageable."
"She's a valuable voice for young women who want to become leaders in the state," Meyer said.
Gabbard's trip to Nevada before the midterms was not the typical political tour of the Las Vegas area, said Christine Kramar, who helped put the trip together — something she regularly does for politicos and would-be presidential candidates passing through.
"They usually want to talk to the over-65 set," Kramar told BuzzFeed News. Gabbard, instead, wanted to meet with labor leaders and progressives, according to Keenan Korth, a Nevada progressive operator to whom Gabbard's team reached out.
The trip involved a tour of a marijuana cultivation in North Las Vegas, a speech at a synagogue, a teacher's union event for Democratic gubernatorial candidate Steve Sisolak, and attending a phone bank event for Nevada State Assembly candidate Kristee Watson.
At the phone bank event, Watson said, Gabbard "just immediately started talking with people, asking questions, asking me questions, wanting to understand what motivated me to lead and serve, and then just wanted to find out — win or lose, will I continue to follow my heart and this desire to stand up for the marginalized."
The Asian and Latino Coalition in Iowa is speaking with Gabbard to plan an event in for the first couple of weeks of January, according to the group's communications director, Mitch Henry. She's had personal phone conversations with the organization's co-chair, Prakash Kopparapu, to talk about how the organization works and how it engages with potential presidential candidates, should she decide to run.
"There's really a hunger for younger candidates, for politicians that maybe haven't been as involved for as long as Bernie has," said Chris Taylor, chair of the Johnson County Democratic Party in Iowa, which hosted Gabbard for an event earlier this year but is not supporting any candidate. "I think Tulsi fills an interesting niche in the process in that she has many of the progressive policy ideas and presents a similar progressive agenda, while also being able to provide a fresher perspective — a perspective of someone who has not been in politics for as long as the other candidates."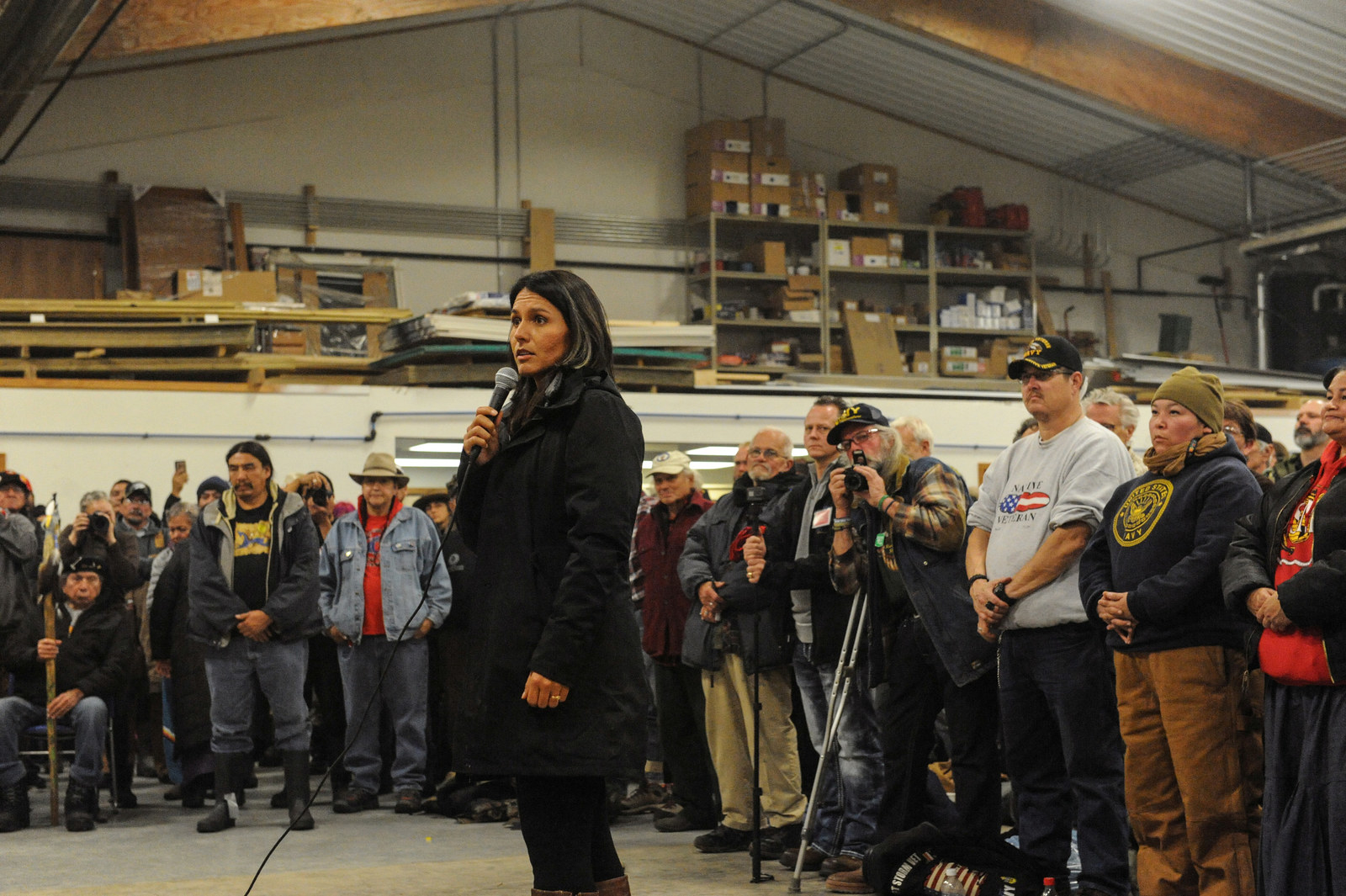 This, in large part, is the argument of Gabbard's boosters, a loose coalition that manages a network of Facebook groups, posts essays on Medium, and videos on YouTube. There's "Run Tulsi Run," which now has state-specific chapters, "Centrists for Tulsi Gabbard," "Families for Tulsi Gabbard," "Tulsicrats," "The People for Tulsi Gabbard," and the smaller "Teach Your Children About Tulsi," and even a Gabbard "meme" group.
"I call her Bernie 2.0," said Alan Myron, the administrator for Centrists for Tulsi Gabbard, a candidate who shares his values without some of the baggage and bad feelings that come from having run in a fraught presidential primary.
"He's an old white dude. Well, Tulsi isn't. He skipped military service. Well, Tulsi is a veteran," he said.
Ray Alt, a 48-year old Sanders supporter who worked as a precinct captain for his campaign in Massachusetts, launched the "Run Tulsi Run" Facebook group in April 2016. But, he told BuzzFeed News, "I was like fleshing out the idea in my head the day she resigned from the DNC [that February]."
"I felt like she would be the best candidate to take the mantle from Bernie and would be the best candidate to run in 2020," he explained, adding: "She's the future, the long-term future of the party — for the progressive side, at least, and the younger generation."
Alt is currently living off his savings, traveling the country to network with activists and encourage support for a Gabbard presidential bid.
"At some point we need to make a generational shift in leadership," said Donna Smith, the national advisory board chair for Progressive Democrats of America. The group is actively pushing Sanders to run for president, but also has a strong relationship with Gabbard. For PDA, having both Sanders and Gabbard in the race would pose a "conundrum," Smith said. But for her personally, she said, as of now she would back Gabbard.

If both Sanders and Gabbard wind up in the race, some expect a more collegial relationship than might normally be expected of presidential rivals.
"Her and the senator have a strong relationship, so I'm quite sure that if they're both running in this race that they're gonna stick to the issues and stay very respectful for each other," said Turner. "They have a fondness for each other."
Voters, said a source in Sanders' political orbit, "are looking for somebody who can beat Donald Trump in 2020. That's no secret. And frankly the more choices out in the world, the better. I'm a big proponent of letting the voters decide."
A number of early Gabbard supporters who spoke with BuzzFeed News don't think Sanders will run at all. But if he does, several said, they'd expect a collaborative type of effort — one that potentially ends with them forming a ticket together.
"If Bernie runs, he's going to bring a package of policies. If Tulsi runs, she's going to bring basically the same package of policies," said Scott Dakota, a musician and active member of the Facebook groups.
"I don't foresee either of them swiping at each other," he posited. "They're just gonna be reinforcing each other's message."
This story has been updated to clarify the purpose of the congresswoman's trip to Syria.