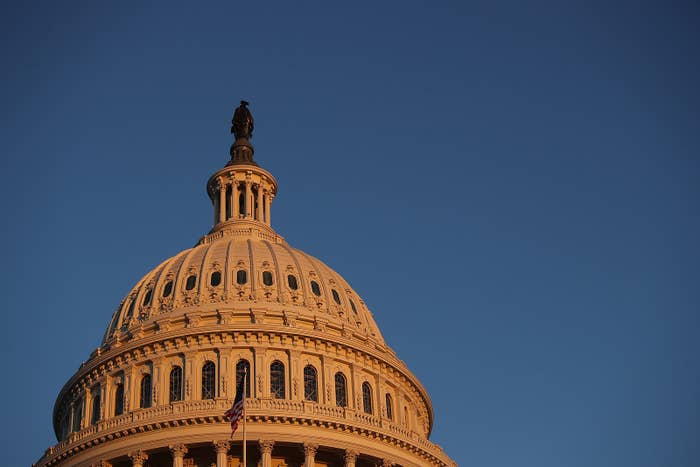 Early Thursday morning, President Donald Trump seemed to throw a wrench into congressional Republican efforts to strike a deal to fund the government and avert a Friday night shutdown. CHIP, the child health care program that is set to expire in many states, should be extended as "part of a long term solution, not a 30 Day, or short term, extension!" he tweeted. Thirty-six hours before a potential government shutdown, it seemed, the president had completely undermined the deal Republicans were hoping to strike to fund the government for the short term and extend CHIP funding for six years.
It could have been a disaster. But one year into the Trump presidency, Republicans are inured. So the president tweeted about policy. So what?
No, insisted House Speaker Paul Ryan shortly before noon at his weekly press conference. He had spoken to the president an hour and half before, he said, and Trump was on board. "I didn't see what he wrote, but I've spoken with the president, he fully supports passing what we're bringing to the floor today," he said.
The White House later confirmed. "The President supports the continuing resolution introduced in the House," deputy press secretary Raj Shah told pool reporters.
It has become a familiar cycle: Trump tweets, chaos ensues, and the scramble is over in time for lunch.
Republicans on Capitol Hill have largely grown accustomed to what Ryan referred to Thursday as Trump's "unconventional way" of doing things. And as they attempt to reach an agreement to fend off a government shutdown, Republicans seemed largely unconcerned with a tweet from the president that — for a moment — seemed to entirely upend their plans.
"I think it's an opinion that he has on it; I don't think it changes the bill," said Oklahoma Sen. James Lankford Thursday afternoon.
A tweet from Trump can send the political world scrambling — is it a statement of policy? What news show must he have been watching to put this in his head? What do we all do now? Past presidents have tried to use the power of the bully pulpit to help shape legislation. Trump has largely created confusion.
"It gets a little discombobulated at times, there's no question about that," said North Carolina Rep. Mark Walker of the way in which Trump chimes in on these negotiations. But that doesn't mean the president's tweeted input changes the legislation.
"I don't know that it's overwhelmingly confusing, because we don't necessarily alter our course," said Walker.
If a past president had sent Trump's Thursday morning tweet about CHIP, one senior House Republican aide pointed out, it would have been taken as a serious reconsideration of administration policy. "With Trump it's, well the guy had a phone within arm's reach," the aide said.
"He does this stuff all the time," the aide added.
That doesn't mean that some wouldn't like a bit more clarity.
When it's not entirely clear where the president stands, said Kansas GOP Sen. Jerry Moran, "It causes us to spend a lot of time guessing instead of acting with certainty."
CORRECTION
Raj Shah is the White House deputy press secretary. An earlier version of this post misstated his job title.