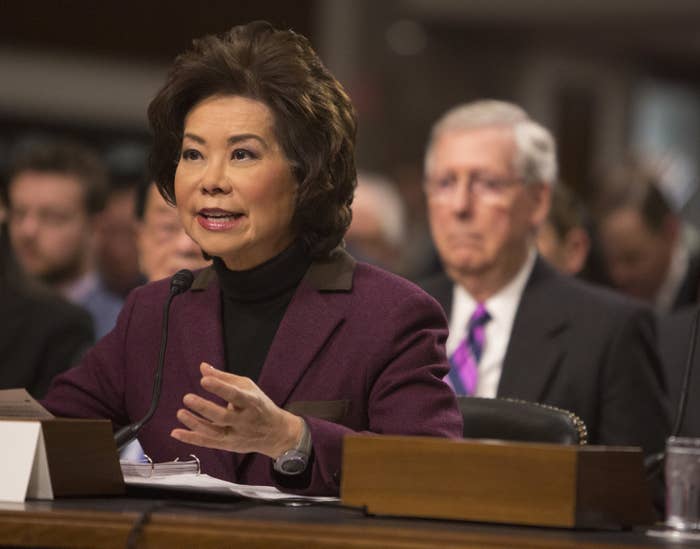 WASHINGTON — Wednesday was a day rife with political clashes: President-elect Donald Trump raged against the press, Senators aggressively grilled Secretary of State nominee Rex Tillerson, and members of the Congressional Black Caucus called Sessions a racist.

But in an alternate universe in a hearing room on the ground floor of the Dirksen Senate Office Building, the Commerce Committee was holding a bipartisan lovefest of a confirmation hearing for Elaine Chao, Trump's pick for Secretary of Transportation, a former Labor Secretary and deputy at the Transportation department, and the wife of Senate Majority Leader Mitch McConnell.
"In the years that I've been here, and that's 30 years now, I've never seen anyone come in to get the nomination for the position that people loved more than you," Oklahoma Sen. Jim Inhofe told Chao.
Chao was introduced by McConnell, who called her "incredibly well-qualified, incredibly capable, and she's got really great judgment — on a whole variety of things," he said to laughter. Stealing a page from former Senate Majority Leader Bob Dole, who once stood before the Commerce Committee to introduce his own wife Liddy Dole before her confirmation hearing to be Transportation Secretary, McConnell told the committee: "I regret that I have but one wife to give to my country's infrastructure."
As a former cabinet secretary, Chao is no stranger to the committee confirmation process, nor, it became clear, to the members of that committee.
Kentucky Sen. Rand Paul, who gave a second introduction of Chao after McConnell, called Chao "a dear friend" to him and his wife, Kelly, who was also in attendance. Kansas Sen. Jerry Moran sent greetings from his wife Robba; Alaska Sen. Dan Sullivan sent congratulations from his wife Julie; New Hampshire Sen. Maggie Hassan noted how much her husband Tom had enjoyed talking with Chao at new member orientation; and Connecticut Sen. Richard Blumenthal sent affection from his wife Cynthia, saying that both he and McConnell had "married above ourselves." Inhofe noted that he had spent time with Chao's family and her "daddy," New York businessman James Chao who was also in attendance, the night before.
Florida Sen. Bill Nelson, the ranking Democrat on the committee, spoke as though Chao had already been confirmed — a near-foregone conclusion, though Chao herself took great pains to add, "if I am confirmed," to the end of most of her answers. Nelson voiced his respect for Chao's "grace and excellence" as a former cabinet secretary, and noted that Chao and her husband "are the dearest of friends; she is one of your biggest fans."
"I have some frustrations with Mitch McConnell right now," New Jersey Democratic Senator Cory Booker told Chao. "Being a young, single member of the Senate, he's never taken me aside to tell me how to marry out of my league." Less than an hour later, Booker was in a different confirmation hearing, speaking against Sessions' confirmation.
Members asked questions on everything from autonomous vehicles, to drones, to supersonic air travel, to highways, to the contours of Trump's infrastructure plan. Chao offered few specifics, saying there were a number of issues on which she needed to be briefed. "I look forward to working with you on that, if confirmed," Chao told members repeatedly.
Several senators asked Chao to commit to joining them in their home states to talk about state-specific issues, and she agreed to trips to Alaska and Nevada, prompting Nelson to joke at the end of the hearing: "Will you commit to go to the state of every member that is on this committee?"
But the biggest laughs of the day were earned by Hawaii Sen. Brian Schatz, who called this day "historic."
"It was the first time I saw Leader McConnell hug anyone," he told Chao.
"I'm glad it was me," she replied.
Chao told the committee she was working to win every Senator over.
"I'll be working to lock in the Majority Leader's support over dinner tonight," she said.