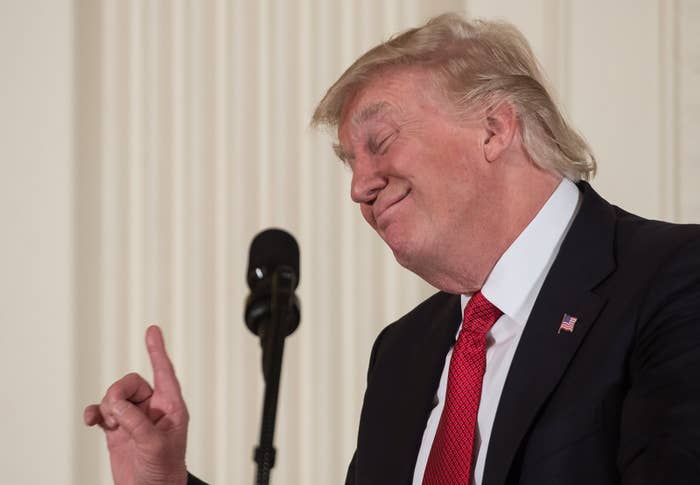 WASHINGTON — Six days after House Republicans pulled a vote on a health care bill to repeal and replace Obamacare, Trump had a message for one of the groups that is getting the blame for the debacle: "The Freedom Caucus will hurt the entire Republican agenda if they don't get on the team, & fast. We must fight them, & Dems, in 2018!" he tweeted Thursday morning.
It was a threat he had made implicitly before: last Tuesday, when he went to the Capitol to rally House Republicans, he promised that failure to support the bill would have consequences in 2018. The implication was clear — Trump was threatening to back primary challengers to members who went against him on the vote.

The health care bill went up in smoke on Friday, but as Trump's tweet made clear, the recriminations among a divided House Republican conference evidently did not.

Leading into the vote, some Republicans saw the threat of a primary challenge as a stick that would get members of the conservative House Freedom Caucus on board with the bill. One congressman said it was a threat made explicit to at least some members by White House adviser Steve Bannon. (A White House official disputed the characterization of Bannon's message to members.)
Representing predominantly safe Republican districts, Freedom Caucus members are in a position where a Republican president might be able to damage them if he put his mind to it. That has forced some members and outside groups to gear up for a potential challenge earlier than they have in the past. Trump's tweets have moved stock markets and prompted congressional scrutiny. So, some Republican operatives reason, the president could just as easily redefine a House primary that might be determined by fewer than 30,000 votes in 140 characters or less.

But others argue that even Trump, who has repeatedly proved able to defy political gravity, cannot do something with nothing. There would need to be a primary challenger, for one thing, something many Freedom Caucus members did not have in 2016. And even then, it's incredibly difficult to oust an incumbent in a primary. It happened in 2016, when former Rep. Tim Huelskamp, a Freedom Caucus member, lost to current Rep. Roger Marshall in Kansas's 1st District. To make it happen, outside groups on both sides spent $1.5 million, according to OpenSecrets, in a district that has just over 700,000 people living in it.
And Freedom Caucus members, while taking necessary steps to prepare for a challenger, don't seem too scared by Trump's threats yet. Michigan Rep. Justin Amash responded with snark to Trump's tweets on Thursday that "It didn't take long for the swamp to drain @realDonaldTrump. No shame, Mr. President. Almost everyone succumbs to the D.C. Establishment."
In 2018, Freedom Caucus members would have outside financial backing to help fend off a challenge. The political network affiliated with Charles and David Koch announced a seven-figure reserve fund last week to back lawmakers willing to go against Trump and House Speaker Paul Ryan on the health care bill. They announced the fund just before the vote was expected to take place last Thursday.

"Our purpose was to affirm our commitment that we'll stand by members who are committed to repealing Obamacare," said network spokesman James Davis.

Asked how much the network groups were expecting to spend if several opponents of the health care vote end up facing primary challenges, Davis declined give an estimate. "Enough to have an impact," he said.

The network fell short in its efforts to save Huelskamp last year. But its affiliated groups, including Americans for Prosperity, are preparing early this time around.

If Trump were to get involved, it's not yet clear that there would be a political infrastructure in place to support his efforts. Over the course of the health care fight, there was no sign of any political muscle to support the White House's efforts to get members on board with the bill. An outside group affiliated with House leadership ran ads targeting Freedom Caucus members and other "no" votes in their districts. But an outside group called America First that was supposed to help Trump push his agenda through Congress sat out the health care fight, and internal divisions within the group could make it a non-player in boosting Trump's preferred candidates in 2018 primaries.

Asked about the group as Republicans were trying to rally support within the party for their health care bill, a senior administration official told BuzzFeed News, "no doubt it would be helpful to have," but that it was unclear when — if at all — it would get to work.

In the aftermath of last week's debacle, Freedom Caucus members sounded unconcerned about what the implications might be for 2018.

"I just go about doing what the huge majority of my district wants me to do, and anybody's always welcome to challenge," said Texas Rep. Louie Gohmert, noting he won 82% of the vote in his 2016 primary.

Still, the volatility of 2016 has put some people on notice. "We're definitely looking at this cycle maybe a little more proactively than normal because of how fluid the environment's been," said Jason Roe, a consultant for Arizona Rep. Paul Gosar, a Freedom Caucus member. "Last year, obviously, was crazy, but there's really no way to anticipate the strengths and weaknesses of the Republican Congress, the president."

Gosar had a weak primary challenger in 2016, but he still had cause to sweat: An agribusiness group gave $200,000 to a super PAC backing his challenger. And fundraising has not been Gosar's strength: He raised just over $700,000 total in the 2016 cycle. The average raised by an incumbent in the House during the same time period was $1.6 million, according to the Center for Responsive Politics.

"We're definitely stepping up fundraising in this election cycle to make sure we're prepared," Roe said.

If Trump were to actually follow through on his threat of primarying, some of Gosar's colleagues would likely have to do the same. Some of the most prominent members of the Freedom Caucus were among the lowest fundraisers in the House in the 2016 cycle. In an OpenSecrets ranking of money raised by House members in the 2016 cycle, Freedom Caucus Chairman Mark Meadows, Rep. Raúl Labrador, Rep. Trent Franks, and Rep. Thomas Massie, who is not a Freedom Caucus member but voted with them in the health care bill fight and may well find himself a target, were all in the bottom 50. There's reason for that: Almost all of the group's members hold safe, Republican seats where they rarely have to worry about a re-election challenge of any kind. But as a result, their campaign coffers are not exactly daunting.
Whether Freedom Caucus members and other conservatives face a real challenge next year isn't entirely dependent on Trump's involvement. There was scattered interest among GOP outside groups in ousting members viewed as problematic for leadership in 2016 and that interest could be reinvigorated by this health care fight and the resulting embarrassment for Ryan.
In another time, members who broke with leadership might have been looking over the shoulder inside the Capitol. At the end of 2012, Huelskamp, Arizona Rep. David Schweikert, Michigan Rep. Justin Amash, and North Carolina Rep. Walter Jones lost committee seats after voting against legislation Speaker John Boehner wanted to pass. In 2015, Iowa Rep. Rod Blum, staring down what was expected to be an incredibly tough re-election race, found himself conspicuously absent from the list of vulnerable incumbents who got extra help from the House Republican campaign arm. Blum had voted against Boehner for Speaker earlier that year.
But the Iowa Republican, who survived that challenge, is not expecting a repeat of that affair.
"Paul Ryan's not that kind of guy," Blum told BuzzFeed News, saying he hadn't felt any pushback after last week's health care drama.
But is Trump that kind of guy?
"I hope not," Blum said. "I mean I don't think so. I don't think so. But we'll find out, I guess, won't we."