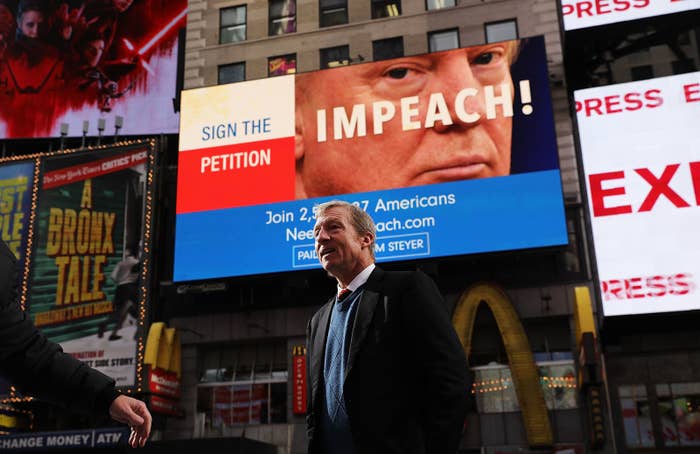 Billionaire Tom Steyer has a plan to leave his mark on this year's Democratic primaries.
NextGen America, the Steyer-run advocacy group, is planning 15 Democratic primary debates in House and gubernatorial races across the country through the summer. The goal is to help young voters — NextGen's target audience — distinguish between the candidates, and the debates might serve as a precursor to NextGen endorsing in some of these primaries.
The effort, dubbed "Keeping up with the Candidates," will kick off in Pennsylvania's 7th and 5th congressional districts in April. Both are newly shaped districts that are now far more favorable to Democrats, and they largely line up with the districts currently represented by retiring Republican Reps. Charlie Dent and Pat Meehan.
Some of the Democratic candidates in those Pennsylvania districts have confirmed they'll attend the debates, as have some candidates in California's 39th District, where NextGen plans to host its third debate. The details of the subsequent 12 debates are still being worked out.
Steyer called the push "an attempt by us to make it easier for young voters to get a sense of who the candidates are." And, he told BuzzFeed News in a phone call, the debates could help NextGen decide whether or not to endorse in a race.
"Frankly, it's going to make it easier for us to get a sense of who these candidates are as well," he said.
NextGen's efforts in campaigns up until this point have largely focused on boosting Democrats in general elections. The group has also launched voter turnout and registration efforts in many of the states where they plan to hold debates. And, since 2017, Steyer has run national TV ads calling for President Donald Trump's impeachment through a separate group, Need to Impeach.
"We haven't wanted to wade into Democrat-on-Democrat races because we figured, let's put the information in front of voters. … Let's trust them to make a good decision in the primary," he explained.
"I think this year we're asking ourselves if that's the right thing," he said.
Despite Steyer's efforts on impeachment, he said there would be "no specific litmus test" for a candidate endorsement by NextGen. "We're going to be looking to see if people are going to step up and tell the truth, or if they're going to be trying to basically run a Republican-lite campaign."
Heightened Democratic enthusiasm has helped buoy Democrats in special elections over the past year, both financially and at the polls. But some, including Steyer, worry that the sheer number of candidates running in 2018's Democratic primaries could prove a double-edged sword.
"There's so many people who are energized on the Democratic side in 2018 that we're worried it will be very hard for Democratic voters to distinguish" among candidates, Steyer said. In some races, he said, NextGen might "make a point to endorse someone just to give some clarifying simplicity for people who aren't looking as closely."
It's a real concern in some races. For instance, California's 39th District, where NextGen has scheduled a debate in April, is one of several California House districts where so many Democrats are running that some party leaders fear they will split the vote and no Democrat will get through to the general in California's top-two primary system.
NextGen is largely focusing on races where Democrats see opportunities to flip a Republican-held seat. They have also tentatively planned debates in Nevada's 4th District, where Democratic Rep. Ruben Kihuen is retiring under pressure, and New Hampshire's 1st District, where Democratic Rep. Carol Shea-Porter is not seeking reelection. There are also gubernatorial debates tentatively scheduled in Michigan, Wisconsin, and Florida.
Some of those races have become stages for internecine battles for the direction of the Democratic Party. In Pennsylvania's 7th District, for instance, candidate Greg Edwards is running with the support of a number of the Bernie Sanders–aligned progressive groups and has publicly accused the House Democratic Campaign arm of trying to muscle him out of the race.
The debates will also serve as fundraisers for local progressive groups. As they are targeted to young voters, they will be hosted at venues that cater to those groups — for instance, the debate in Pennsylvania's 7th District will be held at a brewery. Candidates will be welcomed onto the stage to the strains of an unspecified pop song. The tentative format of the debates will be a combination of a moderated question-and-answer session and rapid-fire questions, bracketed by opening and closing remarks by the candidates. The hope is that the debates will be hosted by national activists or celebrities whose presence will appeal to young voters. Steyer himself may even host one.
The fact that it's possible to even organize these debates, Steyer said, is a testament to the excitement that he feels needs to be successfully harnessed.
"We are promoting candidate debates in the primary in a midyear election for young voters. And we think people are going to be really excited about it," he said. "Doesn't that say something about where we are?"