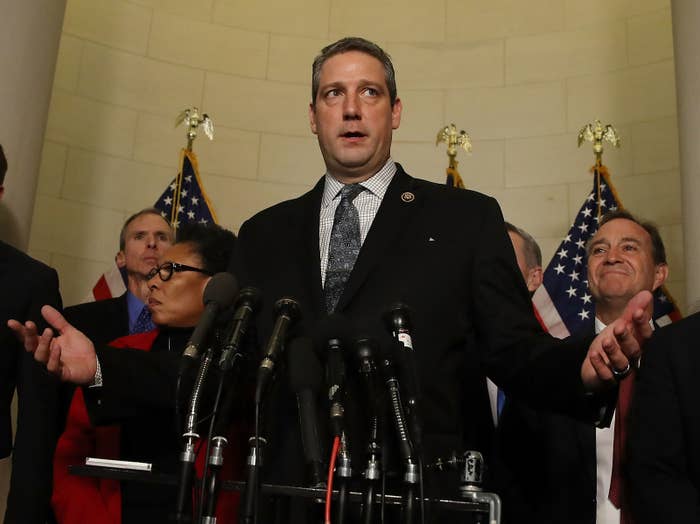 It's still more than three years until the next presidential election, and yet here was Ray Buckley — the chairman of the New Hampshire Democratic Party for the last decade — riding shotgun last Wednesday from Boston to Hopkinton, New Hampshire, with Rep. Tim Ryan, the 44-year old Democrat from Youngstown, Ohio.
Ryan made a name for himself when he challenged Nancy Pelosi for the leadership of the House Democrats last year, arguing he was the right man for the job because he was one of the few Democrats able to handily win reelection in a district where many of his white, working-class constituents also voted for Donald Trump.
Buckley and Ryan have known each other for two decades, the starting point for an, "Oh gosh, how did we get so old?' riff that cracks up the crowd at a backyard fundraiser for the New Hampshire House Democrats on Wednesday afternoon. They met when Ryan was in law school in New Hampshire, managing a state Senate campaign for Steve DeStefano, who lost by a heartbreaking five votes.
But despite the near-constant ribbing, last week's New Hampshire visit was not just a reunion of old friends. In June, Ryan campaigned for a Democratic candidate in South Carolina. Next month, he'll make his second trip of the year to Iowa.
Which begs the question: What the hell is Ryan doing?
A Cheshire Cat-style smile spreads across his face when a reporter at New Hampshire's major television station, WMUR, casually asks if Ryan's running for president. Ryan's sitting in the green room, waiting to do a television hit. "Is this interview happening right now?" he says after a few seconds. This will be the first of four times he gets asked this question in the span of six hours.
Tim Ryan for President wouldn't be totally out of left field — he's a charismatic guy with a compelling biography representing Democrat-turned-Trump counties in arguably the most important swing state in the country. He's been on the short list of potential candidates for nearly every statewide office in Ohio for several years. But one by one, he's passed on each one of them. After 16 years in the House, his résumé isn't unimpressive, but by his own admission it could be stronger. Trump's election galvanized him, he said, and he didn't want his toddler to grow up and "say 'Dad, you were congressman for like 20 years, what'd you do?' I don't want to say, 'well, I started tech companies in downtown Youngstown.' I want to say more than that," he said.
So is he considering a run for president? Another WMUR reporter, political director Adam Sexton, asks him — this time on air. "I have no idea at this point. But we'll see," Ryan says. "I like being out around the country, I like talking about this, I like crafting the message, and I think maybe the country needs someone from a place like Youngstown, Ohio, that has really tried to develop the local economy at the local level, and we'll see where it goes."
He's not the only one taking this approach. His fellow House Democrat Seth Moulton will appear with him in Iowa next month. Los Angeles Mayor Eric Garcetti is heading to New Hampshire later this month. Maryland Rep. John Delaney actually just went ahead and announced his presidential bid last month because it's never too early to start campaigning when nobody knows who you are. This is not to mention the bevy of more oft-mentioned Democrats in Congress and around the country who are making moves that seem geared toward future ambitions.
"Look, this is the first time in a generation that we don't have an overwhelming favorite," Buckley says on the drive to New Hampshire. "And anyone that has the capacity to be a good president should absolutely consider it."
As for Ryan, Buckley turns toward the backseat of the car and mouths, "He should run."
Ryan, at least at this juncture, would rather talk about the Democratic Party's future than his own. His district is the epicenter of the Trump phenomenon, a place where Obama won by 28 points but Clinton won by a mere six. Ryan represents those much-analyzed white working-class voters, who — even as they bailed on Democrats to vote for Trump — reelected Ryan by a 36% margin. And in the wake of Clinton's loss, Ryan has set out to try to turn Democrats into the candidates who can win back his constituents in a presidential election, by focusing on an economic message.
"I get more mad at the Democrats over the years that we let this happen — that this guy came. Obviously we weren't doing what we needed to be doing," he says.
Ryan's first step in his plan to reshape his party after its 2016 loss was running for Democratic leader, challenging Pelosi for the post she has held for a decade. He felt that after such a devastating defeat, the Democratic Party needed to change — and that meant changing its leaders. He lost — badly. But the bid gave him the "notoriety," as he puts it, to take his show on the road.
He flew to South Carolina in June to campaign for the long-shot Democratic candidate in a special election to replace Budget Director Mick Mulvaney. Earlier this month, he campaigned for the Democratic Senate candidate in Alabama — who has an even longer shot. From there, he drove to Mississippi to attend a conference with members of the Congressional Black Caucus. Next he'll head to Kentucky for a Democratic conference, and to Indiana with Sen. Joe Donnelly.
"Let's go down there and dust it up," he said of his most recent trip to Alabama.
"Who knows. I mean who knows what Trump's gonna be doing by December," when the Alabama Senate contest will take place. "I mean, Jesus. Who knows what could happen by then."
Besides, he says, if Democrats are going to win back House seats in 2018, they're going to have to put a lot of seats on the board. And the off year, when tensions are running a little lower, is a good time to make some inroads.
"That's why I think it's important to go to these places, cause if you're afraid to go there, what's the use? Just write people off? Like high school, you can sit at the cool kid table 'cause you voted for us, but if you don't sit at the cool kid table, you don't matter. To me, that's not what it's about. And we've got to let every American know they matter to us and period," he says.
Ryan isn't choosing where to go, he says, so much as accepting invitations. But if he were hypothetically to be considering a presidential bid, they would be useful locations to travel to. Iowa, New Hampshire, and South Carolina hold three of the earliest nominating contests. In 2016, Alabama's primary was on Super Tuesday; Kentucky's was the next week. Both of those are states Clinton won in the primaries, helping cement her victory over Bernie Sanders.
Ryan is adamant that a Democratic message moving forward can't just be a rejection of Trump and what he stands for.
"We spent a lot of time talking about him" in 2016, he tells a woman at a backyard fundraiser for the New Hampshire House Democrats. "We weren't talking about them" – the voters, he says.
"We can't let this guy get us so mad that we end up just engaging him on every single minute of every single day," he later added during his remarks.
But the events in Charlottesville the weekend prior made it harder not to define Democrats in opposition to the president.
"You've got to rebrand and be out there pushing something that's very very positive. And the contrast now too can be very sharp given what he's doing," Ryan said. "You know, like you're either with the Nazis and Trump or you're with the Democrats."
So what is Ryan doing riding through New Hampshire in the backseat of an SUV, as Buckley regales him with fun facts about the state ("That's where the inventor of the Segway lives. This is where Velcro was invented. That's the building where Adam Sandler bought an apartment for his mother")?
"I'm pushing a national message," Ryan says with a laugh. "I feel like I understand what needs to be done because I've grown up in this area and I've been around enough to know what, how to get these communities back," he explains.
"I don't want to say I understand it better than anybody, but I don't think there's anybody that understands it more than I do. I get it. I get it. I know what needs to be done. I've been in Congress 15 years. I'm not new," he adds.
In a sort of Trumpian way, Ryan thinks Democrats should be talking bigger.
"Think big. Reverse global warming. What are we doing? You know, we're Americans. Neutral? Minimum wage? Like, what are we doing here? It's driving me nuts. Like this is not what we're here for. This is not the D-Day invasion, like this is like, 'well, we're gonna send a couple guys over with a couple of boats and see what happens.' No, this is like we're gonna go in and we're gonna make this happen, and we're gonna hit some roadblocks, but... I just think that kind of aspirational message is needed for us," Ryan says, getting as animated as he got all day.
He never quite directly answers the question of whether he's running for president, but in his side conversations he talks like someone who is considering it.
"If I ever ran for president, I'd look like Bill Clinton. I mean, I would turn into a bubba. I mean, you go to these events and you're nervous and you like, eat," he said after Buckley recounted a story about another candidate eating ice cream.
Apropos of his figure, Ryan suggests there might be some false reporting out there about it.

"I forget what reporter I was talking to, they asked me about Paul Ryan, and I said, 'you know bah bah bah, yeah I see him at the gym.' I said, 'you know, obviously, you know my abs are better than his.' And I'm totally joking, obviously, and the reporter puts it in the story, and doesn't say like, he joked or like anything. I was like, no, no no," Ryan says.
Asked if that means he hopes this part of the interview shouldn't be part of the story, Ryan says he just wants proper credit for his sense of humor. "If you say that he joked, yeah I think that's pretty funny. I think it just shows how funny I am," he says.
After downing "a small coffee, with two shots of espresso in it and extra cream" in the car, Ryan declares himself hyped. "Gonna rip my shirt off at the next event," he cracks, with a joking, Hulk-style noise. "Yeah, that'll lose votes."
Ryan's day in New Hampshire starts with a fundraiser for state House Democrats. At his second event for young Democrats, he spends about 15 minutes talking to candidates as young as 18 who are running for local offices. He's adamant that this has to be a part of what Democrats spend their time doing over the next three and a half years. It's the only way to break through in a moment when everything is defined in Trump's reflection.
"We're all living inside Donald Trump's head now, whether we like it or not, like, we see it, tweet by tweet by tweet," Ryan says. "And so we've got to get underneath all of that and just grind it out with a message that's aspirational and position ourselves for when we're ready for a change."
So what does he say when nonreporters ask what he's doing traipsing through Iowa and New Hampshire?
"Oh, I say we're announcing for president next week," he deadpans, before dissolving into laughter.