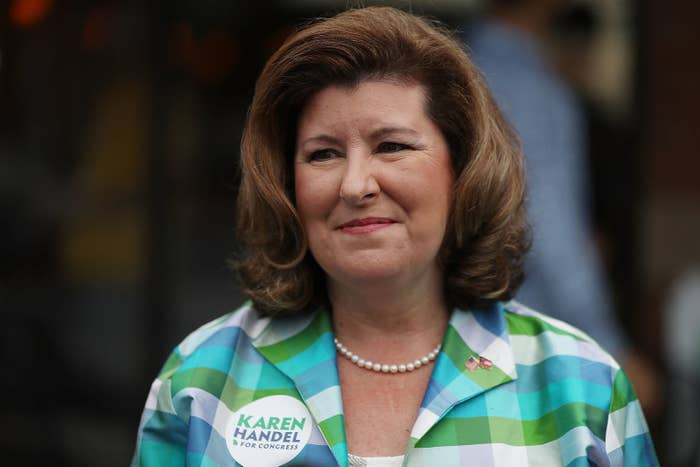 Before Karen Handel was the Republican candidate in this Tuesday's obsessively watched congressional race in Georgia, she was the central figure in another national drama. The year was 2012, and Handel was a few short months into running public policy at the breast cancer charity Susan G. Komen. On Handel's recommendation, the board had voted to stop funding grants to several charities, including Planned Parenthood. Handel, a Republican whose pro-life beliefs had been well documented in prior political campaigns, was blamed. Critics said she used a non-partisan charity to make a partisan political statement. Handel said she was a scapegoat.
Five years later, Handel again finds herself on defense about just what happened at Komen — this time as the Republican candidate for Congress in a closely watched Georgia special election. Jon Ossoff, the Democratic candidate, has turned it into a potent attack line, questioning her motivations and sincerity in ads and on debate stages during the final month of the race.
Komen is likely the best-known part of Handel's resume – at least outside of Georgia, where she served as secretary of state, lost a close race for governor, and ran for Senate. In part that's due to the the fallout from the controversy, but Handel has also proudly claimed it as part of her record, declining to take a severance payment when she resigned from Komen so that she could tell her side of the story without the shackles of a non-disclosure agreement. She did so over 276 pages in Planned Bullyhood — her 2012 first-person account in which she recounts her time at Komen, and the series of miscalculations, miscommunications, and deceptions by those around her that, she says, turned a routine business decision into a political and public relations disaster.
Komen didn't come up in the April primary, when Handel was one of 11 Republican candidates vying for second place against Ossoff, who, having largely consolidated Democratic support, held a formidable lead. Handel, a well-known figure in the district, entered the race as the Republican favorite, and her opponents were not shy about attacking her. But in a race among Republicans, her time at Komen was not a liability, but a boon.
"Candidly, I think it gave her a lot of conservative cred," said Georgia Republican consultant Chip Lake, adding "I think that whole situation was very helpful to her with a base that might have been skeptical to her previously."
But now that it's just Handel and Ossoff going head-to-head, Handel's Komen tenure is more of a mixed bag. On the one hand, both sides need to scrape out every last vote to win — and that means making sure every last base voter casts a ballot. For Handel that means the same thing holds as before — her time at Komen gives her credibility with the Republican base, including some voters for whom she was not first choice.
On the other hand, it's a potentially strong argument for Ossoff, whose victory depends on being able to turn out not just all the Democratic vote, but some people who have historically voted Republican. Arguments about Handel's time at Komen, Democrats believe, are helpful with just that type of voter — namely moderate Republican women.
The ads Ossoff is running — and the comments he has made in debates — are not focused on the narrative of what happened during Handel's time at Komen. Instead, they're focused on Handel's motivations for her alleged actions there. "If Karen Handel didn't want to fund Planned Parenthood, she didn't have to take the job at Susan G. Komen," says a woman in one of Ossoff's ads. In a different electoral climate in this traditionally Republican district — one that voted seven times for Tom Price, a vocally anti-abortion Republican — a narrative that was functionally a defense of Planned Parenthood might not have been so effective. Handel can speak with authority about what did or did not happen at Komen — she was there, after all, and she wrote an entire book on the subject. But Democrats are feeling confident enough, in this climate, that an attack on her motivations is a harder thing to rebut.
"Folks across the political spectrum and women across the political spectrum are tired of politicians trying to make healthcare choices for them and impose their own views. And Secretary Handel has a long track record of seeking to impose her own views, and she took a job at a charity whose purpose is fighting breast cancer, she abused her position to impose those views, defunded life saving breast cancer screenings, resigned in disgrace, and cost the organization tens of millions of dollars or more in life-saving contributions," Ossoff told BuzzFeed News in an interview earlier this month.
Conveniently for Ossoff, the argument has dovetailed with the Republican House passing a health care bill that has drawn mixed reviews, to put it kindly. That's given Ossoff more openings to speak about it — as health care is a frequent debate question. He has connected what happened when Handel was at Komen to a broader narrative attacking the Republican health care bill, and the impact it would have on women's health.
The question is whether voters will register the issue as Ossoff casts it — a question of character and motivation — or as Handel casts it — a cut-and-dried narrative being perverted by the left in a partisan effort to prop up one of its most powerful interests.
"It's not surprising Jon Ossoff is sticking to the Democratic playbook. He wants to equate Planned Parenthood to women's health, pretending that anyone who doesn't support them is anti-woman," Handel spokesperson Kate Constantini said in a statement to BuzzFeed News.
Indeed, when the subject of Komen comes up, Ossoff and Handel sometimes seem to be talking past each other.
"I think the question that I have, and that many voters in the sixth district have, is why Secretary Handel thought it was reasonable when she took a job at an organization dedicated to fighting breast cancer to impose her own views and cut off funding for life saving breast cancer screenings at Planned Parenthood," Ossoff said at a WSB-TV debate earlier this month.
Handel responded by recounting what happened. "In regards to Komen," she said, looking down at her paper, then continuing with an uncomfortable laugh, "for anyone to think that as one individual employee I was able to wave a magic wand and make something like that happen. It was a business decision, ultimately decided by the board of Komen." She continued to speak of her efforts in the realm of women's health, concluding rather fiercely: "I will not, not be lectured by you or anyone else."
Ossoff pressed the point, questioning Handel's level of responsibility for the decision. In her book, Handel describes it much like she did in that first answer — she was asked to present options, she felt, based on grant criteria, that it would be best for the charity if it did not fund Planned Parenthood at all, and she recommended as much to the charity's leadership and board.
"Jon, I had a job to do at the Komen foundation. And I was directed to come up with options for how the organization could disengage. But all of that is irrelevant in the fact that you have continued to mislead the people of this district with deceptive ads that have been marked and check independently as being false and misleading. The ultimate decision was by the board, and for you to once again, like liberals always do, hijack women's issues and make them a political wedge issue is unacceptable," Handel responded, casting Ossoff's argument as a liberal defense of Planned Parenthood that might not go over so well in this traditionally Republican district.
The answer left some people cold.
"I was disappointed when Ossoff jumped on her on that particular issue and she didn't respond," said Bruce Kile, a Marietta resident wearing Buick-branded socks who flagged down Handel canvassers while he was working on one of his five Buicks. But Kile planned to vote for her anyway. Handel, he said, was not his first choice among the original field of Republican candidates, but he described himself as a single issue voter — and Handel is the pro-life candidate in the race.
Handel is also running an ad on the subject featuring her close friend, Anne Lewis, who is battling cancer. It doesn't address the events at Komen outright, instead defending Handel's credentials as someone who supports women's health. "When I see ads attacking Karen Handel they make me sick," Lewis says, speaking directly to camera. "Karen is one of the strongest advocates for women's health I know."
But despite Handel's efforts to tell her side of the Komen story, a different perception remains — reinforced, this time around, by Ossoff's record-breaking fundraising, which has enabled him to slather the airwaves and knock on doors.
Planned Parenthood is involved in the district, having launched an independent effort to canvass for Ossoff. But its focus, per Kevin Griffis, vice president for communications at Planned Parenthood, "has been to tell the story about why we support Jon Ossoff" — more of a positive message. And while Handel's time at Komen is referenced on its promotional materials, and discussed by its canvassers when they knock on doors, it's not by any means the driving force of Planned Parenthood's efforts. There are no Planned Parenthood locations within the district's limits, something Handel pointed out in debates, although the state's only three locations are within driving distance of the district.
In the conclusion of her book, Handel places herself squarely where her detractors claim she has been all along – "a new soldier—an accidental soldier, perhaps" in the culture wars. But at a moment when the culture wars seem to hold less heft — with a Republican president whose attention rarely turns to them, and a Republican Congress which has yet to pass final legislation to defund Planned Parenthood — that positioning can feel anachronistic.
But in some ways, Republicans are seeking to make this entire race an anachronism — a return to a moment before Trump radically altered the face of the Republican Party, and to a moment when this seat was safely in Republican hands. But the Komen affair — which has resisted Handel's best efforts to make her side of the story the most prominent one — is likely not the moment Handel wishes to return to. Ossoff is trying to make her do so.