LAS VEGAS — Is Steve Bannon actually powerful? Nevada Republicans are about to find out.
With Arizona Sen. Jeff Flake announcing this week that he will not seek reelection, Nevada Sen. Dean Heller now represents the former top White House strategist's best chance to live up to his professed goal of ousting incumbent Republican senators in a primary next year.
But taking out Heller will be a steep battle against a well-established senator with nearly $4.2 million already in the bank, in a state where no elected incumbent senator has ever been ousted in a primary challenge. And Bannon's vehicle to victory is Danny Tarkanian, a candidate who has already lost five tries at elected office.
Tarkanian, during a nearly hourlong interview with BuzzFeed News in his office last week, was happy to embrace Bannon — but only to a point — and sounded as much driven by his personal desires to live up to his famous father as by politics.
The Nevada race has not been the most watched in the simmering battle between Senate Majority Leader Mitch McConnell and Bannon, but it came to the fore this week after a Super PAC tied to McConnell attacked Tarkanian on Twitter for his ties to Bannon, tweeting a headline that called Bannon "anti-Semitic."
"It put this race right on the front burner," a source close to Bannon told BuzzFeed News.
With no staff present, Tarkanian detailed how he came to first meet Bannon at Breitbart Embassy in Washington, DC, in early September. "When I was there, I asked my consultant to set up some meetings," he said. "And he called me and said, 'Steve Bannon would like to meet with me.' Whether it was our initiative or his, I don't know."
The meeting was short, and it was before Roy Moore, with Bannon's backing, had beaten Sen. Luther Strange in an Alabama primary. And it was before Bannon, springboarding off Moore's success, had announced his intention to back primary challengers to every sitting Republican senator up for reelection in 2018 — except Ted Cruz — with the financial backing of the billionaire Mercer family.
Tarkanian says they did not talk policy, and Bannon never raised the issue of ousting McConnell as majority leader, a position to which he has reportedly asked other candidates to commit. (Tarkanian said in August he had no issue with McConnell, but later said he would not back him after McConnell announced he would support all GOP incumbents, something that's standard for party leaders.).
Bannon, Tarkanian said, "told me he supported me 100 percent. And what I liked was he told me, he said, 'it was nice to see a candidate that exceeds my expectations,' so I took that as a very good compliment."
It was the first and only time Tarkanian met or spoke with Bannon. Since then, he has spoken on several occasions with Andy Surabian, Bannon's political advisor.
Even with Republicans skeptical of Bannon's primary might, there's a logic to him joining up with Tarkanian. Heller was one of several Nevada Republicans who denounced Trump at a rally last year after the release of the Access Hollywood tape in which the now-president bragged about groping women. Their relationship did not improve when Heller, in a much criticized move, joined Nevada Gov. Brian Sandoval at a press conference attacking one version of the Republican health care bill. It was after that press conference that Tarkanian — who stuck with Trump after the Access Hollywood tape, despite comments he deemed "disgusting" — announced he would challenge Heller in a primary, branding himself as the Trump-aligned candidate.
Tarkanian says he agrees with the policy actions Trump has taken as president, but when the Access Hollywood tape is brought up, he leaves some daylight.
"I'm not gonna defend his personality," Tarkanian says. "His personality is different than anybody we've ever had in the White House. It wouldn't work for me, but look at, this guy's president and the biggest political upset maybe in our country's history, so who am I to tell him how to act?"
"That's kind of his reputation," one Republican strategist said of Tarkanian. "Like, oh God, him again?"
Tarkanian hasn't had a problem with primaries during his political career. He's run for office five times since 2004, and won three of his four primary races. Five out of five times, he's lost the general. But this time around, the primary against Heller will be a serious challenge.
"I think it will be a race," said Sig Rogich, a longtime Nevada Republican consultant who knows the Tarkanians well. "I don't think it's something that anybody can ignore, because I think [Tarkanian] is an attractive candidate. But at the same time, you have to ask yourself who has the best chance to win in the general election, and it's my opinion that that would be Dean Heller."
Tarkanian attributed his most recent general election loss, in part, to being insufficiently aggressive in returning fire in the face of his opponent's negative ads, and he pledged to go full bore against Heller. "I'm gonna roll up my sleeves and we're gonna punch back harder than he's gonna punch at us," he said. "If I go down, it's gonna go down in a bloody mess."
Tarkanian knows his candidacy depends on his ability to fully seize the mantle of the Bannon candidate.
"I need it to be a national race," he said. It's the only way he believes he can raise enough money to compete with Heller. So far, he has raised just over $300,000 for his Senate bid, a paltry sum relative to Heller's millions, though he says he is on track to raise what he believes he will need. Bannon's support, he hopes, will help.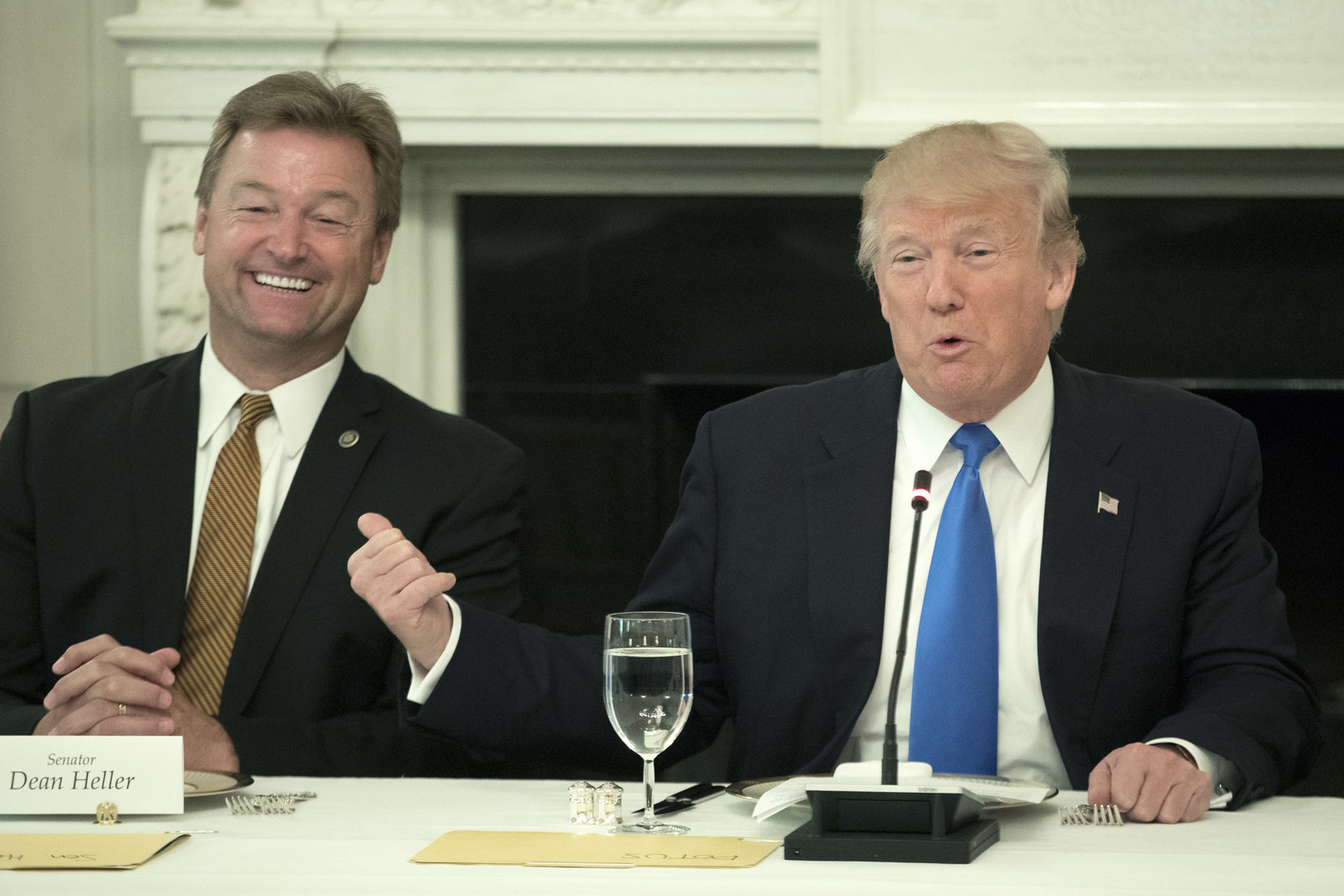 "I tell people there's nothing I hate worse than asking people for money on the phone," he says. So he bribes himself with candy. "A bunch of jellybeans and some coffee, and I get on the phone," he says, opening his desk drawer to reveal four large bags of candy — red hots, licorice allsorts, candy berries, and a jellybean-like candy. "I mix 'em up, cause you get sick after a while."
In a positive sign for his bid for national attention, Breitbart has recently thrown itself behind Tarkanian. "Exclusive – Mitch McConnell's Full Meltdown: Danny Tarkanian Slams Majority Leader, Dean Heller for Baseless Smears Against Steve Bannon," read the headline on a story about the SLF tweet.
But the episode with the anti-Semitic accusation presents a looming question for all Bannon-backed candidates: does embracing Bannon's support mean embracing everything Bannon is associated with?
"I was in this race before Breitbart was involved. I'm just happy Breitbart's looking at the race and gonna follow it," said Tarkanian.
Bannon, Tarkanian said, "hasn't driven me anywhere ideologically," but he says he believes they're more or less on the same page.
"Everything that I try to do in my life is based upon what I feel would emulate and please my mother and father."
Republicans politicos in Nevada mostly speak kindly of Tarkanian as a person. But several said that did not translate into respect for him as a candidate. They describe someone who has struggled to grapple with policy specifics and past campaigns that were undisciplined and poorly run.
"Man, you would think that if they were really serious about taking out Dean Heller, you'd think they could find someone better than Danny Tarkanian," said one Nevada Republican strategist.
"That's kind of his reputation. Like, oh God, him again?"
There's reason for deja vu. In 2004, Tarkanian ran for state senate. In 2006, he tried for secretary of state. In 2010, he mounted a challenge to then Senate Majority Leader Harry Reid, but lost in a primary to Sharron Angle. In 2012, he ran in Nevada's 4th Congressional District, ultimately losing to Democratic Rep. Steven Horsford, who lost the seat himself two years later. In 2016, he lost to Democrat Jacky Rosen in Nevada's 3rd Congressional District.
Allies of Tarkanian say there are mitigating circumstances in those losses: 2006 was a Democratic wave year, the district he ran in in 2012 was Democratic leaning, and Democrats swept the state in 2016, up and down the ticket.
"Danny Tarkanian is a Republican primary assassin," said the source close to Bannon. "And he's a much stronger general election candidate than his critics give him credit for."
Tarkanian told BuzzFeed News this will be his last political campaign if he doesn't win. "I certainly would like to win," he said. "It certainly bothers me that I haven't. But it doesn't define me and make me unhappy."
Still, his decision to challenge Heller has flummoxed Nevada Republicans and political onlookers who believe he could've had a real shot at becoming a congressman if he'd stuck to his original plan of running again in the 3rd Congressional District. Why, they wonder, does he want to put himself through this again in a race where he is the clear underdog?
The armchair psychoanalysis is that this is all an effort to live up to the legacy of his father, the Hall of Fame college basketball coach Jerry Tarkanian.
He "can't get out of his dad's shadow," offered one Nevada GOP consultant, describing the younger Tarkanian as someone who is "desperate to be somebody."
"I was in this race before Breitbart was involved. I'm just happy Breitbart's looking at the race and gonna follow it."
Tarkanian did little to dispel this notion in his interview with BuzzFeed News, held at the Tarkanian Basketball Academy, which Tarkanian built to honor his father.
"Everything that I try to do in my life is based upon what I feel would emulate and please my mother and father," he told BuzzFeed News. The younger Tarkanian's office overlooks several basketball courts and has on display evidence of his own athletic prowess, including a picture of himself as a star high school football player and a photo from his time playing basketball for his father at the UNLV.
His father, he recounts, thought "the worst thing in life you could be was a phony." That, he says is what Dean Heller is. And that's why he felt compelled to challenge him.
Tarkanian recounted a story he's told several other news publications about a conversation he had with his father when he was ill in 2009, when his father divined his son's plan to challenge Harry Reid without being told. "He knew, he said, "because you're a competitor, you've never backed down from a challenge before, and I'm very proud of you."
"And I think," Tarkanian said, "that's probably the nicest thing my dad ever said to me."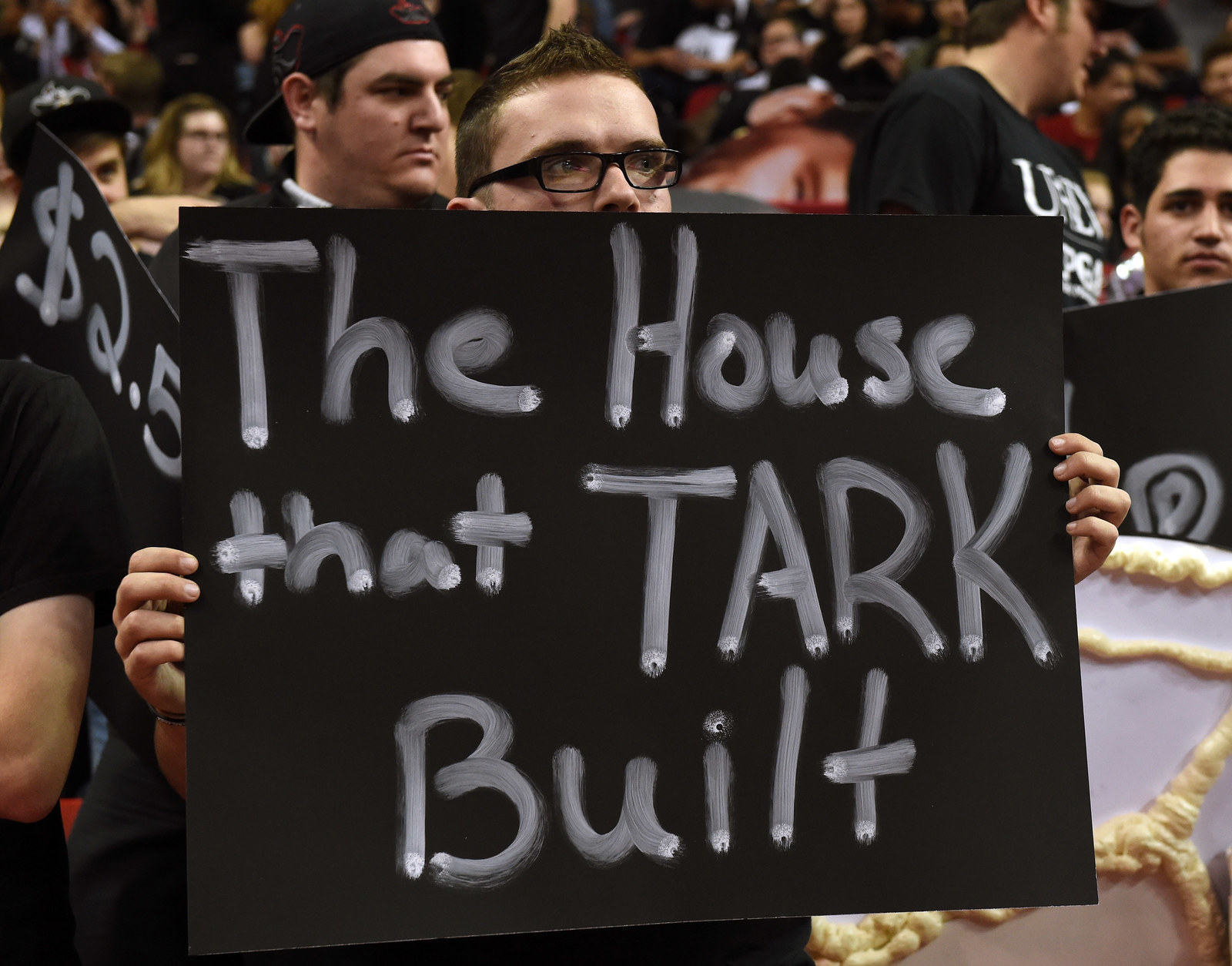 So Tarkanian will do it again, with what the GOP consultant described as his usual lack of "regard for the chance of victory."
The question is just how much Bannon will jump in to help that opportunity. If a group aligned with Bannon were to spend money to run ads on Tarkanian's behalf, said a second Nevada Republican strategist, "It kind of validates Danny's claim as the outsider, pro-Trump guy."
"Obviously if that happens, that makes it a lot tougher for Heller," the strategist said.
If that doesn't happen, Tarkanian could just be left with a slightly longer list of defeats.
"I don't think Bannon's going come in here and make a lot of waves," said Rogich. "Well, he didn't make a lot of waves in the White House, so why would he make them here?"