The story of Texas' 7th Congressional District this year was supposed to be Republican Rep. John Culberson and whether he could hang on in a district that voted for Hillary Clinton in 2016. Instead, it has been Laura Moser, one of the seven Democrats vying to replace him, and her clash with her own party.
The Democratic Congressional Campaign Committee, House Democrats' official campaign arm, denounced Moser, the favored candidate of the constellation of outside groups affiliated with Bernie Sanders' presidential campaign. It was an unusual moment: The DCCC posted opposition research about Moser on its website and declared in a statement that if she won the nomination, Democrats would lose any chance at winning the seat.
"It feels like I've been betrayed by someone in my family," she told BuzzFeed News.
The opposition research, summed up in four bullet points, was an exhibit of just how easy it would be for Republicans to attack Moser if she advances from Tuesday's race to the likely May runoff and becomes the nominee. But it also illustrates how much is at stake for Democrats this election season, which kicks off this week with primaries in Texas.
"It feels like I've been betrayed by someone in my family."
The seven-person race here to take on Culberson is emblematic of Democrats' challenge in 2018: They need to win in districts like this — districts that have long voted Republican but broke with Donald Trump in 2016 — to have a path to congressional control.
But this Texas primary has become as much a choice between the candidates themselves as a referendum on the outside groups supporting them — a proxy battle for which voices should carry weight in shaping a Democratic Party still grappling with its identity.
Moser argues the Democratic party needs to be "clearer about what it stands for." In her campaign office in a strip mall, where someone has cut the shape of the state of Texas out of campaign signs, Moser gives what sounds to be her umpteenth interview on the subject, mentioning stories the Washington Post, the Intercept, and the New York Times have written about her clash with the DCCC.
Several of the 16 volunteers and staffers phone banking in her office have Bernie Sanders stickers on their laptops along with Moser stickers. There's a cloth Bernie doll — wearing a tiny Laura Moser button — that one frequent volunteer says keeps her crying toddler calm. At the front, there are pizza and snacks on offer, a result of the DCCC's comments, Moser said, which prompted anonymous well-wishers to send food. One woman notes that Moser might want to have someone taste the food first — she doesn't only have well-wishers in this campaign.
"We are a party with many different constituencies, many different values, many different viewpoints. We're not as narrow a party as the Republicans. And for them to impose a purity test on me, that's kind of nonsensical," she says.
"I'm not running on this like lefty, abortion, guns platform that you would think if you read that stuff," she adds. "I'm running on very local infrastructure issues because that's what is going to win or lose the race."
The Sanders-aligned groups Our Revolution, Justice Democrats, and Democracy for America have all backed Moser. The battle those groups are waging in Moser's name is transparently about more than just the fate of Texas' 7th congressional district: They are now building out their own contact lists through emails denouncing the DCCC.
Few people paying close attention to the primary say they're pleased with what the DCCC did.
They should "stay out," Jason Westin, a cancer doctor running for the seat, told BuzzFeed News. It's "unsettling," said Alex Triantaphyllis, another top candidate.
"I feel like the DCCC needs to start talking to the electorate like adults. They need to stop treating us and hand-feeding us like little kids," said Amanda Chang, one of the five members on the coordinating committee for the Harris County chapter of Our Revolution.
"I feel like the DCCC needs to start talking to the electorate like adults."
Kandice Webber, a cofounder of Houston's Black Lives Matter and Houston Rising, thought what the DCCC did was "completely inappropriate." But she is also proof that the effort has been effective — she told BuzzFeed News she was infuriated by Moser's dismissiveness of concerns about the high cost of living in DC in a DCCC-highlighted Washingtonian story Moser wrote in 2014. Gentrification, Webber pointed out, has meant that the high cost of living has disproportionately affected black residents of the city.
"From a black woman's perspective," Webber said, "it was completely tone deaf and it just, it reeked of white privilege." She said she would no longer support Moser.
The DCCC's efforts also can't be looked at in a vacuum: Democrats are contending with multi-way primaries across the country. The dynamic is so pronounced in California that Democrats in some districts risk missing the general election ballot altogether. The DCCC's willingness to take a swing at a candidate in this primary is a notice to candidates in other crowded races: It might also do so elsewhere.
"As we've indicated all cycle, the DCCC is keeping all options on the table to work with our allies and ensure that there's a competitive Democrat on the ballot for voters to elect in November," said DCCC communications director Meredith Kelly in a statement.
It's not just the DCCC that has gone negative. The Texas AFL-CIO is endorsing anyone who isn't Lizzie Pannill Fletcher, a lawyer who is considered a top-tier contender in this race along with Triantaphyllis, Westin, and Moser. Fletcher, though, has the backing of EMILY's List, which has spent to help propel her out of the primary.
"They didn't just endorse, they have sent out eight mailers in support of another pro-choice woman," griped Moser. "And as you know … I have played a role in the resistance that was prominent, and it was upsetting."
Fletcher, who some groups have suggested would most benefit from the DCCC's intervention, brushed that complaint aside. "EMILY's List endorsed me in November and has been supportive of me because I earned that endorsement," Fletcher told BuzzFeed News Thursday.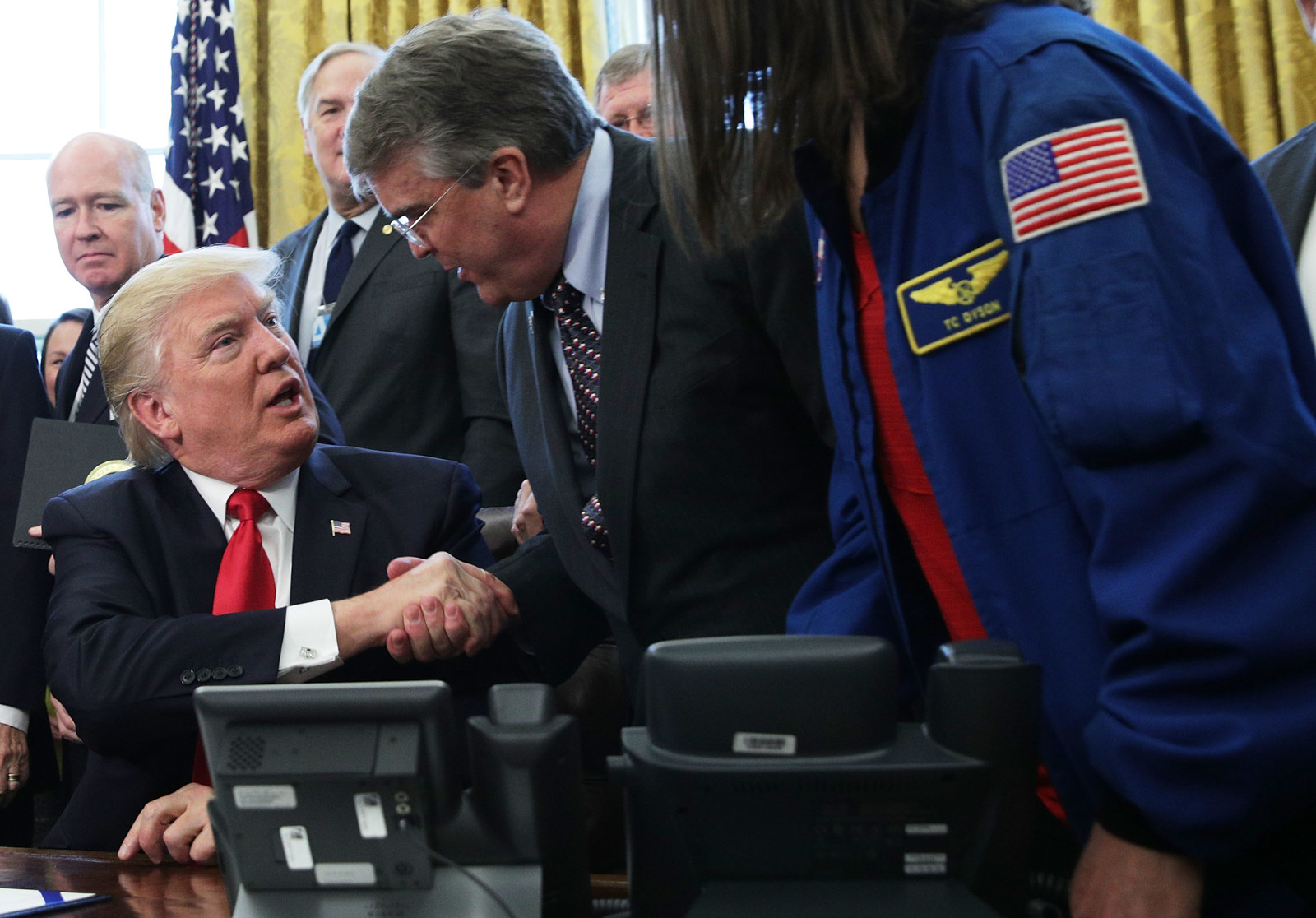 "We're just focused on talking about our opponent, who's John Culberson, and moving our campaign forward to Tuesday," she said, seated in yellow and orange stadium seats that were once in the Astrodome and are now arranged in a neat row in the lobby of the office building where her campaign is headquartered.
The clash of national groups in the primary's final week has left some of the race's other candidates feeling like they're on the outside.
"There is sort of a forgotten component to it," Westin, the cancer doctor in the race, told BuzzFeed News in an interview, noting that a recent New York Times op-ed about the race referred to him not by name but simply as "another Democratic candidate, an oncologist."
Westin is standing in a potential supporter's living room, where he has spent the past hour trying to convince the seven people in attendance — plus his wife and two volunteers who already back him — that they should vote for him Tuesday. The doctor favors a single-payer health care system, the very type of progressive stance that has made some Democrats question Moser's ability to win in a longtime Republican district.
"If you are, on the issues, on the progressive side of things, for some things like health care, yeah, you could be called a progressive. But if you're not sort of going back to litigate the Hillary versus Bernie fight or either of those things, you don't necessarily get all the social media attention," he said.
It's not clear that as many of those in attendance understand much of what Westin is saying. Several of them, including the hosts, speak mostly Spanish, while Westin's Spanish, he tells them, is "mal." Still, he delivers his speech and answers all questions that come, devoting a fair amount of time to the plight of DREAMers and the uncertainty of the immigration system.
As he talks about the complications inherent in police being enlisted to check people's immigration status, two volunteers for his campaign hold up their US passports in an impromptu illustration of his point. They're both Hispanic, and they carry their proof of citizenship on them, just in case.
"2018 is our opportunity to say, 'this is not who we are.'"
"2018 is our opportunity to say, 'this is not who we are'," Westin says of the current administration.
That opportunity, and the dilemmas that come with it, is a new predicament Democrats face across the country. The Texas 7th District is George H.W. Bush's old congressional seat. It has been in Republican hands since he was first elected in 1966. Here, and in districts like it, the issue historically has not been choosing among qualified Democratic recruits — it has been convincing even just one qualified recruit to get in the race, and knowing that even if they did, it probably wouldn't matter come November.
But in the Trump era, Democrats have multiple qualified, well-funded, potentially competitive candidates in races across the country. And that has raised a host of new questions about what types of candidates and organizations should have a role in shaping the Democratic Party's electoral interests.
Triantaphyllis bills himself as the candidate who was working to help the community before those new questions arose, "if you're looking for somebody who didn't wake up on November 9th." He founded a nonprofit to connect young refugees who came to the Houston area with mentors, and as he knocks on doors in a predominately Hispanic neighborhood Thursday evening, he pitches potential voters on the fact that he has both community and business experience. His approach to door-knocking is equally businesslike — he's left his dress shoes sitting in the front seat of a staffer's truck, changing into Allbirds sneakers so that he can make better time.
When one man cracks his door slightly, trying to obscure the fact that he is wearing only a towel, Triantaphyllis is undeterred. He leaves several minutes later, having collected the man's phone number and left his own written on a mailer. The last day of early voting is the following day; a voter's state of undress is irrelevant.
But with so many candidates and no real reference point for who will turn out to vote in this moment of Democratic excitement, the campaigns have some unusual hurdles.
One man who opened the door for Triantaphyllis told him he had already voted early — he just wasn't entirely sure for whom.
"Eran tanta gente," he said apologetically. "Espero que he lo hecho bien." There were so many candidates. I hope I picked well.