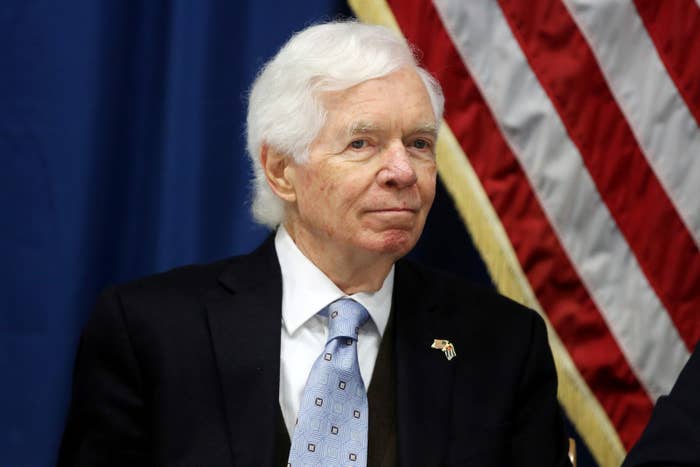 Sen. Thad Cochran will resign effective April 1, due to ongoing health issues, the Mississippi Republican announced Monday.
"I regret my health has become an ongoing challenge," Cochran, who is 80 years old, said in a statement, adding that he will stay on for the next few weeks in order to finish up a spending package that will keep the government from shutting down at the end of the month.
"It has been a great honor to serve the people of Mississippi and our country. I've done my best to make decisions in the best interests of our nation, and my beloved state. My top concern has always been my constituents in Mississippi," Cochran said in the statement.

There have been whispers for several years that Cochran's health was declining, but they became public discussion again last fall, when President Donald Trump said that the Senate had been unable to pass an Obamacare repeal in part because Cochran was in the hospital and unable to cast a vote. Cochran, in a tweet and through staff, said he was not, in fact, hospitalized, but was at home recovering from a urological issue.

When he returned to the Senate in October, several publications reported on his apparent ill health. He "appeared frail and at times disoriented," as Politico put it. CNN reported that Cochran, after speaking to reporters, entered the Capitol through a metal detector, something senators are not, and have never been, required to do.
Cochran did vote for the Republicans' tax plan in December, but he stood at the back of the Senate chamber and appeared dazed. When his name was called in a roll-call vote, nearby Sen. Roger Wicker, also of Mississippi, yelled and gestured to draw the clerk's attention to Cochran, who continued to stare ahead. He was counted as a yes vote.
Cochran, who is the senior senator from Mississippi and chair of the influential Appropriations Committee, was first elected to the Senate in 1978.

Mississippi Gov. Phil Bryant will appoint someone to fill the seat temporarily. A special election to fill the remainder of Cochran's term, which ends in 2020, will be held on Election Day in 2018.
"My hope is by making this announcement now, a smooth transition can be ensured so their voice will continue to be heard in Washington, D.C. My efforts, and those of my staff, to assist them will continue and transfer to my successor," Cochran said in the statement.

Wicker is up for reelection in 2018, creating a rare situation where both Senate seats are on the ballot at the same time. Republican state Sen. Chris McDaniel, who ran against Cochran in 2014, announced last week that he would challenge Wicker this year.
In a statement later Monday, McDaniel wished Cochran the best and said he is focused on his campaign against Wicker." But, he added, "all options remain on the table" with two seats now open in the state.
"What is important is that Mississippi now has the unique opportunity to send two conservatives to the US Senate to help President Trump get his 'Make America Great Again' agenda passed. If Mississippi won't send conservatives to the United States Senate, who will?"
Senate Majority Leader Mitch McConnell thanked Cochran for his service in a statement Monday, noting his "reputation as a 'quiet persuader'" that "has endeared him to all his colleagues."
"Senator Cochran departs with our congratulations and gratitude for so many years of honorable and distinguished service, from his time as a Navy officer to nearly four decades in the Senate, and our warmest wishes for his retirement," McConnell said.

Paul McLeod contributed additional reporting to this story.
UPDATE
This story was updated with a statement from Chris McDaniel.