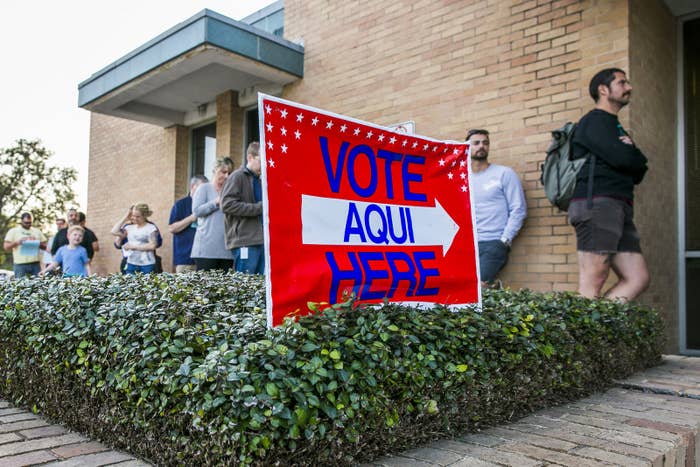 The Democratic civil war will continue in Houston, after voters in Texas's 7th Congressional District picked Laura Moser and Lizzie Pannill Fletcher to compete in a May runoff election.
Fletcher and Moser were the top two vote getters in Tuesday's primary, beating out five other Democrats vying to challenge Republican Rep. John Culberson for a spot in the runoff. The district voted for Hillary Clinton in 2016, making it a top target for Democrats in November.
Fletcher got 29% of the vote; Moser finished with 24%. A candidate needed to get more that 50% of the vote to avoid a runoff.

But before Democrats can take on Culberson, they will have to sort out their own issues. Moser, who espouses a Bernie Sanders-esque view of politics, became a national lightning rod when the House Democratic campaign arm posted opposition research on her shortly before the primary, showing how Republicans could attack her in the general. The seat, said the Democratic Congressional Campaign Committee, would be unwinnable for Democrats if Moser were the nominee.
In a statement in the wee hours of Wednesday morning, the DCCC did not name names, but made clear that it had a preference in the runoff, referring to "a clear frontrunner."
"Democratic energy in Houston is undeniably surging, while Congressman Culberson is stuck on defense as he struggles to sell an unpopular tax bill, explain skyrocketing healthcare costs, and connect with voters who are sick of Republican-controlled Washington. Texas Democrats have been working hard for over a year to hold John Culberson accountable and flip this district blue, and after picking a clear frontrunner are in a strong position to win in November," said DCCC spokesperson Cole Leiter.
In statements on two other Democratic primaries that went to runoffs, both of which had a greater separation in the number of votes received by the winner, the DCCC made no mention of a frontrunner.
The 7th District race has become a proxy battle for a question dividing Democrats across the country: What is the best type of candidate to help them pick up the 24 seats they need to win in November to attain a majority in the House?
Moser and the Sanders-aligned groups that back her believe progressives running on a platform like Sanders' will be best able to excite the Democrat base, enabling them to win in places where Republicans hold a registration advantage. The DCCC, and many other Democratic interests, say that a Democrat can't win a Republican-leaning district without winning some crossover votes, which would require more moderate candidates.
Fletcher has earned the same type of enmity from the Bernie-aligned progressive groups as Moser has from the DCCC. She has the endorsement and financial support of EMILY's List, which some took as an indicator that she was the favorite candidate of Washington Democrats. Democracy for America, which backed Sanders in 2016, singled her out as the beneficiary of the DCCC's attacks on Moser. The Texas AFL-CIO endorsed anyone but her, and the Working Families Party spent $20,000 running ads against her in the primary and plans to spend more against her in the runoff.
As much as these groups may have hoped this clash would end in March, it now may only intensify through May.