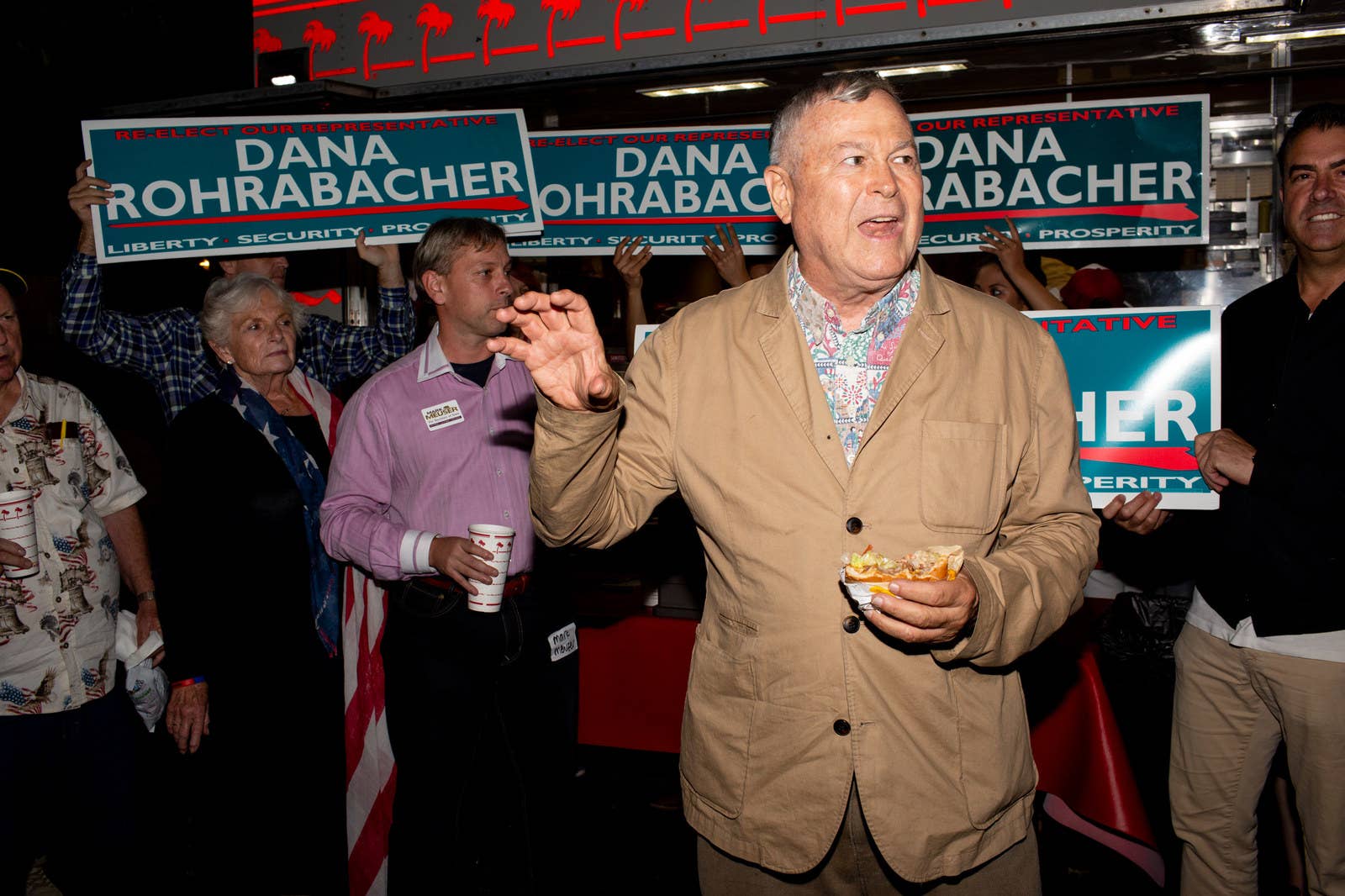 COSTA MESA, Calif. — Rep. Linda Sanchez has a bet with her colleague Mike Doyle of Pennsylvania that it will be her state, California, that elects more new Democrats to Congress on Tuesday.
Sanchez's victory hinges on the idea that Donald Trump's election fundamentally reconfigured the coalitions that make up the two parties, that Republicans in places like Orange County are going to the polls, as Democratic candidate Harley Rouda put it, feeling like this is just "not the Republican Party that they've been with all these years." And, that that, coupled with the shifting demographics that have made these districts less white, has created openings for Democrats.
Since the beginning of the election cycle, Democrats have pointed to four Orange County districts — and one Los Angeles-area district — as a pivotal part of the path to the majority. Democrats need to pick up 23 seats, and if everything went their way, they could pick up more than a fifth of those in California. In 2016, these five districts re-elected their Republican representatives to congress even as they rejected Trump and voted for Hillary Clinton.
These areas have long been Republican strongholds, but Trump, Democrats think, has changed things. It's been a focus of energy since early 2017, when hundreds of people started gathering outside of retiring Rep. Darrell Issa's office here to protest. And the enthusiasm has not abated.
The final days of the campaign trail were filled with Democratic heroes minted for the Trump era. Jon Favreau, a former Barack Obama staffer and current podcast host, drew shrieks from fans when he showed up to canvass for Rouda, per a campaign staffer. Chelsea Handler, the TV host and comedian, knocked on doors and rallied volunteers. Rep. Adam Schiff, the ranking Democrat on the House Intelligence Committee, was treated like a rock star, with a crowd still gathered waiting for a photo with him 30 minutes after he wrapped up stumping for candidate Mike Levin. Vote For Our Lives, the non-partisan political organized by students who survived the school shooting in Parkland, held an all day rally to push people to vote on Sunday. Outside an event where Sen. Kamala Harris and Lt. Gov. Gavin Newsom were set to campaign with Democratic House hopeful Katie Hill, the line stretched down the block and around the corner — inside, the auditorium was already full.
Republicans contend that Democrats are on a fool's errand to try to change the fundamental DNA of these districts — that whatever might have happened in 2016, when these districts voted to elect Hillary Clinton and also their Republican House representatives, these are Republican strongholds.
"We're doing the same type of things that we've perfected over a thirty year period of time, said Orange County Republican Party chairman Fred Whitaker at a Sunday event for Rep. Dana Rohrabacher. "We're just more intense about what we're doing."
In a non-presidential year, Whitaker said, Democrats just have no shot at getting voters to flip on their Republican representatives. "It just doesn't work that way."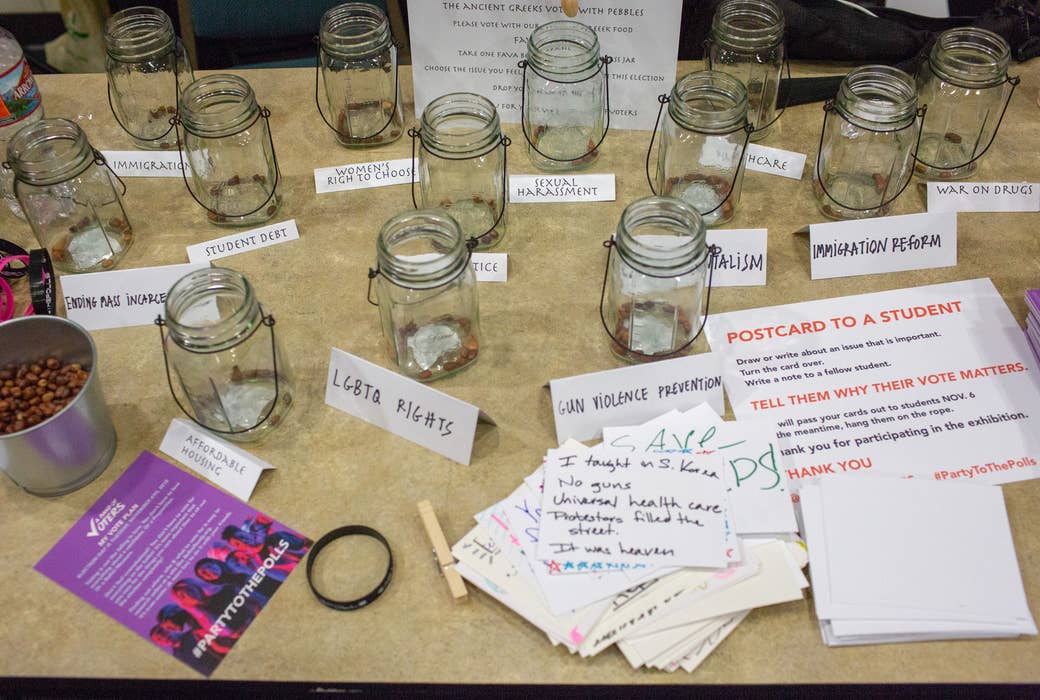 Around the back of Skosh Monahan's pub, at the end of a hallway lined with kegs, a red and blue neon sign reads: "Rohrabacher Liberty HQ." Upstairs is Rohrabacher's campaign office. Downstairs, on Sunday night, was an In N' Out catering truck, serving up burgers and fries for the crowd of supporters and volunteers for Rohrabacher, the congressman now best known nationally for his close ties to Russia.
Here, Orange County was still Orange County, no matter what happened in 2016 or since. There was no concern about a blue wave or a bad environment or shifting demographics. Rohrabacher felt "confident" about his 16th re-election bid, he told BuzzFeed News.
But he still had some concerns. "We know that … unless we win by a recognized margin that the Democratic Party steals elections," Rohrabacher said. "If you're, if it's under 5 percent, we know that this election could be stolen from us. So we have to get 5 percent. And that's what we're aiming for."
"We're not gonna let some billionaires from the east coast come in and buy this congressional district," Rohrabacher told the crowd, gesturing defiantly with a cheeseburger (with onions).
Really, he told an aide shortly thereafter, what he most wanted to do was go finish the burger.
Rohrabacher had been a subject of much concern for Republicans at the start of the cycle. He hadn't had a competitive race in ages, and hadn't tended to his fundraising in the interim. That, and his tendency to make somewhat outlandish comments, had some Republicans worried that he'd get blown out.
But Rohrabacher, clad that evening in a patterned button down shirt that didn't quite look like it was meant to be paired with the beige jacket buttoned over it, had managed to keep the race competitive.
"This district connects with Dana and always has," Whitaker told BuzzFeed News. "This district has got more pick-ups and surf boards than pretty much any place you'll ever see, and Dana fits that mold."
Jeff Saroyan, a young Republican wearing the classic red Make America Great Again hat, said the election was an opportunity. As a California voter, casting a ballot for Trump in 2016 "didn't really have an impact" — it was a foregone conclusion that the state would go for Clinton. But this year, with the race this competitive, Saroyan feels like his vote will be "meaningful."
"These people are trying to control this election with their billions of dollars, are trying to undercut this president," Rohrabacher said, speaking of Democratic bogeymen. "Well I can tell you today, we the people are behind the president."

There were also "mercenaries" coming in from Los Angeles, outside the district, he said, that those billionaires "hired to come down here and steal this election from the patriots."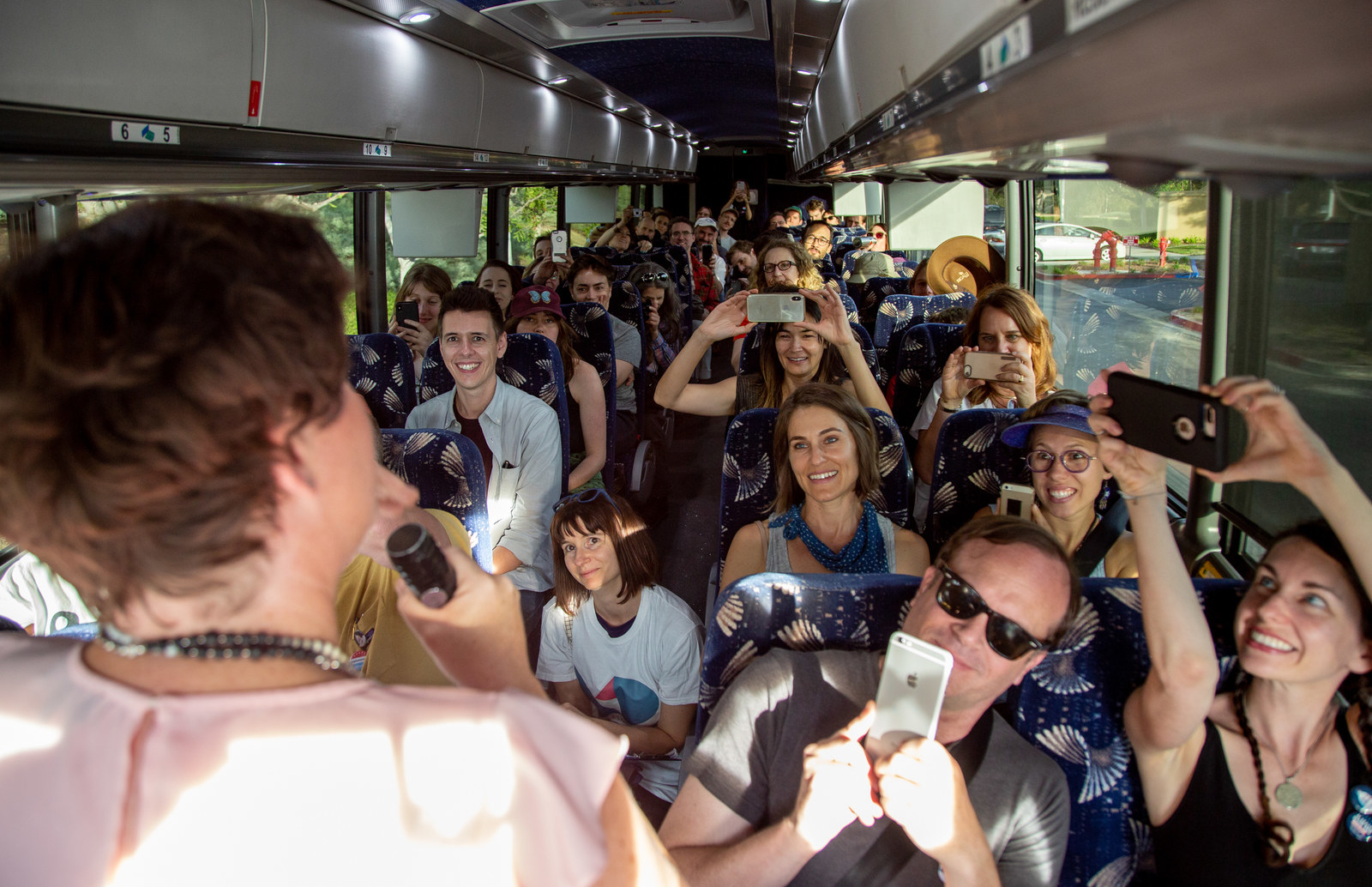 Earlier that afternoon in Mission Viejo, Democrat Katie Porter was jogging across a parking lot to thank two charter buses full of people for volunteering for her that day. Swing Left, a Democratic organization, had brought people down from Los Angeles to help Porter – who is challenging Rep. Mimi Walters – in the final days of the campaign. She'd had a jacket at some point, she said, but it had disappeared, a casualty of the campaign.
They weren't the only out-of-districters who felt compelled to come help Porter in the final days. One volunteer had flown in from Rwanda for a wedding, she told a crowd of canvassers, and had buffered in an extra week to stay and help with the campaign.
Porter, like many Democratic candidates, shies away from the idea that Trump is the be-all, end-all issue for voters.
"I think people here are concerned about Trump, but we knew that two years ago," she told BuzzFeed News. "Cause Hillary won this district by 5, that has been a known factor that there's been concern about Trump. And I think a lot of things he's done during his presidency have deepened people's concerns, and so there's very much a way in which, I always tell people is, we're not tying Mimi to Trump, Mimi has tied herself to Trump with each and every vote that she's continued to cast."
But even if he wasn't the major issue, he was certainly a driving force.
People are "having conversations that Orange County has never had before," said Dawn McCarty, who is volunteering full time for Porter's campaign. "I've lived here 11 years," she added. "No one has ever talked politics to one another."
The morning after the 2016 election, driving her very upset kids to school, she'd promised they were going to get involved moving forward. Now, she said, she'd helped turn a friend's house into a staging area for volunteers. She brought dinner to the campaign office last week, and she's been baking to feed everyone, pulling out a photo to show off the dozens and dozens of muffins she baked this week
Hillary Kambour and Cynthia Adam had flown down from Sonoma County to help out for a few days. They hadn't even known who Porter was until a couple days before, they'd just wanted to do…something. Adam had "never been politically engaged," this trip was her first foray into politics. But she was "appalled" by what Trump had done, and so when Kambour emailed to organize a trip, she was in. "She pushed my buttons," she said of Kambour. "Well, she didn't. Trump did."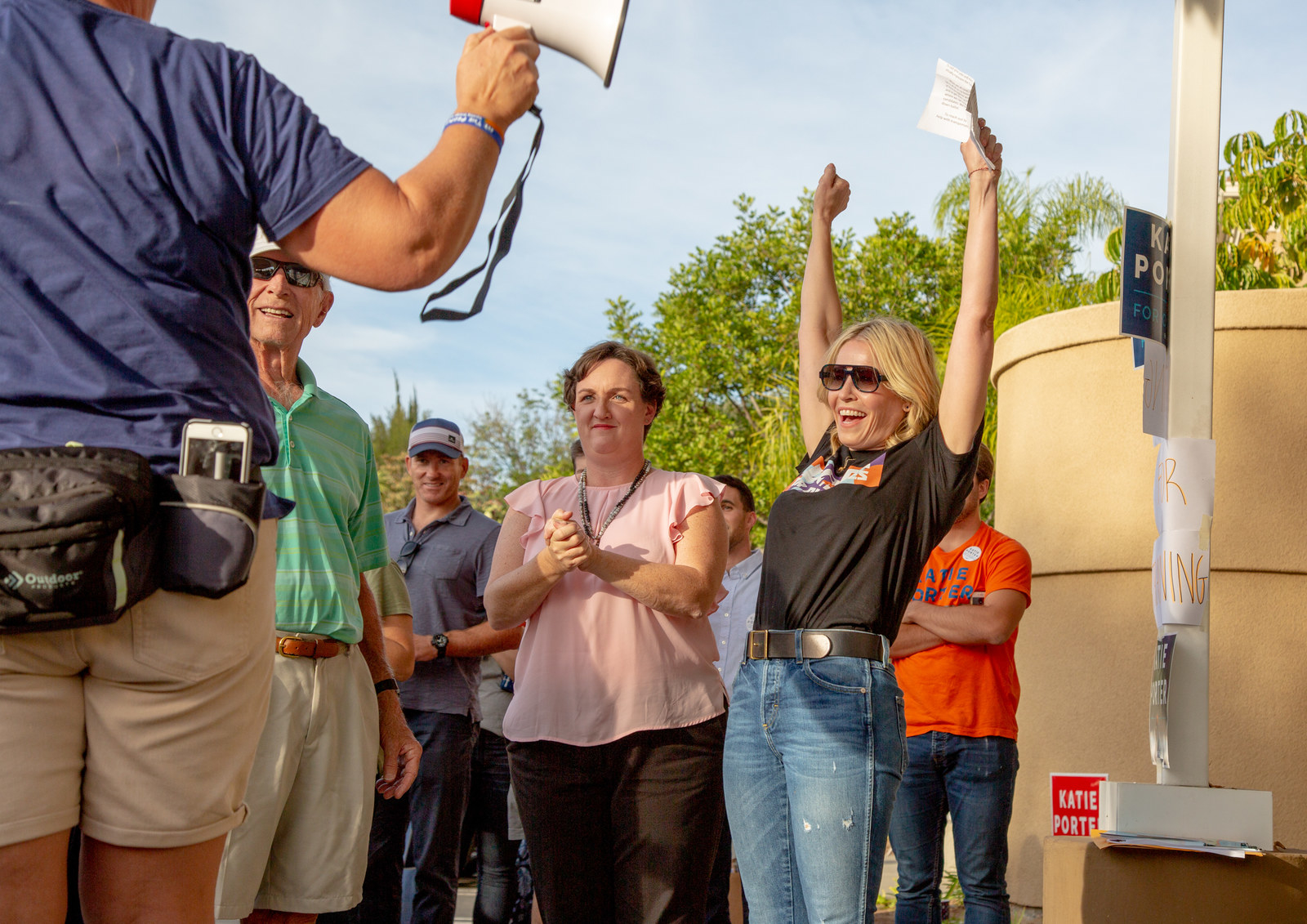 "My opponent is making Washington the issue," said John Cox, the Republican who's spent $6 million of his own money on his bid for governor. "He's gonna say that I'm a foot soldier in Trump's army or something like that. I've never even met the president. It's a canard."
Cox spent the weekend on a bus tour that hit several of the competitive House districts to campaign with the Republicans there, and those Republicans, he said, did not have the luxury of distancing themselves from what was happening in Washington.
"There's where the ideologues come in," he said. "'Cause that's the national scene."
Diane Harkey, the Republican candidate who Cox campaigned with on Friday, said she wished there'd been even a little more national involvement in her race. National Republicans haven't spent for her in her race for the seat currently held by retiring Rep. Darrell Issa. "It didn't have to be a close election," she told BuzzFeed News, adding, "I'm angry about it."
In 2016, Clinton won the district by 7 percent, and Issa barely eked out re-election. But Harkey has not distanced herself from Trump in her bid to replace him.
"He is very helpful with the base. The base loves him. The people on the fence do not,' Harkey said. "But like I said, I think the policies, I think it's style over substance. He's got a bombastic different approach, and California's a little softer. We like a little more finesse. He is not the most diplomatic, and I think sometimes, you know, you have to wince, but then you look at the policies, he's getting some really good stuff done, and the economy is working and people are doing well. So style over substance. I think the substance has been good."
But Harkey didn't shy away from talking about conspiracy theories Trump has boosted in recent weeks.
The caravan, she said, was a "political ploy," designed to "put him in a bad spot."
"There's no way that thousands of people just come north with a bullhorn and just do this," she said, seeing some organizing force behind it.
"I think it's some open borders leftists group. I mean there's rumors that it's Soros, there's rumors that it's this, I don't know, I haven't traced the money," she added.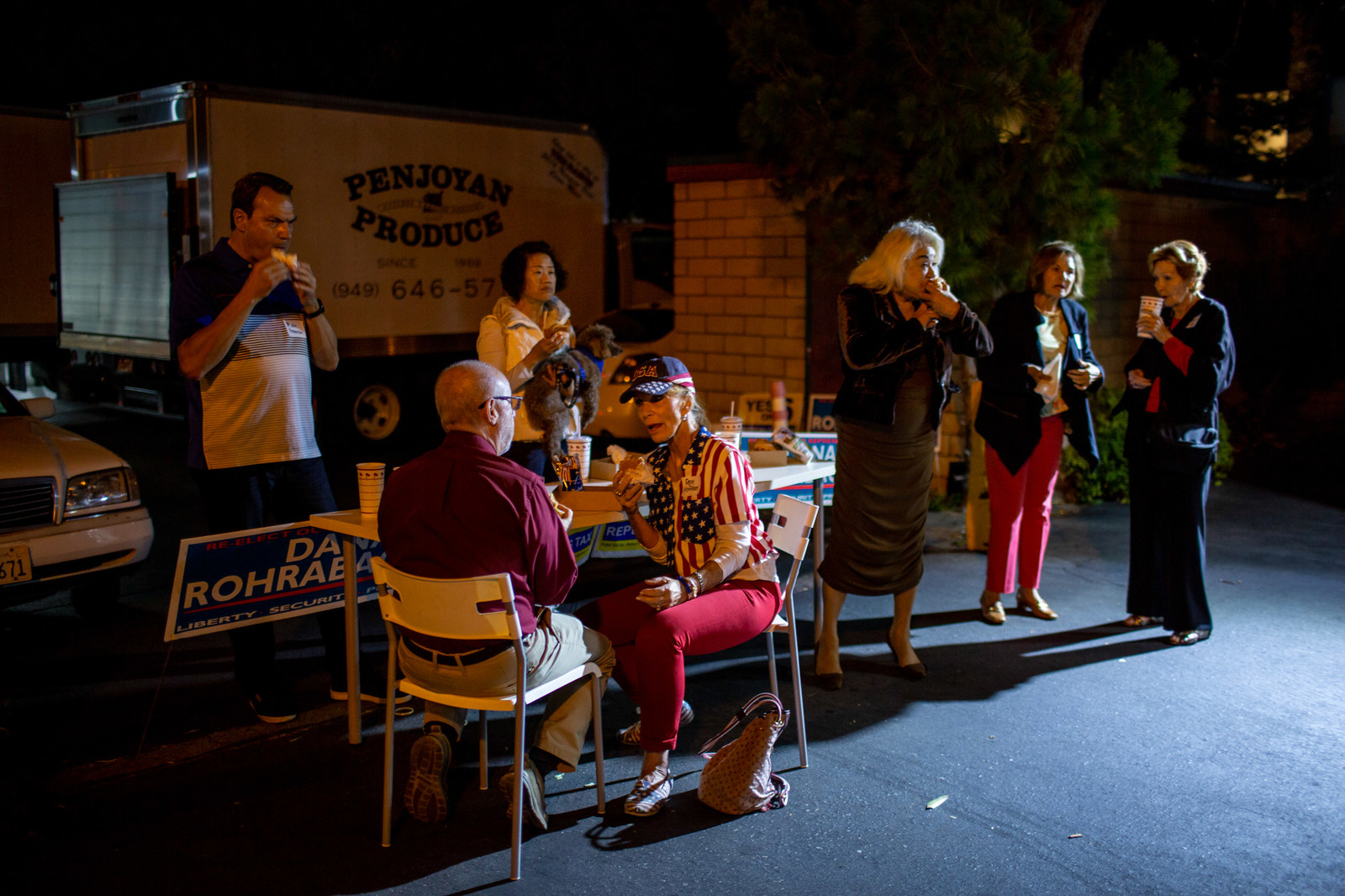 At a canvass kickoff for Mike Levin, Harkey's Democratic opponent, it was clear that attendees were looking for people ready to fight the administration. As Levin introduced Schiff, he noted that if Democrats won the majority Schiff would be the next chairman of the House Intelligence Committee, and received deafening applause.

"Our republic is trembling right now," he told the crowd. "And it is not alone because we have a deeply immoral human being in the Oval Office. It is trembling because we have a deeply complicit Congress that utterly refuses to check this president in any way. On Tuesday that comes to an end."
In the Trump era, "checks and balances," making congress a "coequal branch of government," and representative democracy have become sexy applause lines.
An hour later, Harley Rouda was standing next to Reps. Nanette Barragan and Mark Takano, rattling off the differences between himself and his opponent at the home of supporters who had turned over their home to the canvassing effort. Rohrabacher, he said, had called for Jeff Sessions to resign because "he's not loyal to President Trump. Now, neither Jeff Sessions, nor Dana Rohrabcher, nor Mark, nor Nanette, nor even me as a candidate took an oath to the President of the United States. We took an oath to the constitution of the United States of America that starts off with we the people," he said. "We the people want our democracy back.
The line to get into the rally with Sen. Kamala Harris, Lt. Gov. Gavin Newsom, and Democratic congressional hopeful Katie Hill stretched down the block and around the corner. The auditorium inside was already full, though campaign staffers said they could make room for 20 more people — if they were willing to sit on the floor.
Halfway down the block, Tim Parzyck said 2016 had changed how he engaged with politics. "We voted, and that's it. We never talked to other people about it. We were kind of closet liberals in a kind of conservative community," he said. After 2016, he decided he had to more than just a voter, so he started talking about a little louder, and showing up to events like this one.
"It's been an awakening," said Christie Smith, a school board member who's running for a State Assembly seat in the area.
"For the first time ever people are willing to publicly self-identify with their values that are more on the left. And even some people that are more centrist coming out and saying, you know, we don't always necessarily go along with what's happening on the right," she said.
Some Republicans in the district are skeptical.
"It ends up like this every time," said Mark, a Republican voter working on his car when volunteers from Congressional Leadership Fund, the super PAC associated with House leadership, came by his house to ask if he was voting for Rep. Steve Knight.
Knight faces a competitive race from Hill in this district north of Los Angeles. But Mark was skeptical that it was really a race. The polls that said, he said, were "more fake news."
Craig Wagner, another Republican in the neighborhood whose dog ran out to greet the CLF canvassers, said this election has been "very hostile" relative to past ones.
He pointed to the "progressive left" as the source. "Any Republican has a rally, they all show up throwing rocks and bottles."
"If it's not their way, it's no way," he added.
It wasn't like this in past cycles, he said: "Only since Trump came on board."
Ann, another voter in the neighborhood, had voted for Knight in the past. But this time she didn't know who she was voting for. She'd spent all morning going through materials from the various campaigns trying to figure it out.
"I'm really on the fence right now," she said. This time she wasn't sure about Knight because "I just don't like some of his positions."
She was down on politics generally. The presidential election she said, "was horrible. I would have voted for Mickey Mouse if I could... I just can't believe we voted in Trump."
She turns 60 next year and health care has become a huge concern. "Things are going to change next week and for us senior citizens…a lot of senior citizens are feeling very unsteady," she said.
Her husband was leaning toward not voting at all, but she didn't believe in doing that. The stakes felt so high, and trying to figure out who to vote for was making her emotional, she said, starting to tear up. "I'm afraid to make the wrong decision."●