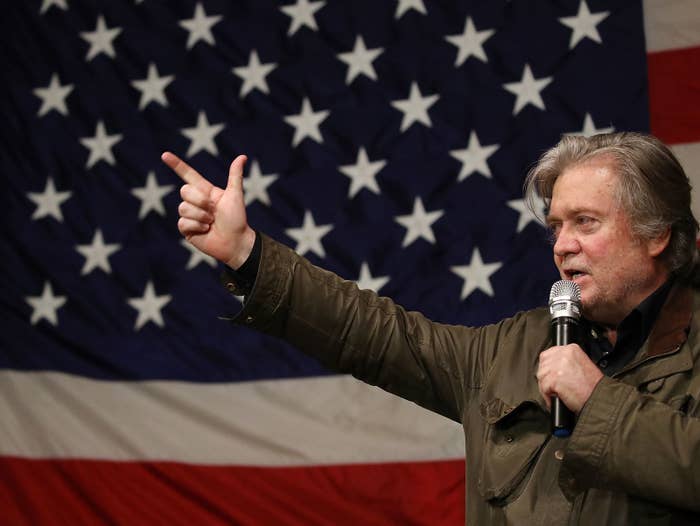 In September, Republican congressional candidates across the country facing intraparty challenges were crawling over each other to get Steve Bannon's support. Roy Moore had just won the Republican Senate nomination in Alabama, and Bannon had supported him as the true Trumpian candidate (despite President Donald Trump's support for his opponent).
Upstart candidates everywhere were all too eager to give the former White House adviser credit for Moore's victory, and even more eager to be the next candidate he helped push over the line.
But four months later, those same candidates are facing pressure to distance themselves from Bannon after Trump publicly torched him on Wednesday, deeming him to have "lost his mind," and declaring that he "doesn't represent my base — he's only in it for himself."
The comments came after several publications published excerpts from reporter and columnist Michael Wolff's new book on the Trump administration, including a quote from Bannon deeming Donald Trump Jr. guilty of treason for meeting with Russians, and several quotes from Bannon deriding Trump, his campaign, and his family.
Now that Bannon is persona non grata in the White House, some Republican candidates who had once shouted Bannon's endorsement from the rooftops have started to slowly back away.
When Kelli Ward, a Republican candidate for Senate in Arizona, officially kicked off her campaign in October, Bannon introduced her and endorsed her candidacy. But Ward has positioned herself as a Trumpian candidate, and on Wednesday a spokesperson downplayed the importance of Bannon's support. "The most important endorsements in this race will come from the voters of Arizona. Steve Bannon is only one of the many high-profile endorsements Dr. Ward has received," said Ward's press assistant Zachery Henry in a statement.
"Her focus remains on winning this race, which she is in a great position to do, and then helping President Trump advance an America First agenda. The daily parlor intrigue in Washington, D.C. does nothing to improve the lives of hard-working men and women of this country," he said.
In Nevada, Danny Tarkanian, who is mounting a primary challenge against Sen. Dean Heller with Bannon's backing, did not back away from him.
"I can understand why DC Dean Heller's camp is giddy. They are desperate for any distraction that shifts the focus from the reason I got into this race in the first place; to give President Trump an ally in the Senate who he can depend on, and Nevadans a senator whose word they can trust," Tarkanian said in a statement provided to BuzzFeed News.
"I supported the President before he was elected; I support him now, I will continue to support him after the primary, and most importantly I will support him after I am elected. The same cannot be said about Mr. Heller. And if Mr. Bannon chooses to support me in our effort to repeal and replace Dean Heller with someone who will truly have the President's back, I welcome his support," he added.
Heller's campaign was quick to attack him in the style of Trump's attack on Bannon.
"Danny Tarkanian and Steve Bannon are frauds whose only skill is losing elections and costing Republicans seats," said Heller's spokesperson Keith Schipper.

In late September, West Virginia Attorney General Patrick Morrisey, now running for Senate, put out a press release with a transcript of an interview in which "conservative icon Steve Bannon praised Morrisey." But after the Trump statement Wednesday, Morrisey's campaign said Bannon was just one endorser, and emphasized Morrisey's alignment with Trump.
"Patrick Morrisey has been endorsed by many conservatives throughout West Virginia and America because of his strong conservative record," said Nachama Soloveichik, a spokesperson with the Morrisey campaign, in a statement to BuzzFeed News. "Attorney General Morrisey does not support these attacks on President Trump and his family, and was proud to stand with President Trump in 2016 when they were both overwhelmingly elected in West Virginia and when he cast his vote for Trump in the Electoral College."
But Rep. Evan Jenkins, another Republican seeking the West Virginia Senate seat, quickly made clear that he would use Bannon against Morrisey, calling on his rival to "immediately disavow Bannon" over his "vicious attacks on President Trump and his family."
"If he refuses," Jenkins said in a statement, "West Virginians should know that what President Trump said of Bannon today is also true of Morrisey: 'he is only in it for himself.'"
Andy Sere, a spokesperson for Jenkins, said given Bannon's recently revealed, negative comments about Trump, the campaign will continue to press Morrisey into choosing between Trump and Bannon. "It would be quite dichotomous of Morrisey for him to claim he would be a Trump ally in the Senate, but when it comes to a top supporter like Bannon, he won't speak up about it."
Other Republican campaigns took similar tacks. The campaign manager for Leah Vukmir, running for the Republican Senate nomination in Wisconsin against the Bannon-backed Kevin Nicholson, called on Nicholson to "disavow" Bannon in a statement provided to BuzzFeed News.
"It was incredibly disappointing to learn of these vicious attacks by Bannon against the President and his family. After the Alabama debacle, and now this, any self-respecting Republican should question whether Steve Bannon has any role in building our party. Kevin Nicholson should disavow his endorsement," Vukmir's campaign manager Jess Ward said.
In a statement to BuzzFeed News, Nicholson campaign consultant Brandon Moody did not address the rift between Bannon and Trump.
"It is disappointing that hours after Wisconsin Republicans joined together to sign a GOP Unity Pledge, that Leah Vukmir would take this moment to attack another Republican for an endorsement she herself aggressively sought. Leah spent a great deal of time and energy seeking Steve Bannon's endorsement and was unsuccessful. It's easy to see why she is frustrated. Meanwhile, Kevin Nicholson has built a broad and diverse coalition of supporters and endorsers and he is focused on talking about the issues that matter most to Wisconsin voters. That's what strong and winning campaigns do," Moody said.
Mississippi state Sen. Chris McDaniel, who is mulling a bid for the U.S. Senate with Bannon's express backing, declined to take sides. "The establishment's swamp monsters in Washington would like nothing more than to refill the Swamp. Conservatives need to work together, not tear each other apart," he told BuzzFeed News in an email. "If we are divided, they win. We can't let them win."
McDaniel did not immediately respond when to clarify just who he believed was tearing whom apart within the conservative movement.
The bitter fight between Trump and Bannon won't just be felt on the Senate side. Bannon has also said he'd back former Rep. Michael Grimm's comeback bid against Rep. Dan Donovan in Staten Island and is reportedly backing Mark Harris, a challenger to Rep. Robert Pittenger in North Carolina. Rep. Steve Stivers, who chairs the National Republican Congressional Committee, met with Bannon at the Breitbart embassy in early November to try to avert an onslaught of primaries against House candidates. The NRCC did not respond to a request for comment.
Grimm, in a Wednesday statement, made clear that he had picked a side. "I strongly denounce the comments by Steve Bannon as quoted by Michael Wolff. They are baseless attacks against the President's family, beyond disturbing, and I fully support our Commander in Chief," Grimm said.
As calls for Bannon-endorsed candidates to disavow the former Trump adviser started on Wednesday, Bannon and his allies remained largely quiet. BuzzFeed News reached out to four Bannon allies who declined to comment or did not respond. Bannon himself has not so far denied the quotes attributed to him or challenged his portrayal in Wolff's book, as some others in Trump's orbit who were also quoted in the book have done.
Trump not only scorched Bannon in a statement, but White House officials are also pinning the blame for the book itself and the access Wolff had on Bannon. During the White House briefing Wednesday afternoon, press secretary Sarah Huckabee Sanders said those who talked to the book's author did so at Bannon's request.
Republicans allied with Senate Majority Leader Mitch McConnell and the Senate Republican campaign arm, which warred with Bannon in the Alabama Senate race, were ebullient.
Shortly after the statement came out, McConnell's official campaign account tweeted a GIF of the Senate majority leader slowly smiling. Senate Leadership Fund, the super PAC associated with McConnell, blasted Trump's statement that attacked Bannon and added, "In case you missed it ;-)"
"We have said from the beginning that Bannon would be a liability for any Senate candidate who embraced him, and now that he has openly turned on President Trump, it's hard to see how his toxicity helps anyone," SLF president and CEO Steven Law said in a statement.
"Every sentence was a new laser beam," said one Republican strategist with ties to leadership of Trump's statement. "It's good for the majority," the strategist added. "I mean, Bannon has spent the last year trying to put Republicans in the minority, and today his effort hit a major roadblock."
The question, of course, is whether the anger toward Bannon lasts.
A national GOP strategist involved in Senate races said the effect of the Trump–Bannon feud on Republican primaries is going to depend on how long it stays in the news, joking that news cycles these days last anywhere from "five seconds to 15 seconds."

"How long does it last? I don't know," the strategist said, adding that "if the president keeps it in the news," then it could put more pressure on Bannon-allied candidates.