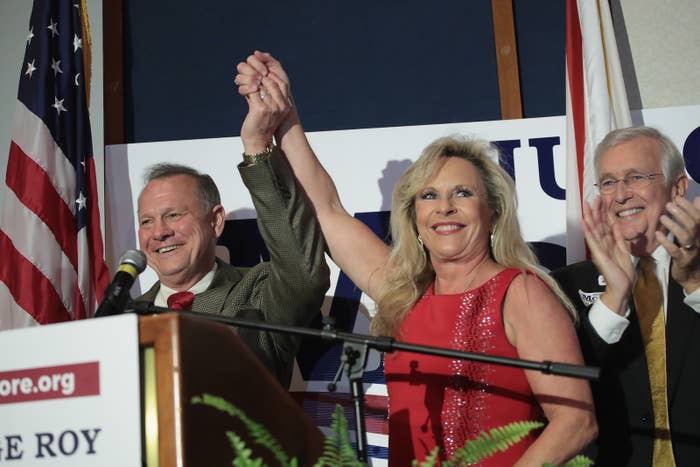 Standing on the steps of the Alabama state capitol building, Kayla Moore, the wife of Alabama Senate candidate Roy Moore, defended her husband at a "Women For Moore" event on Friday from multiple allegations of sexual misconduct.
And Moore and other supporters attempted to discredit the women making allegations against Roy Moore and the media outlets publishing them, with many supporters saying without evidence that the accusers have been paid off.
"Even after the attacks against me and my family, and against the [Foundation for Moral Law], and now against my husband, he will not step down," Kayla Moore said at the conference, which was organized by Becky Gerritson, a founder of the Wetumpka tea party.
It was the latest in a series of campaign events where Roy Moore's campaign has put out supporters — largely religious activists or women — to rebut the allegations against him. Roy Moore himself was not in attendance Friday.

Kayla Moore accused the Washington Post — which first published four women's accounts alleging that Roy Moore tried to date them when they were teenagers and he was in his 30s — along with the Human Rights Campaign, the Democratic National Committee, and the "Washington establishment" of baselessly "attacking" her husband.

About 60 women stood on the steps of the state capitol to express their support for Moore, and in interviews after the event, many expressed a similar sentiment: They said they fundamentally do not believe the women who are making allegations against Moore, and to a one, suggested that they are being paid to say the things they're saying.
"He is a great Christian man, and I believe the Devil has gotten behind this. Somebody, I believe, is paying these women to do that and to come out," Patricia Riley Jones told BuzzFeed News after the event ended.
Marty Baron, the executive editor of the Washington Post, said in a statement earlier this week that claims the paper would pay women making allegations against Moore are completely false.
"We are shocked and appalled that anyone would stoop to this level to discredit real journalism," he said.
A spokesperson for the paper told the Associated Press that the news organization has a policy against paying sources.
Kayla Moore has herself shared several Facebook posts with unverified and baseless claims in at attempt to discredit the accusations against her husband. In one Facebook post that appeared to based on unverified information from a Twitter account, Moore also suggested that the Washington Post was offering to pay for accusations against her husband.
But asked why she thought women were making allegations against Moore, supporter Mary Shelnutt said she didn't know.
"I do know that the Bible says the love of money is the root of all evil," she said. "So, we don't know if these women were offered money to say it, or what, because Judge Moore's character speaks for itself."
Linda Penn, another Moore supporter, made a similar claim. "These women who have come forward with false allegations, for money, that is the love of money, which is the root of all evil," she said.
Jodi McDade said she saw the allegations as part and parcel with the failed efforts by Senate Majority Leader Mitch McConnell and his allies to help Sen. Luther Strange in the primary against Moore. McDade backed Rep. Mo Brooks in the primary, but supported Moore in the fall runoff after Brooks lost, and she said she wanted to support him Friday to push back on "the interference in our elections that's coming from Washington, D.C."
"It's ridiculous," she said. "I mean, they've come in and dug up people and gotten them to say things, and it doesn't match to the Roy Moore any of us are known."
"I just feel like at some point it's gonna be follow the money," McDade added, when asked why she thought women were making these allegations. "And I don't know why anybody would want their 15 minutes of fame to be something like this, but you know, it's happened before — they took down Herman Cain with the same type of allegations. Where are the women now? They weren't upset then once they got rid of him, and it'll be the same way with these."
Women who spoke during the event expressed similar sentiments.
Gina Boggs said she was "furious to see these women come out and lie for personal gain."
"People will quit believing women if too many cry wolf," she added.
Kayla Moore accused the Post of printing "whatever anyone says without checking to even see if it is correct."
Gerritson, who challenged Rep. Martha Roby for Congress last year, said at the start of the conference that Roy Moore's supporters "find the timing and the narrative surrounding these allegations to be suspect," and that she and others "felt it was necessary to show the world, the media, the nation, why we as women are united in our support for Judge Roy Moore."
Jennifer Case, another speaker, declared that Moore "is the closest thing to a founding father that we've had in our time."
Roy Moore has now been accused by several women of sexual misconduct when they were teenagers and he was in his 30s. Beverly Young Nelson said in 1977 — when she was 16 and Moore was the Etowah County district attorney — Moore sexually assaulted her in a car. When she attempted to push him away, Nelson said Moore "began squeezing my neck, attempting to force my head onto his crotch."
Nelson said Moore eventually relented. "He then looked at me and said, 'You are a child. I am the district attorney of Etowah County. If you tell anyone about this, no one will believe you,'" she said at a press conference earlier this week.
Another woman, Leigh Corfman, has accused Moore of beginning a sexual interaction with her when she was 14 and Moore was 32.
On her Facebook page, Kayla Moore since shared an article from Gateway Pundit — a website known for spreading misinformation — that baselessly claimed Nelson had forged Roy Moore's signature in her yearbook she said he signed in 1977.

Ann Eubank, the chair of the Alabama Legislative Watchdogs, said at Friday's event, "I do not recognize the Roy Moore that these ladies are describing." She added, "if allegations alone are enough to step down, then the halls of Congress should be empty."

The allegations against Moore have driven Republicans in Washington, including McConnell, to call on Moore to end his campaign. President Trump, however, has stayed largely quiet about the allegations, and White House press secretary Sarah Huckabee Sanders said the decision should be up to the state's voters.
Friday's event in Montgomery came after over a dozen religious leaders vigorously defended Moore in Birmingham Thursday. Janet Porter, who organized that event, said at Friday's rally that the state's voters are "being the denied the information they need to make an informed choice" because of the media's focus on the allegations against Moore.
Moore did not take questions at Thursday's event with supporters, and he was not present Friday.
The Alabama state Republican Party on Thursday announced that it has decided to stick by Moore.
"Judge Moore has vehemently denied the allegations made against him," the party said in a statement. "He deserves to be presumed innocent of the accusations unless proven otherwise. He will continue to take his case straight to the people of Alabama."

Alexis Levinson reported from Alabama; Tasneem Nashrulla reported from New York.