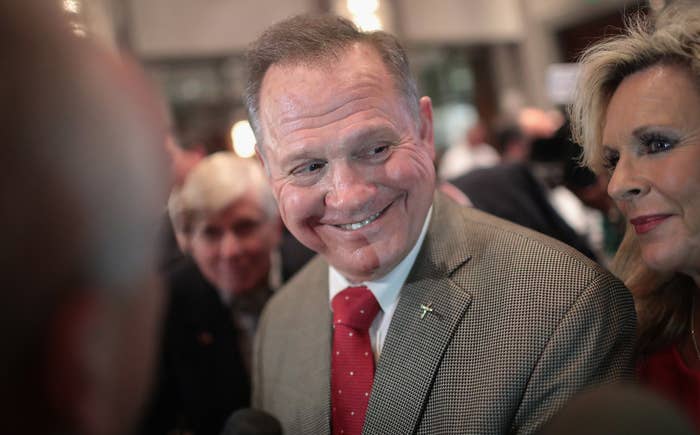 Roy Moore kicked off his Tuesday night speech to the congregation at the National God Save America Revival Conference with a joke.
"I'm the only one who can unite Democrats and Republicans," he cracked. "Because I seem to be opposed by both."
Moore, a former Alabama chief justice, won the Republican nomination for Senate despite opposition from Senate Majority Leader Mitch McConnell and President Donald Trump. Now Democrats have placed a target squarely on his back following allegations by five women that he engaged in sexual conduct with them several decades ago when they were teenagers. Two allege sexual assault. Republicans in Washington, including McConnell, are calling on Moore to end his campaign.
But the revival crowd, Moore's crowd, roared with laughter at Moore's quip. Republicans and Democrats may be united in disliking Moore, but the people sitting in blue and white folding chairs in a church gym here were the fervent supporters who helped him buck political gravity in the primary. To this crowd, which stood to applaud him as he entered before the service, Moore was — as a biographical video that played before his speech proclaimed — a "national hero."
And the allegations against him were, as attendee Betty Presnall told BuzzFeed News after Moore's address, "a lot of bull."
Neither Moore nor the pastors who spoke before him shied away from the tumultuous political moment that had filled a church parking lot in the southwest corner of the state with television trucks. One by one, the pastors thanked God for "the judge" and his presence at the service, despite "all the fire he faces," as one pastor put it.
"This is nothing new for us, church. We've been lied about," said one pastor. "He's facing attacks that would completely crush most men," said Mike Allison, a pastor from Madison, Alabama, who is a longtime supporter of Moore and introduced him.
In Moore's own remarks, he said, "Today, we find out people would rather hear criticisms of a person than look at what he's done for 20, 30, or 40 years."
Moore told the congregation that it was his record of the past decades — which included telling the state's probate not to issue marriage licenses to same-sex couples following the Supreme Court's 2016 ruling that legalized same-sex marriage, and refusing to take down an image of the Ten Commandments in his court room (two actions that got him removed from the bench) — that had prompted these allegations.
"What do you think I'm going to do? Why do you think they're giving me this trouble? Why do you think I'm being harassed — by the media and by people pushing forth allegations in the last 20 days of this election? After 40-something years of fighting this battle, I'm now facing allegations. And that's all the press wants to talk about," Moore said. "But I want to talk about the issues. I want to talk about where this country's going. And if we don't come back to God, we're not going anywhere."
Moore can seem stiff and uncomfortable at times when speaking. His delivery at a primary debate in September, for instance, was rambling and unfocused. But speaking to this congregation, occasionally flipping over pages of yellow legal paper, Moore appeared at ease. He ambled the stage, citing Abraham Lincoln and Martin Luther King and Frederick Douglass, earning fervent applause for his stance on gay marriage and a chorus of amens for his talk of religious persecution.
"If you take a stand, you're going to come under persecution," he advised the young people in the congregation.
"In homes and schools across the land, it is time for Christians to take a stand," he recited, ending his speech in rhyming couplets.
Moore greeted well-wishers as he exited the church following his remarks before hopping in the driver's seat of his car, with his wife in the passenger's seat and a shirt in a dry cleaning bag hanging in the back. He did not take any questions from reporters.
For the people who exited the church about an hour later, after the sermons had concluded, there were no questions for Moore to answer.
"Why didn't they bring it up 30 years ago if there was anything to it? And I could get on TV and I could cry and tell all of this, and just go to pieces and cry, and cry, and cry. That don't make it so," said Presnall.
"I believe him," she said. "I'll vote for him."
"Even if it's true, God forgives people," said Alfred Marks, another attendee. "We all have a closet."