Republicans Don't Know Yet How They'll Pay For The Wall
At the GOP retreat in Philadelphia, party leaders committed to paying for a wall along the Mexican border but are waiting on the Trump White House before they figure out offsets for the $12-$15 billion project.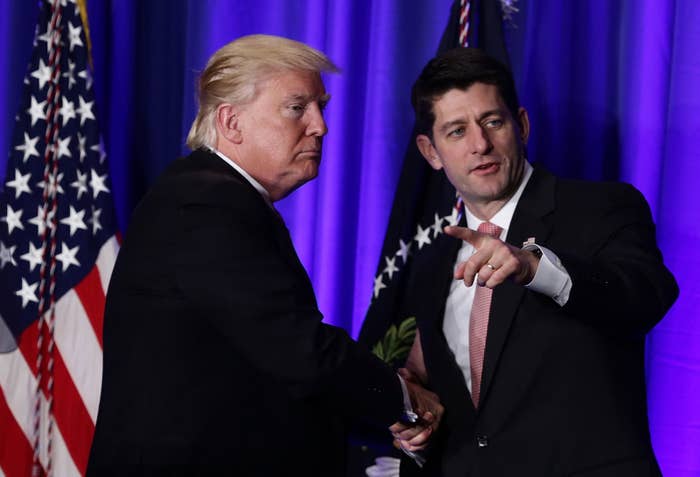 PHILADELPHIA — Republicans in Congress committed Thursday to funding the the border wall — a major promise of Trump's campaign — but declined to get into specifics of how to pay for it.
"The point is we are going to finance the Secure Fence Act, which is the construction of a physical barrier on the border," House Speaker Paul Ryan told reporters here Thursday. But Ryan deferred to the White House as far as offsets, saying they would wait to see what the administration sent to them first.
Discussions about building a wall on the Southern border came up as Republican lawmakers gathered for their annual retreat in Philadelphia, where they are figuring out policy priorities for the year behind closed doors. Lawmakers heard Thursday afternoon from Trump, who told them Mexico President Enrique Peña Nieto "had agreed" to cancel his visit to Washington. But beyond that, he didn't offer any details about his plan for the construction of the wall.
Typically, presidents take questions from lawmakers during the retreat, but Trump did not, leaving Republicans with little clarity on what to expect.
Ryan estimated the construction of the wall would cost between $12 and $15 billion dollars. Republicans have traditionally balked at the prospect of spending so much money without offsetting the spending somehow. But Republicans, elated at having control of both chambers of congress and the White House, are keeping their options open so as to allow themselves flexibility in future legislating.
"We're going to wait and see from the administration what their supplemental looks like," Ryan said, when asked about offsets.
But individual Republican lawmakers made clear that while they were willing to defer to the administration and leadership on the specifics, they felt that offsets were an essential part of this plan.
Idaho GOP Sen. Jim Risch told reporters he needed to see details of President Trump's wall plan once the bill is ready but that he wouldn't vote for it if the spending wasn't offset.
"I generally don't vote for anything that's not offset...This country is borrowing $1.25 billion dollars a day and it's is the existential issue that's facing this country, so everything needs to be offset."
Ohio Rep. Jim Jordan, a founding member of the conservative House Freedom Caucus, said he trusted his colleague Rep. Mick Mulvaney, Trump's nominee to lead the Office of Budget and Management, to deal with the spending associated with the wall. Mulvaney has not yet been confirmed.
"We've got a $20 trillion debt," Jordan said. "I think we should offset things. But understand that Mr. Mulvaney is going to be at OMB. We've got a number of opportunities to actually achieve savings, to get rid of redundancies and waste in federal spending, so we'll have to see."
North Carolina Rep. Mark Meadows, chairman of the Freedom Caucus, said his staff is already at work trying to find "reasonable offsets" to pay for the wall.
"It is our belief that we can offset it, and yet at the same time, I'll stay true to our commitment that we're going to give the president the tools that are necessary whether it is a non-offset spending on this on a short term basis and we find the offsets at a later date. But I think we can find them now," he said."
But lawmakers are skeptical that the funding would come from Mexico, as Trump originally claimed.
"I don't see any circumstances under which the Mexicans are gonna pay us or reimburse us," Pennsylvania Rep. Charlie Dent said.
Asked if he trusted Mexico to pay back the U.S. for any spending on the wall, Risch said: "I don't know that."
Discussions about the wall got further muddled on Thursday afternoon when White House Press Secretary Sean Spicer floated one possible pay-for for the wall as taxing imports from countries with which the U.S. has a trade deficit, like Mexico, at 20 percent.
Republicans interpreted it as the border adjustment tax plan -- rather than a specific tariff on Mexico — that is part of most House Republican proposals for tax reform.
And Spicer later clarified that he was just giving an example "to show that there are ways the wall can be paid for," adding he was indeed talking about the border adjustment plan.
"This is very encouraging news that the White House is looking at bold reforms just as House Republicans are," Ways and Means Committee Chairman Kevin Brady told reporters Thursday.
Asked if such a plan would hurt American consumers by raising price of goods, Rep. Chris Collins acknowledged that while some costs could go up, it would balance out in the end.
"Of course there will be some of that. But we want more jobs in America and if we do this, there may well be some adjustments in currency valuations and we may end up with a stronger dollar."