Republicans Aren't Saying Much About Trump's Immigration Ban Yet
Only a few GOP members of Congress have had anything to say about Friday's executive order that bars entry into the US by citizens of seven majority-Muslim countries.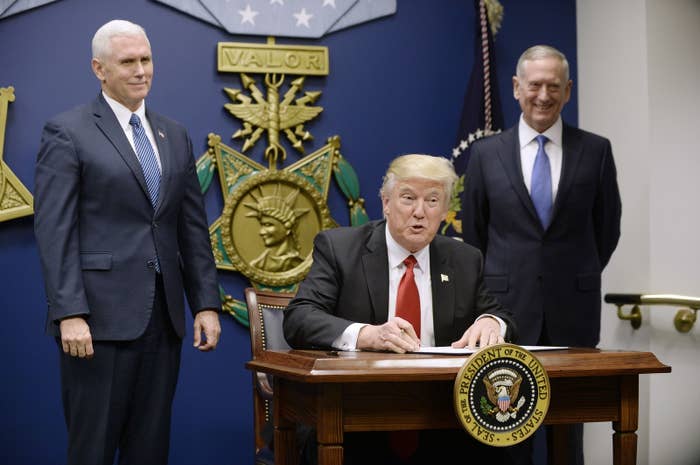 WASHINGTON — In the 24 hours since President Trump signed an executive order that temporarily suspends the refugee program and bars entry into the country by citizens of certain majority Muslim countries, Democratic members have forcefully condemned the action. But few Republicans have commented publicly on the issue — either in support of, or against it — as of Saturday afternoon.
Some, it seems, are still trying to wrap their heads around the scope and implications of Trump's order, which several Republican consultants have noted in conversations with BuzzFeed News is vague on some crucial points. One Republican congressman promised he would put out a statement as soon as he had time to really sit down and understand what was in it. Staff for the Senate Majority Leader Mitch McConnell, when asked about the ban or how it was being implemented, only said that he would be appearing on ABC's This Week on Sunday.
Speaker Paul Ryan, however, was the first to comment on the order Friday evening, voicing his approval.
"We are a compassionate nation, and I support the refugee resettlement program, but it's time to reevaluate and strengthen the visa vetting process. This is why we passed bipartisan legislation in the wake of the Paris attacks to pause the intake of refugees. President Trump is right to make sure we are doing everything possible to know exactly who is entering our country," Ryan said in a statement.
Oversight Committee Chairman Jason Chaffetz also said he was pleased.
"I'm initially very encouraged that the president intends to do what he says he was going to do," Chaffetz told BuzzFeed News. But, he cautioned, "I can't say that I've read every line of the executive order."
Chaffetz repeatedly said that he was opposed to any kind of religious test for immigration, though he did not feel that this executive order rose to that level. The order call for the prioritization of "individuals on the basis of religious-based persecution, provided that the religion of the individual is a minority religion in the individual's country of nationality." Trump, on Friday, said he was particularly concerned about Christian refugees, but the language would also include some other religious minorities.
"I think [Trump's] off to a good start. Now, how it's implemented and the reality of how things are working in the process, we'll keep a watchful eye on," Chaffetz said.
The question of implementation has so far been the major sticking point, with multiple reports of people with green cards or visas being detained at airports on Friday evening into Saturday. The executive order grants exceptions on a case by case basis "when the person is already in transit and denying admission would cause undue hardship. A senior congressional GOP aide said they were interpreting that as an exemption for those in transit to the country when the executive order was signed, but clarity on that has proved elusive.
A senior White House official told reporters Saturday "the administration is still working to define what 'in transit' means for the purposes of the hardship exemption for refugees who have been approved to enter the United States but are currently in a third country," per the White House pool.
Not everyone is on board. Nebraska Republican Sen. Ben Sasse, in a statement Saturday, said that, "while not technically a Muslim ban, this order is too broad."
Arizona Republican Senator Jeff Flake also suggested it was too broad in scope. "President Trump and his administration are right to be concerned about national security, but it's unacceptable when even legal permanent residents are being detained or turned away at airports and ports of entry," Flake wrote in a post on Medium. "Enhancing long term national security requires that we have a clear-eyed view of radical Islamic terrorism without ascribing radical Islamic terrorist views to all Muslims."
Pennsylvania Rep. Charlie Dent was the first Republican member of Congress to come out against the order, saying in a statement Trump should "halt this executive order."
Dent, Sasse, and Flake have one thing in common: They opposed Trump during the campaign. Dent was a frequent critic of candidate Trump said in October that Trump should give up the Republican nomination following the release of the Access Hollywood tapes when he made lewd remarks. Sasse and Flake were NeverTrumpers.
They might not have a lot of company. The senior congressional GOP aide dismissed the idea that this executive order was anything out of the ordinary, comparing it to a bill Republican House passed following the attacks in Paris in 2015 that, among other things, increased vetting for refugees. The aide pushed back on the idea that this order was in any way a Muslim ban — which a number of congressional Republican spoke out against during the campaign — or that it imposed a religious test for immigrants.

That interpretation that this is a fairly standard Republican action suggests that many Republicans are likely to express support for the executive order. Most congressional Republicans have so far proven wary of outright criticizing the new president's actions, and the Friday night timing also meant they were more difficult to get a hold of. Silence is also seems to be an option: While reporter inboxes were flooded with angry responses from Democrats Friday night, Ryan was the lone Republican to put out a supportive statement on it.
But without exact guidance on implementation, that could put some Republicans in a difficult spot, should issues continue to arise from the lack of clarity surrounding the implementation procedure. Several Republican operatives suggested that there would need to be further action to clarify the full breadth of the order — be that legislative or executive.
Rep. Justin Amash, a libertarian leaning member of the GOP, went further on Twitter to say that Trump's order "overreaches and undermines our constitutional system."
"It's not lawful to ban immigrants on basis of nationality. If the president wants to change immigration law, he must work with Congress," he said.
Tarini Parti contributed to this report.